Note: Supplemental materials are not guaranteed with Rental or Used book purchases.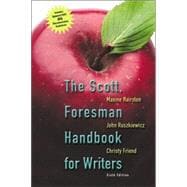 Summary
The Scott, Foresman Handbook for Writers, 6e continues its tradition of innovation with ground-breaking coverage of grading, service learning, document design, and research. Already the most imitated book in its field, SFH/6e becomes the first handbook to offer a full chapter on Evaluating Writing, covering both traditional and portfolio systems of grading. The new chapter answers many of the questions about grading principles, criteria and procedures that instructors face every term. There's more, too, in this edition about the kinds of writing more and more college writers are doing in their professional and civic lives or in service-learning courses. Already a leader in technology, SFH now expands its first-ever treatment of document design into a fully illustrated section that explains document design as a process like writing itself. There's a thorough new chapter with full coverage of Writing for the Web and a portfolio chapter of four-color model documents. Coverage of research continues to set the standard for college projects with new material on designing research projects, evaluating sources, and working with online materials. A series of E-tips here and throughout the volume directs writers to helpful online materials to enhance their thinking and research. But the edition has not neglected more traditional elements of writing. Every chapter has been reworked to enhance clarity and to polish the notably friendly style of SFH. No handbook addresses writers more cordially or helpfully. A new, cleaner design makes all materials more accessible and frequent photos and images make the entire package more student friendly. Now updated to include the latest information on APA documentation style.
Table of Contents
I. THE WRITING PROCESS.
1. What Does Writing Involve?
2. How Do You Find and Explore a Topic?
3. How Do You Focus and Organize a Writing Project?
4. How Do You Write a Draft?
5. How Do You Revise, Edit, and Proofread?
6. How is Your Writing Evaluated?
II. WRITING FOR ACADEMIC AND PUBLIC FORUMS.
7. How Do You Write in College?
8. How Do You Write for the Public?
9. How Do You Read and Think Critically?
10. How Do You Interpret and Use Visual Texts?
11. How Can You Write Powerful Arguments?
12. How Do You Write a Literary Analysis?
III. STYLE.
13. What Makes Paragraphs Work?
14. How Do You Manage Opening and Closing Paragraphs?
15. How Do You Manage Transitions?
16. What Kinds of Language Can You Use?
17. How Do You Construct Effective Sentences?
18. How Do You Write Stylish Sentences?
IV. DESIGN AND SHAPE OF DOCUMENTS.
19. What are the Processes of Document Design?
20. How do you Create Documents and Web Sites?
21. Model Documents.
V. GRAMMAR.
22. Questions About Subject-Verb Agreement?
23. Questions About Verb Tense, Voice, Mood?
24. Questions About Verbals?
25. Questions About Plurals, Possessives, and Articles?
26. Questions About Pronoun Reference?
27. Questions About Pronoun Agreement?
28. Questions About Pronoun Case?
29. Questions About Pronoun Choices?
30. Questions About Modifiers?
31. Are You an ESL Writer?
32. ESL Questions about Verbs?
33. ESL Questions about Gerunds, Infinitives, Articles or Number?
VI. PUNCTUATION AND MECHANICS.
34. How Do You Punctuate Sentence Endings?
35. Questions About Sentence Boundaries: Fragments, Comma Splices, and Run-ons?
36. Questions About Commas?
37. Questions About Semicolons and Colons?
38. Questions About Quotation Marks and Ellipses?
39. Questions About Parentheses and Brackets?
40. Questions About Dashes, Hyphens, and Slashes?
41. Questions About Italics and Capitalization?
42. Questions About Abbreviations and Numbers?
VII. RESEARCH AND WRITING.
43. How Do You Design a Research Project?
44. How Do You Find Information?
45. How Do You Evaluate and Use Sources?
46. How Do You Acknowledge Sources?
47. How Do You Complete a Project?
VIII. DOCUMENTATION
48. How Do You Use MLA Documentation?
49. How Do You Use APA Documentation?
50. How Do You Use CMS Documentation?
51. How Do You Use CBE Documentation?
52. How Do You Use COS Documentation?
Glossary of Terms and Usage.
Index.