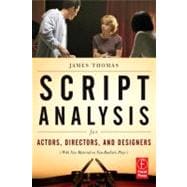 Script Analysis for Actors, Directors, and Designers
by
Thomas
;
James
Summary
Script Analysis for Actors, Directors, and Designers continues to serve both the practical and creative experiences of theatrical production. Students will immediately be able to incorporate the concepts and processes they learn and benefit from clear examples, end-of-chapter questions and summaries created to stimulate ingenuity as they engage in production work.
Author Biography
James Thomas is Professor of Theatre at Wayne State University, where he is head of the PhD program and director of the department's Study Abroad program at the Moscow Art Theatre School. His work also includes translations of the works of Russian director Anatoly Efros.
Table of Contents
Preface
p. x
Acknowledgments
p. xvii
Introduction
p. xix
Action Analysis
p. 1
Events
p. 2
Action Analysis and Nonrealistic Plays
p. 25
Given Circumstances
p. 38
Time
p. 40
Place
p. 45
Society
p. 49
Economics
p. 56
Politics and Law
p. 58
Learning and the Arts
p. 58
Spirituality
p. 60
The World of the Play
p. 60
Given Circumstances in Nonrealistic Plays
p. 62
Background Story
p. 70
Technique
p. 73
Identification
p. 77
Background Story in Nonrealistic Plays
p. 89
External and Internal Action
p. 93
External Action
p. 94
Internal Action
p. 102
External and Internal Action in Nonrealistic Plays
p. 114
Progressions and Structure
p. 129
Progressions
p. 129
Structure
p. 141
Progressions and Structure in Nonrealistic Plays
p. 150
Character
p. 168
Objectives
p. 169
Actions
p. 172
Adaptations - An Aside
p. 176
Conflict
p. 177
Will Power
p. 179
Values
p. 182
Personality Traits
p. 186
Complexity
p. 188
Relationships
p. 190
Character in Nonrealistic Plays
p. 191
The Score of a Role
p. 193
Idea
p. 200
Idea in the Words
p. 201
Idea in the Characters
p. 210
Idea in the Plot
p. 214
The Main Idea
p. 218
Idea in Nonrealistic Plays
p. 222
Postscript on Action Analysis
p. 228
Dialogue
p. 229
Words
p. 230
Sentences
p. 232
Length
p. 233
Speeches
p. 239
Punctuation
p. 239
Special Qualities
p. 245
Poetry
p. 246
Theatricality
p. 251
Dialogue in Nonrealistic Plays
p. 259
Tempo, Rhythm, and Mood
p. 263
Tempo
p. 264
Rhythm
p. 276
Mood and Atmosphere
p. 279
Tempo, Rhythm, and Mood in Nonrealistic Plays
p. 282
Closing Notes on Nonrealistic Plays
p. 283
The Style of the Play
p. 287
Given Circumstances
p. 287
Background Story
p. 292
Plot
p. 295
Character
p. 302
Idea
p. 304
Dialogue
p. 306
Atmosphere
p. 308
A Final Word
p. 312
Appendix: Further Questions for Script Analysis
p. 314
Bibliography
p. 318
Index
p. 324
Table of Contents provided by Ingram. All Rights Reserved.