Note: Supplemental materials are not guaranteed with Rental or Used book purchases.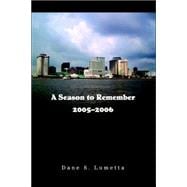 A Season to Remember, 2005-2006
ISBN13:
9780595397617
by
Lumetta, Dane
Summary
One August day, normal lives were turned upside down when this monstrous hurricane hit the Gulf Coast. People were caught in turmoil, not knowing which way to turn. Some were able to get out when they heeded the warnings given by our leaders. Others were not able, due to lack of transportation and or funds. The roads out were very congested with traffic, with thousands of people trying to escape the wrath of Katrina. People were afraid they would be on the highways when this storm would hit. This story also focuses on the return of individuals and the way of life, as it was before hurricane Katrina and Rita and for weeks after the storms had past. Faced with no electricity, no water, no food, no homes to return to, no telephone, which meant no communication w/family. Not knowing if they were ok, since everyone was split up all around the surrounding states. Our feelings were that of sadness, confusion, and despair. What would we do now? How would we start over, rebuilding our lives? Understanding ultimately who is really in control of our destiny. Maybe some things needed to be changed in the way we live our lives.