Note: Supplemental materials are not guaranteed with Rental or Used book purchases.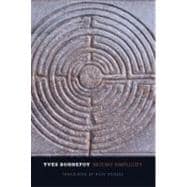 Questions About This Book?
What version or edition is this?
This is the Bilingual edition with a publication date of 1/24/2012.
What is included with this book?
The New copy of this book will include any supplemental materials advertised. Please check the title of the book to determine if it should include any CDs, lab manuals, study guides, etc.
Summary
Yves Bonnefoy, now 87 years old, has enjoyed during the past two decades perhaps the most prolific and innovative period of his splendid lifework. This volume presents in English and French an inviting array of his recent writings, carefully selected for their literary quality as well as their broad appeal. It features several works never published before and many that have never been translated into English. The first anthology of Bonnefoy's work to appear since 1995, this collection reflects the poet's powerful engagement with the New England landscape, where quiet woods and fields have given shape to the pared-down aesthetic of his recent years. The book is the first to showcase not only the poetry for which Bonnefoy is justly renowned but also his inventive compositions in prose. Appropriately, the book alternates more traditional verse with freer forms, just as the author has done in several major works of the past twenty years; that symbiotic approach is one of the hallmarks of this latter phase of his art. Masterfully translated by Hoyt Rogers, the collection is organized chronologically, revealing clearly how the poet continues to extend and refine his scope and style. Rogers provides a penetrating introduction in which he analyzes aspects of Bonnefoy's recent writings and the "second simplicity" that characterizes his late work.
Author Biography
Yves Bonnefoy, poet, essayist, translator, and art historian, is widely admired as France's greatest living poet. He lives in France. Hoyt Rogers's poems, stories, and essays, as well as his translations from French, German, and Spanish, appear in a wide variety of books and periodicals. He lives in the Dominican Republic.
Table of Contents
Acknowledgments
p. ix
Introduction: The Second Simplicity of Yves Bonnefoy
p. xi
From Début et fin de la neige (Beginning and End of the Snow)
p. 1
" Première neige …" ("First snowfall …")
p. 2
Le miroir (The Mirror)
p. 4
La charrue (The Plow)
p. 6
Le peu d'eau (A Bit of Water)
p. 8
Le jardin (The Garden)
p. 10
L'été encore (Summer Again)
p. 12
"On dirait" ("It's like …")
p. 14
Noli me tangere (Noli Me Tangere)
p. 16
"Juste avant l'aube …" ("Just before "dawn …")
p. 18
Les flambeaux (The Torches)
p. 20
Hopkins Forest (Hopkins Forest)
p. 24
La seule rose (The Only Rose)
p. 30
From La vie errante (The Wandering Life)
p. 37
Impressions, soleil couchant (Impressions at Sunset)
p. 38
De vent et de fumée (From Wind and Smoke)
p. 40
Une pierre (A Stone)
p. 52
Le canot de Samuel Beckett (Beckett's Dinghy)
p. 54
From Les planches courbes (The Curved Planks)
p. 63
Une pierre (A Stone)
p. 64
Une pierre (A Stone)
p. 66
Une pierre (A Stone)
p. 68
Une pierre (A Stone)
p. 70
Une pierre (A Stone)
p. 72
Une pierre (A Stone)
p. 74
Une pierre (A Stone)
p. 76
Une pierre (A Stone)
p. 78
Une pierre (A Stone)
p. 80
" Passant, ce sont des mots …" ("Passer-by, these are words…")
p. 82
La pluie sur le ravin (Rain Falls on the Ravine)
p. 84
La maison natale (The House Where I Was Born)
p. 88
Les planches courbes (The Curved Planks)
p. 112
From Dans un débris de miroir (In a Shard of Mirror)
p. 119
Trois souvenirs de Borges (Three Recollections of Borges)
p. 120
From La tongue chaíne de 1'ancre (The Anchor's Long Chain)
p. 145
Ales Stenar (Ales Stenar)
p. 146
L'Amérique (America)
p. 154
Le peintre dont le nom est la neige (The Painter Named Snow)
p. 170
Les noms divins (Naming the Divine)
p. 174
Le tombeau de Leon-Battista Alberti (Alberti's Tomb)
p. 184
Le tombeau de Charles Baudelaire (Baudelaire's Tomb)
p. 186
L'arbre de la rue Descartes (The Tree on Descartes Street)
p. 188
L'invention de la flute à sept tuyaux (The Invention of the Seven-Pipe Flute)
p. 190
Le tombeau de Giacomo Leopardi (Leopardi's Tomb)
p. 192
Mahler, Le chant de la terre (Mahler, The Song of the Earth)
p. 194
Le tombeau de Stéphane Mallarmé (Mallarmé's Tomb)
p. 196
À l'auteur de " La nuit " (To the Author of "Night")
p. 198
San Giorgio Maggiore (San Giorgio Maggiore)
p. 200
Sur trois tableaux de Poussin (On Three Paintings by Poussin)
p. 202
Ulysse passe devant Ithaque (Ulysses Passes Ithaca)
p. 204
San Biagio, à Montepulciano (San Biagio, at Montepulciano)
p. 206
Une pierre (A Stone)
p. 208
Le tombeau de Paul Verlaine (Verlaine's Tomb)
p. 210
Un souvenir d'enfance de Wordsworth (A Childhood Memory of Wordsworth's)
p. 212
Remarques sur l'horizon (Remarks on the Horizon)
p. 214
Une variante de la sortie du jardin (Leaving the Garden: A Variant)
p. 226
Une autre variante (Another Variant)
p. 236
From Raturer outre (Crossing Out and In)
p. 245
Une photographie (A Photograph)
p. 246
Encore une photographie (Another Photograph)
p. 248
Un souvenir (A Memory)
p. 250
Le nom perdu (The Lost Name)
p. 252
Le pianiste (The Pianist)
p. 258
From L'heure presente (The Present Hour)
p. 263
Voix entendue près d'un temple (Voice Heard near a Temple)
p. 264
Bête effrayée (Scared Animal)
p. 270
Première ébauche d'une mise en scène d'Hamlet (First Sketch for a Staging of Hamlet)
p. 274
Hamlet en montagne (Hamlet in the Mountains)
p. 280
Select Bibliography
p. 288
Table of Contents provided by Ingram. All Rights Reserved.