Note: Supplemental materials are not guaranteed with Rental or Used book purchases.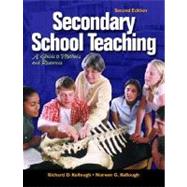 Questions About This Book?
Why should I rent this book?
Renting is easy, fast, and cheap! Renting from eCampus.com can save you hundreds of dollars compared to the cost of new or used books each semester. At the end of the semester, simply ship the book back to us with a free UPS shipping label! No need to worry about selling it back.
How do rental returns work?
Returning books is as easy as possible. As your rental due date approaches, we will email you several courtesy reminders. When you are ready to return, you can print a free UPS shipping label from our website at any time. Then, just return the book to your UPS driver or any staffed UPS location. You can even use the same box we shipped it in!
What version or edition is this?
This is the 2nd edition with a publication date of 1/1/2003.
What is included with this book?
The Used copy of this book is not guaranteed to include any supplemental materials. Typically, only the book itself is included.
The Rental copy of this book is not guaranteed to include any supplemental materials. You may receive a brand new copy, but typically, only the book itself.
Related Products
Summary
This popular standard is everything a methods book for grades 7-12 should be: practical, concise, research-based, and user-friendly. The authors' beliefs about what teaching should be and what good teachers should do form the bedrock upon which a full complement of effective methods is built. Basic to the book is the idea that teaching skills can be learned: content is organized around four developmental components involved in becoming a competent teacher--thewhy, what, how, and how well of teaching. Whatever one teaches, children will always need to know how to learn, how to read, and how to think productively, work cooperatively, and communicate effectively. This book shows future teachers how to teach precisely that. A four-part organization covers orientation to teaching and learning in today's secondary schools; planning for instruction; strategies, aids, media, and resources for effective instruction; and assessment and continuing professional development.
Table of Contents
PART I Orientation to Teaching and Learning in Today's Secondary Schools
1
(68)

| | |
| --- | --- |
| | Teaching and Learning in Today's Secondary Schools |

3
(23)
5
(8)

| | |
| --- | --- |
| | Orientation Meetings: Start of the School Year |

5
(2)

| | |
| --- | --- |
| | The School Calendar Year: Conventional and Year-Round |

7
(1)
8
(1)

| | |
| --- | --- |
| | The School-Within-a-School (SWAS) |

8
(1)

| | |
| --- | --- |
| | Teachers' Daily Schedules |

9
(1)

| | |
| --- | --- |
| | Nontraditional Scheduling |

9
(2)

| | |
| --- | --- |
| | Striving to Present Quality Education for all Students |

11
(1)

| | |
| --- | --- |
| | Middle Schools and Junior High Schools |

11
(1)

| | |
| --- | --- |
| | School Restructuring and Students at Risk |

12
(1)

| | |
| --- | --- |
| | Responsive School Practices for Helping all Students Succeed |

13
(1)

| | |
| --- | --- |
| | The Fundamental Characteristic of Exemplary Education |

13
(4)
13
(1)

| | |
| --- | --- |
| | Reflective Decision Making |

13
(2)

| | |
| --- | --- |
| | Exercise 1.1 Conversation with a Classroom Teacher |

15
(2)

| | |
| --- | --- |
| | The Principal Can Make a Difference |

17
(1)

| | |
| --- | --- |
| | Telecommunications Networks, Members of the Community, and Parent Organizations: Vehicles for Obtaining and Sharing Ideas and Information |

17
(4)

| | |
| --- | --- |
| | Home and School Connections |

17
(1)
18
(1)

| | |
| --- | --- |
| | Telecommunications Networks |

18
(3)

| | |
| --- | --- |
| | The Emergent Overall Picture |

21
(3)

| | |
| --- | --- |
| | Key Trends and Practices Today |

21
(1)

| | |
| --- | --- |
| | Problems and Issues That Plague the Nation's Schools |

21
(3)
24
(1)
24
(1)

| | |
| --- | --- |
| | Questions for Class Discussion |

24
(1)
24
(2)

| | |
| --- | --- |
| | Celebrating and Building upon the Diverse Characteristics and Needs of Secondary School Students |

26
(21)

| | |
| --- | --- |
| | Dimensions of the Challenge |

27
(1)

| | |
| --- | --- |
| | The Classroom in a Nation of Diversity and Shifting Demographics |

27
(1)

| | |
| --- | --- |
| | Styles of Learning and Implications for Teaching |

28
(4)
28
(1)
29
(1)

| | |
| --- | --- |
| | The Three-Phase Learning Cycle |

30
(1)

| | |
| --- | --- |
| | Learning Capacities: The Theory of Multiple Intelligences |

31
(1)

| | |
| --- | --- |
| | Meeting the Challenge: Recognizing and Providing for Student Differences |

32
(8)

| | |
| --- | --- |
| | Instructional Practices That Provide for Student Differences: General Guidelines |

32
(1)

| | |
| --- | --- |
| | Recognizing and Working with Students with Disabilities |

33
(2)

| | |
| --- | --- |
| | Recognizing and Working with Students of Diversity and Differences |

35
(2)

| | |
| --- | --- |
| | Recognizing and Working with Students Who Are Gifted |

37
(1)

| | |
| --- | --- |
| | Curriculum Tracking: Not a Viable Option |

38
(1)

| | |
| --- | --- |
| | Meaningful Curriculum Options: Multiple Pathways to Success |

38
(1)

| | |
| --- | --- |
| | Recognizing and Working with Students Who Take More Time but Are Willing to Try |

39
(1)

| | |
| --- | --- |
| | Recognizing and Working with Recalcitrant Learners |

40
(1)

| | |
| --- | --- |
| | Teaching toward Positive Character Development |

40
(5)

| | |
| --- | --- |
| | Exercise 2.1 Reflecting upon My Own School Experiences |

43
(2)
45
(1)
45
(1)

| | |
| --- | --- |
| | Questions for Class Discussion |

45
(1)
45
(2)

| | |
| --- | --- |
| | The Expectations, Responsibilities, and Facilitating Behaviors of a Classroom Teacher |

47
(22)

| | |
| --- | --- |
| | The Teacher as a Reflective Decision Maker |

48
(1)

| | |
| --- | --- |
| | Decision-Making Phases of Instruction |

48
(1)

| | |
| --- | --- |
| | Reflection, Locus of Control, and Teacher Responsibility |

48
(1)
49
(8)
49
(1)

| | |
| --- | --- |
| | The Theoretical Origins of Teaching Styles and Their Relation to Constructivism |

50
(1)

| | |
| --- | --- |
| | Exercise 3.1 My Perceptions of How I Learn: Sources of Motivation |

51
(2)

| | |
| --- | --- |
| | Exercise 3.2 My Perceptions of How I Learn: Techniques Used |

53
(2)

| | |
| --- | --- |
| | Exercise 3.3 Using Observation of Classroom Interaction to Analyze One Teacher's Style |

55
(2)

| | |
| --- | --- |
| | Commitment and Professionalism |

57
(1)

| | |
| --- | --- |
| | Noninstructional Responsibilities |

57
(1)

| | |
| --- | --- |
| | Instructional Responsibilities |

57
(1)

| | |
| --- | --- |
| | Identifying and Building Your Instructional Competencies |

58
(3)

| | |
| --- | --- |
| | Characteristics of the Competent Classroom Teacher: An Annotated List |

58
(3)

| | |
| --- | --- |
| | Teacher Behaviors Necessary to Facilitate Student Learning |

61
(5)

| | |
| --- | --- |
| | Facilitating Behaviors and Instructional Strategies: A Clarification |

62
(1)

| | |
| --- | --- |
| | Structuring the Learning Environment |

62
(1)

| | |
| --- | --- |
| | Accepting and Sharing Instructional Accountability |

62
(1)

| | |
| --- | --- |
| | Demonstrating Withitness and Overlapping |

63
(1)

| | |
| --- | --- |
| | Providing a Variety of Motivating and Challenging Activities |

63
(1)

| | |
| --- | --- |
| | Modeling Appropriate Behaviors |

63
(1)

| | |
| --- | --- |
| | Facilitating Student Acquisition of Data |

63
(1)

| | |
| --- | --- |
| | Creating a Psychologically Safe Environment |

64
(1)

| | |
| --- | --- |
| | Clarifying Whenever Necessary |

65
(1)
65
(1)
65
(1)
66
(1)
67
(1)

| | |
| --- | --- |
| | Questions for Class Discussion |

67
(1)
67
(2)
PART II Planning for Instruction
69
(150)

| | |
| --- | --- |
| | Planning the Classroom Learning Environment |

71
(49)

| | |
| --- | --- |
| | Perceptions and Their Importance |

72
(1)

| | |
| --- | --- |
| | Classroom Control-Its Meaning-Past and Present |

72
(6)

| | |
| --- | --- |
| | Historical Meaning of Classroom Control |

73
(1)

| | |
| --- | --- |
| | Today's Meaning of Classroom Control and the Concept of Classroom Management |

73
(1)

| | |
| --- | --- |
| | Classroom Management: Contributions of Some Leading Authorities |

73
(4)

| | |
| --- | --- |
| | Developing Your Own Effective Approach to Classroom Management |

77
(1)

| | |
| --- | --- |
| | Providing a Supportive Learning Environment |

78
(2)

| | |
| --- | --- |
| | Consider the Physical Layout |

78
(1)

| | |
| --- | --- |
| | Create a Positive Classroom Atmosphere |

78
(1)

| | |
| --- | --- |
| | Get to Know the Students as People |

78
(2)

| | |
| --- | --- |
| | Preparation Provides Confidence and Success |

80
(1)

| | |
| --- | --- |
| | Effective Organization and Administration of Activities and Materials |

80
(1)

| | |
| --- | --- |
| | Natural Interruptions and Disruptions to Routine |

81
(1)

| | |
| --- | --- |
| | Classroom Procedures and Guidelines for Acceptable Behavior |

81
(14)

| | |
| --- | --- |
| | Starting the School Term Well |

81
(1)

| | |
| --- | --- |
| | Procedures Rather Than Rules; Consequences Rather Than Punishment |

82
(1)
82
(2)

| | |
| --- | --- |
| | Establishing Classroom Expectations, Procedures, and Consequences |

84
(1)

| | |
| --- | --- |
| | What Students Need to Understand from the Start |

84
(3)

| | |
| --- | --- |
| | Exercise 4.1 Observing a Classroom for Frequency of External Interruptions |

87
(4)

| | |
| --- | --- |
| | Exercise 4.2 Teachers' Classroom Management Systems |

91
(2)

| | |
| --- | --- |
| | Exercise 4.3 Beginning the Development of My Classroom Management System |

93
(2)
95
(1)
95
(4)
95
(2)

| | |
| --- | --- |
| | Exercise 4.4 Observation and Analysis of How Experienced Teachers Open Class Meetings |

97
(2)

| | |
| --- | --- |
| | Smooth Implementation of the Lesson |

99
(1)

| | |
| --- | --- |
| | Transitions: A Difficult Skill for Beginning Teachers |

99
(1)

| | |
| --- | --- |
| | Selected Legal Guidelines |

99
(2)
100
(1)

| | |
| --- | --- |
| | Teacher Liability and Insurance |

100
(1)
101
(1)
101
(1)
101
(3)

| | |
| --- | --- |
| | Categories of Student Misbehavior |

101
(2)

| | |
| --- | --- |
| | There Are Success Stories |

103
(1)

| | |
| --- | --- |
| | Teacher Response to Student Misbehavior: Direct and Indirect Intervention |

103
(1)

| | |
| --- | --- |
| | Teacher-Caused Student Misbehavior |

104
(11)

| | |
| --- | --- |
| | Scenarios for Case Study Review |

104
(2)

| | |
| --- | --- |
| | Preventing a Ship from Sinking is Much Easier Than Is Saving a Sinking One: Fifty Mistakes to Avoid |

106
(5)

| | |
| --- | --- |
| | Exercise 4.5 Identifying Teacher Behaviors That Cause Student Misbehavior-A Self-Check Exercise |

111
(4)

| | |
| --- | --- |
| | Situational Case Studies for Additional Review |

115
(2)
117
(1)
118
(1)

| | |
| --- | --- |
| | Questions for Class Discussion |

118
(1)
118
(2)

| | |
| --- | --- |
| | Planning the Curriculum and Its Content |

120
(54)

| | |
| --- | --- |
| | Providing Successful Transitions |

121
(1)

| | |
| --- | --- |
| | Curriculum and Instruction: Clarification of Terms |

122
(1)
122
(1)

| | |
| --- | --- |
| | Teacher-Student Collaborative Team Planning |

122
(1)
122
(1)

| | |
| --- | --- |
| | Components of an Instructional plan |

123
(1)

| | |
| --- | --- |
| | Planning the Scope of the Curriculum: Documents That Provide Guidance for Content Selection |

123
(1)
123
(12)

| | |
| --- | --- |
| | National Standards by Content Area |

124
(3)

| | |
| --- | --- |
| | Exercise 5.1 Examining National Curriculum Standards |

127
(2)

| | |
| --- | --- |
| | Exercise 5.2 Examining State Curriculum Standards |

129
(2)

| | |
| --- | --- |
| | Exercise 5.3 Examining State Curriculum Frameworks |

131
(2)

| | |
| --- | --- |
| | Exercise 5.4 Examining Local Curriculum Documents |

133
(2)
135
(6)

| | |
| --- | --- |
| | Benefit of Student Textbooks to Student Learning |

135
(1)

| | |
| --- | --- |
| | Problems with Reliance on a Single Textbook |

135
(2)

| | |
| --- | --- |
| | Exercise 5.5 Examining Student Textbooks and Teacher's Editions |

137
(2)

| | |
| --- | --- |
| | Guidelines for Textbook Use |

139
(1)

| | |
| --- | --- |
| | Multitext and Multireadings Approach |

139
(2)

| | |
| --- | --- |
| | Beginning to Think about the Sequencing of Content |

141
(4)

| | |
| --- | --- |
| | Exercise 5.6 Preparing a Full Semester Content Outline |

143
(2)

| | |
| --- | --- |
| | Preparing for and Dealing with Controversy |

145
(4)

| | |
| --- | --- |
| | Exercise 5.7A Dealing with Controversial Content and Issues |

147
(1)

| | |
| --- | --- |
| | Exercise 5.7B Censorship: Books That are Sometimes Challenged |

148
(1)

| | |
| --- | --- |
| | Aims, Goals, and Objectives: The Anticipated Learning Outcome |

149
(2)

| | |
| --- | --- |
| | Instructional Objectives and Their Relationship to Aligned Curriculum and Authentic Assessment |

149
(1)

| | |
| --- | --- |
| | Balance of Behaviorism and Constructivism |

150
(1)

| | |
| --- | --- |
| | Teaching toward Multiple Objectives, Understandings, and Appreciations |

151
(1)

| | |
| --- | --- |
| | Preparing Instructional Objectives |

151
(12)

| | |
| --- | --- |
| | Key Components: The ABCDs |

151
(1)

| | |
| --- | --- |
| | Exercise 5.8 Recognizing Verbs that are Acceptable for Overt Objectives-A Self-Check Exercise |

152
(1)

| | |
| --- | --- |
| | Exercise 5.9 Recognizing the Parts of Criterion-Referenced Instructional Objectives-A Self-Check Exercise |

153
(1)

| | |
| --- | --- |
| | Exercise 5.10 Recognizing Objectives that are Measurable-A Self-Check Exercise |

154
(1)

| | |
| --- | --- |
| | Classifying Instructional Objectives |

155
(1)

| | |
| --- | --- |
| | The Domains of Learning and the Developmental Needs of Secondary School Students |

155
(1)

| | |
| --- | --- |
| | Cognitive Domain Hierarchy |

155
(2)

| | |
| --- | --- |
| | Affective Domain Hierarchy |

157
(1)

| | |
| --- | --- |
| | Psychomotor Domain Hierarchy |

158
(1)

| | |
| --- | --- |
| | Exercise 5.11 Recognition of Cognitive, Affective, and Psychomotor Objectives-A Self-Check Exercise |

159
(2)

| | |
| --- | --- |
| | Exercise 5.12 Preparing My Own Instructional Objectives |

161
(2)
163
(2)

| | |
| --- | --- |
| | Observing for Connected (Meaningful) Learning: Logs, Portfolios, and Journals |

164
(1)
164
(1)

| | |
| --- | --- |
| | Learning That Is Not Immediately Observable |

164
(1)
165
(2)

| | |
| --- | --- |
| | Definition of Integrated Curriculum |

165
(1)

| | |
| --- | --- |
| | Integrated Curricula: Past and Present |

165
(1)

| | |
| --- | --- |
| | The Spectrum of Integrated Curriculum |

165
(2)

| | |
| --- | --- |
| | Planning for Instruction: A Three-Level and Seven-Step Process |

167
(1)
168
(3)

| | |
| --- | --- |
| | Use and Development of a Syllabus |

170
(1)
171
(1)
171
(1)
172
(1)

| | |
| --- | --- |
| | Questions for Class Discussion |

172
(1)
172
(2)

| | |
| --- | --- |
| | Planning the Instructional Unit with Lessons |

174
(45)
175
(1)

| | |
| --- | --- |
| | Planning and Developing Any Unit of Instruction |

175
(1)

| | |
| --- | --- |
| | Unit Format, Inclusive Elements, and Time Duration |

176
(1)

| | |
| --- | --- |
| | Theoretical Considerations for the Selection of Instructional Strategies |

176
(3)

| | |
| --- | --- |
| | Decision Making and Strategy Selection |

176
(1)

| | |
| --- | --- |
| | Direct and Indirect Instruction: A Clarification of Terms |

176
(2)

| | |
| --- | --- |
| | Principles of Classroom Instruction and Learning: A Synopsis |

178
(1)

| | |
| --- | --- |
| | Direct vs. Indirect Instructional Modes: Strengths and Weaknesses of Each |

178
(1)

| | |
| --- | --- |
| | Selecting Learning Activities That Are Developmentally Appropriate |

179
(8)

| | |
| --- | --- |
| | The Learning Experiences Ladder |

180
(1)

| | |
| --- | --- |
| | Direct, Simulated, and Vicarious Experiences Help Connect Student Learning |

181
(2)

| | |
| --- | --- |
| | Exercise 6.1 Recalling My Own Learning Experiences in School |

183
(2)

| | |
| --- | --- |
| | Exercise 6.2 Conversion of an Abstract Learning Experience to a Direct One |

185
(2)

| | |
| --- | --- |
| | Planning and Developing an Interdisciplinary Thematic Unit |

187
(2)

| | |
| --- | --- |
| | Steps for Developing an Interdisciplinary Thematic Unit |

187
(1)

| | |
| --- | --- |
| | Developing the Learning Activities: The Heart and Spirit of the ITU |

188
(1)

| | |
| --- | --- |
| | Preparing Lesson Plans: Rationale and Assumptions |

189
(4)

| | |
| --- | --- |
| | Rationale for Preparing Written Plans |

189
(1)

| | |
| --- | --- |
| | Assumptions about Lesson Planning |

190
(1)
190
(1)

| | |
| --- | --- |
| | Well Planned but Open to Last-Minute Change |

191
(1)
191
(2)

| | |
| --- | --- |
| | A Caution about ``The Daily Planning Book'' |

193
(1)

| | |
| --- | --- |
| | Constructing a Lesson Plan: Format, Components, and Samples |

193
(8)

| | |
| --- | --- |
| | For Guidance, Reflection, and Reference |

197
(1)

| | |
| --- | --- |
| | Basic Elements of a Lesson Plan |

197
(4)
201
(1)
201
(1)

| | |
| --- | --- |
| | Setting the Learning Objectives |

201
(15)

| | |
| --- | --- |
| | A Common Error and How to Avoid it |

201
(1)

| | |
| --- | --- |
| | No Need to Include All Domains and Hierarchies in Every Lesson |

202
(1)
202
(1)
202
(2)
204
(1)

| | |
| --- | --- |
| | Special Notes and Reminders |

204
(1)

| | |
| --- | --- |
| | Materials and Equipment to Be Used |

204
(1)

| | |
| --- | --- |
| | Assessment, Reflection, and Revision |

205
(6)

| | |
| --- | --- |
| | Exercise 6.3 Analysis of a Lesson That Failed |

211
(2)

| | |
| --- | --- |
| | Exercise 6.4A Preparing a Lesson Plan |

213
(1)

| | |
| --- | --- |
| | Exercise 6.4B Self and Peer Assessment of My Lesson Plan |

213
(2)

| | |
| --- | --- |
| | Exercise 6.5 Preparing an Instructional Unit: Bringing It All Together |

215
(1)
216
(1)
216
(1)

| | |
| --- | --- |
| | Questions for Class Discussion |

216
(1)
216
(3)
PART III Strategies, Aids, Media, and Resources for Effective Instruction
219
(120)

| | |
| --- | --- |
| | Questioning for Teaching and Learning |

221
(25)

| | |
| --- | --- |
| | Purposes for Using Questioning |

222
(1)

| | |
| --- | --- |
| | Questions to Avoid Asking |

223
(1)

| | |
| --- | --- |
| | Types of Cognitive Questions: A Glossary |

223
(2)
223
(1)

| | |
| --- | --- |
| | Convergent-Thinking Question |

223
(1)
223
(1)

| | |
| --- | --- |
| | Divergent-Thinking Question |

224
(1)
224
(1)
224
(1)
224
(1)
224
(1)

| | |
| --- | --- |
| | Levels of Cognitive Questions and Student Thinking |

225
(3)

| | |
| --- | --- |
| | Exercise 7.1 Identifying the Cognitive Levels of Questions-A Self-Check Exercise |

227
(1)

| | |
| --- | --- |
| | Guidelines for Using Questioning |

228
(4)
228
(1)
229
(1)

| | |
| --- | --- |
| | Exercise 7.2 Think Time and the Art of Questioning: An In-Class Exercise |

230
(2)

| | |
| --- | --- |
| | Questions from Students: The Question-Driven Classroom and Curriculum |

232
(13)

| | |
| --- | --- |
| | Questioning: The Cornerstone of Critical Thinking, Real-World Problem Solving, and Meaningful Learning |

232
(3)

| | |
| --- | --- |
| | Exercise 7.3 Examining Course Materials for Level of Questioning |

235
(2)

| | |
| --- | --- |
| | Exercise 7.4 Observing the Cognitive Levels of Classroom Verbal Interactions |

237
(2)

| | |
| --- | --- |
| | Exercise 7.5 Practice in Raising Questions to Higher Levels |

239
(2)

| | |
| --- | --- |
| | Exercise 7.6 Creating Cognitive Questions |

241
(2)

| | |
| --- | --- |
| | Exercise 7.7 A Cooperative Learning and Micro Peer Teaching Exercise in the Use of Questioning-Micro Peer Teaching I |

243
(2)
245
(1)
245
(1)

| | |
| --- | --- |
| | Questions for Class Discussion |

245
(1)
245
(1)

| | |
| --- | --- |
| | Grouping and Assignments for Positive Interaction and Quality Learning |

246
(48)

| | |
| --- | --- |
| | Mastery Learning and Personalized Instruction |

247
(1)

| | |
| --- | --- |
| | Today's Emphasis: Quality Learning for All Students |

247
(1)

| | |
| --- | --- |
| | Assumptions about Mastery, or Quality, Learning |

248
(1)

| | |
| --- | --- |
| | Components of Any Mastery Learning Model |

248
(1)

| | |
| --- | --- |
| | Strategies for Personalizing the Instruction |

248
(1)
248
(15)

| | |
| --- | --- |
| | The Self-Instructional Module |

248
(1)

| | |
| --- | --- |
| | Exercise 8.1 Preparing a Self-Instructional Module |

249
(14)
263
(1)
263
(1)
264
(1)

| | |
| --- | --- |
| | Purposes for Using Small Groups |

264
(1)
264
(2)

| | |
| --- | --- |
| | The Cooperative Learning Group (CLG) |

265
(1)
266
(9)
266
(2)
268
(1)

| | |
| --- | --- |
| | Exercise 8.2 Whole-Class Discussion as a Teaching Strategy: What Do I Already Know? |

269
(4)

| | |
| --- | --- |
| | Exercise 8.3 Whole-Class Discussion as a Teaching Strategy: Building upon What I Already Know |

273
(2)

| | |
| --- | --- |
| | Equality in the Classroom |

275
(4)
275
(2)

| | |
| --- | --- |
| | Exercise 8.4 Teacher Interaction with Students According to Student Gender |

277
(2)

| | |
| --- | --- |
| | Learning from Assignments and Homework |

279
(3)
279
(1)

| | |
| --- | --- |
| | Guidelines for Using Assignments |

279
(1)

| | |
| --- | --- |
| | Opportunities for Recovery |

280
(1)

| | |
| --- | --- |
| | How to Avoid Having So Many Papers to Grade That Time for Effective Planning Is Restricted |

281
(1)

| | |
| --- | --- |
| | Project-Centered Learning: Guiding Learning from Independent and Group Investigations, Papers, and Oral Reports |

282
(2)

| | |
| --- | --- |
| | Values and Purposes of Project-Centered Learning |

282
(2)

| | |
| --- | --- |
| | Writing Across the Curriculum |

284
(1)
284
(1)
284
(1)

| | |
| --- | --- |
| | Purpose and Assessment of Student Journal Writing |

284
(1)

| | |
| --- | --- |
| | A Collection of More Than 100 Annotated Motivational Teaching Strategies with Ideas for Lessons, Interdisciplinary Teaching, Transcultural Studies, and Student Projects |

284
(7)

| | |
| --- | --- |
| | The Visual and Performing Arts |

285
(1)

| | |
| --- | --- |
| | Family and Consumer Economics, Foods, and Textiles |

286
(1)

| | |
| --- | --- |
| | English, Languages, and the Language Arts |

286
(1)
287
(1)
288
(1)
288
(1)
289
(1)

| | |
| --- | --- |
| | Vocational-Career Education |

290
(1)
291
(1)
291
(1)

| | |
| --- | --- |
| | Questions for Class Discussion |

292
(1)
292
(2)

| | |
| --- | --- |
| | Using Teacher Talk, Demonstrations, Thinking, Inquiry, and Games |

294
(27)

| | |
| --- | --- |
| | Teacher Talk: Formal and Informal |

295
(10)

| | |
| --- | --- |
| | Cautions in Using Teacher Talk |

295
(1)

| | |
| --- | --- |
| | Teacher Talk: General Guidelines |

295
(1)

| | |
| --- | --- |
| | Teacher Talk: Specific Guidelines |

296
(7)

| | |
| --- | --- |
| | Exercise 9.1 The Lecture-Summary Review and Practice |

303
(2)
305
(1)

| | |
| --- | --- |
| | Purposes of Demonstrations |

305
(1)

| | |
| --- | --- |
| | Guidelines for Using Demonstrations |

305
(1)

| | |
| --- | --- |
| | Teaching Thinking for Intelligent Behavior |

305
(3)

| | |
| --- | --- |
| | Characteristics of Intelligent Behavior |

305
(2)

| | |
| --- | --- |
| | Direct Teaching for Thinking and Intelligent Behavior |

307
(1)

| | |
| --- | --- |
| | Inquiry Teaching and Discovery Learning |

308
(3)
308
(1)
308
(1)
309
(1)

| | |
| --- | --- |
| | The Critical Thinking Skills of Discovery and Inquiry |

309
(2)

| | |
| --- | --- |
| | Integrating Strategies for Integrated Learning |

311
(3)

| | |
| --- | --- |
| | Learning by Educational Games |

314
(5)

| | |
| --- | --- |
| | Classification of Educational Games |

315
(1)

| | |
| --- | --- |
| | Purposes of Educational Games |

315
(1)

| | |
| --- | --- |
| | Sources of Educational Games |

315
(2)

| | |
| --- | --- |
| | Exercise 9.2 Developing a Lesson Using Level II Inquiry, Thinking Skill Development, a Demonstration, or an Interactive Lecture-Micro Peer Teaching II |

317
(2)
319
(1)
319
(1)

| | |
| --- | --- |
| | Questions for Class Discussion |

319
(1)
319
(2)

| | |
| --- | --- |
| | Using Media and Other Instructional Aids and Resources |

321
(18)

| | |
| --- | --- |
| | Printed Materials, Visual Displays, and the Internet |

322
(5)

| | |
| --- | --- |
| | Sources of Free and Inexpensive Printed Materials |

322
(1)
322
(2)

| | |
| --- | --- |
| | Professional Journals and Periodicals |

324
(1)

| | |
| --- | --- |
| | The ERIC Information Network |

324
(1)

| | |
| --- | --- |
| | Copying Printed Materials |

324
(2)

| | |
| --- | --- |
| | The Classroom Writing Board |

326
(1)

| | |
| --- | --- |
| | The Classroom Bulletin Board |

327
(1)

| | |
| --- | --- |
| | The Community as a Resource |

327
(2)
328
(1)
328
(1)
329
(4)

| | |
| --- | --- |
| | When Equipment Malfunctions |

330
(1)
330
(2)
332
(1)

| | |
| --- | --- |
| | Computers and Computer-Based Instructional Tools |

333
(2)

| | |
| --- | --- |
| | The Placement and Use of Computers: The On-line Classroom |

333
(1)

| | |
| --- | --- |
| | Sources of Free and Inexpensive Audiovisual Materials |

334
(1)

| | |
| --- | --- |
| | Using Copyrighted Video, Computer, and Multimedia Programs |

334
(1)
335
(1)
336
(1)
336
(1)

| | |
| --- | --- |
| | Questions for Class Discussion |

336
(1)
337
(2)
PART IV Assessment and Continuing Professional Development
339
(68)

| | |
| --- | --- |
| | Assessing and Reporting Student Achievement |

341
(40)

| | |
| --- | --- |
| | Purposes and Principles of Assessment |

343
(1)
344
(1)

| | |
| --- | --- |
| | Assessment and Evaluation |

344
(1)

| | |
| --- | --- |
| | Measurement and Assessment |

344
(1)
344
(1)

| | |
| --- | --- |
| | Authentic Assessment: Advantages and Disadvantages |

344
(1)

| | |
| --- | --- |
| | Assessing Student Achievement: Diagnostic, Formative, and Summative |

345
(1)

| | |
| --- | --- |
| | Assessing Student Learning: Three Avenues |

345
(3)

| | |
| --- | --- |
| | Importance and Weight of Each Avenue |

345
(1)

| | |
| --- | --- |
| | Assessing What a Student Says and Does |

345
(2)

| | |
| --- | --- |
| | Assessing What a Student Writes |

347
(1)

| | |
| --- | --- |
| | Assessment for Affective and Psychomotor Domain Learning |

348
(1)

| | |
| --- | --- |
| | Student Involvement in Assessment |

348
(3)
348
(1)
349
(2)

| | |
| --- | --- |
| | Maintaining Records of Student Achievement |

351
(2)

| | |
| --- | --- |
| | Recording Teacher Observations and Judgments |

351
(1)

| | |
| --- | --- |
| | Exercise 11.1 An Evaluation of Written Teacher Comments about Students-A Self-Check Exercise |

352
(1)

| | |
| --- | --- |
| | Grading and Marking Student Achievement |

353
(3)

| | |
| --- | --- |
| | Criterion-Referenced vs. Norm-Referenced Grading |

353
(1)
354
(2)
356
(2)

| | |
| --- | --- |
| | Standardized and Nonstandardized Tests |

356
(1)
356
(1)
356
(1)
356
(1)
357
(1)
357
(1)

| | |
| --- | --- |
| | Determining the Time Needed to Take a Test |

358
(1)

| | |
| --- | --- |
| | Preparing Assessment Items |

358
(2)

| | |
| --- | --- |
| | Classification of Assessment Items |

358
(1)

| | |
| --- | --- |
| | Performance Testing Can Be Expensive and Time-Intensive |

359
(1)

| | |
| --- | --- |
| | General Guidelines for Preparing for Assessment |

359
(1)

| | |
| --- | --- |
| | Attaining Content Validity |

359
(1)

| | |
| --- | --- |
| | Twelve Types of Assessment Items: Descriptions, Examples, and Guidelines for Preparing and Using |

360
(13)
361
(1)
361
(1)
361
(1)
361
(1)
362
(1)
363
(1)
363
(1)
364
(1)
364
(2)
366
(1)
366
(3)
369
(2)

| | |
| --- | --- |
| | Exercise 11.2 Preparing Assessment Items |

371
(2)

| | |
| --- | --- |
| | Reporting Student Achievement |

373
(1)
373
(1)

| | |
| --- | --- |
| | More about Parental/Guardian Involvement and Home-School Connections |

373
(5)

| | |
| --- | --- |
| | Contacting Parents/Guardians |

373
(2)

| | |
| --- | --- |
| | Progress Reporting to Parents/Guardians |

375
(1)

| | |
| --- | --- |
| | Meeting Parents/Guardians |

375
(1)

| | |
| --- | --- |
| | Conferences with Parent/Guardian |

376
(2)

| | |
| --- | --- |
| | Dealing with an Angry Parent or Guardian |

378
(1)
378
(1)

| | |
| --- | --- |
| | Questions for Class Discussion |

379
(1)
379
(2)

| | |
| --- | --- |
| | Assessing Teaching Effectiveness and Continued Professional Development |

381
(26)

| | |
| --- | --- |
| | Professional Development through Student Teaching |

382
(3)

| | |
| --- | --- |
| | Student Teaching Is the Real Thing |

382
(1)

| | |
| --- | --- |
| | Getting Ready for Student Teaching |

382
(1)
382
(1)

| | |
| --- | --- |
| | Continuing to Get Ready for Student Teaching |

382
(1)

| | |
| --- | --- |
| | Student Teaching from the Cooperating Teacher's Point of View |

383
(1)

| | |
| --- | --- |
| | Comments from the University Supervisor |

383
(1)

| | |
| --- | --- |
| | What to Do Before an Observation |

384
(1)

| | |
| --- | --- |
| | What to Do During an Observation |

384
(1)

| | |
| --- | --- |
| | What to do During an Observation Conference |

385
(1)

| | |
| --- | --- |
| | What to Do After the Supervisor Leaves |

385
(1)

| | |
| --- | --- |
| | Finding a Teaching Position |

385
(5)

| | |
| --- | --- |
| | Guidelines for Locating a Teaching Position |

385
(1)

| | |
| --- | --- |
| | The Professional Career Portfolio (or How to Get Hired by Really Trying) |

386
(1)

| | |
| --- | --- |
| | Exercise 12.1 Development of My Professional Portfolio |

386
(1)

| | |
| --- | --- |
| | Resources for Locating Teaching Vacancies |

387
(1)
388
(1)
388
(2)

| | |
| --- | --- |
| | Professional Development through Reflection and Self-Assessment |

390
(1)

| | |
| --- | --- |
| | Professional Development through Mentoring |

391
(1)

| | |
| --- | --- |
| | Professional Development through Inservice and Graduate Study |

391
(1)

| | |
| --- | --- |
| | Professional Development through Participation in Professional Organizations |

391
(1)

| | |
| --- | --- |
| | Professional Development through Communications with Other Teachers |

392
(1)

| | |
| --- | --- |
| | Professional Development through Summer and Off-Teaching Work Experience |

392
(1)

| | |
| --- | --- |
| | Professional Development through Micro Peer Teaching |

393
(12)

| | |
| --- | --- |
| | Exercise 12.2 Pulling it All Together-Micro Peer Teaching III |

395
(10)
405
(1)
405
(1)

| | |
| --- | --- |
| | Questions for Class Discussion |

405
(1)
405
(2)
Glossary
407
(6)
Name Index
413
(6)
Subject Index
419
Excerpts
Welcome to the second edition ofSecondary School Teaching: A Guide to Methods and Resources.The purpose of this book is to provide a practical and concise guide for college and university students who are preparing to become competent secondary school teachers. Others who may find it useful are experienced teachers who want to continue developing their teaching skills and curriculum specialists and school administrators who want a current, practical, and concise text of methods, guidelines, and resources for teaching grades 7-12. NEW TO THIS EDITION Chapter 1 is a better organized and more focused overview of secondary school teaching today. A new chapter, Chapter 2, is devoted to secondary school students, their diversity, and specific ways of working with them in the classroom. These topics were part of Chapter 1 in the previous editi6n. Although separated in this book for reasons of organizational clarity, "establishing and managing the learning environment" is an integral and ongoing component of planning and implementing curriculum and instruction. Chapter 4, about establishing a supportive classroom learning environment, is now titled Planning the Classroom Learning Environment, and has moved from Part I to Part II, where it is the first of three chapters about Planning for Instruction. The other two chapters of Part II are "Planning the Curriculum and Its Content" and "Planning the Instructional Unit with Lessons." Part III now includes four rather than five chapters. Other changes made for this edition are mentioned in the paragraphs that follow. OUR BELIEFS: HOW AND WHERE THEY ARE REFLECTED IN THIS BOOK In preparing this book, we saw our tasknotas making the teaching job easier for you--exemplary teaching is never easy--but as improving your teaching effectiveness and providing relevant guidelines and current resources. You may choose from these resources and build upon what works best for you. Nobody can tell you what will work with your students; you will know them best. We do share what we believe to be the best of practice, the most useful of recent research findings, and the richest of experiences. Preparing this new edition presented us with an opportunity to reexamine and share our own beliefs about secondary school teaching. The boldface italic statements present our beliefs and explain how they are embraced in this book. The best learning occurs when the learner actively participates in the process, which includes having ownership in both the process and the product of the learning.Consequently, this book is designed to engage you in hands-on and minds-on learning about effective teaching. For example, rather than simply reading a chapter devoted to the important topic of cooperative learning, in each chapter you will become involved in cooperative and collaborative learning. In essence, via the exercises found in every chapter and on the Companion Website, you will practice cooperative learning, talk about it, practice it some more, and finally, through the process of doing it, learn a great deal about it. This bookinvolvesyou in it. The best strategies for learning about secondary school teaching are those that model the strategies used in exemplary teaching of adolescents.As you will learn, integrated learning is the cornerstone of effective teaching for the twenty-first century, and that is a premise upon which this text is designed. To be most effective a teacher must use an eclectic style in teaching.Rather than focus your attention on particular models of teaching, we emphasize the importance of an eclectic model--that is, one in which you select and integrate the best from various instructional approaches. For example, sometimes you will want to use a direct, expository approach, perhaps by lecturing; more often you will want to use an indirect,