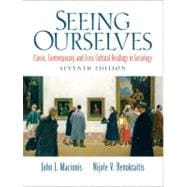 Questions About This Book?
What version or edition is this?
This is the 7th edition with a publication date of 1/1/2007.
What is included with this book?
The Used copy of this book is not guaranteed to include any supplemental materials. Typically, only the book itself is included.
Related Products
Summary
This best-selling collection is the only reader that systematically weaves together three types of articles classic, contemporary,and cross-cultural for each general topic typically covered in a sociology course.Seeing Ourselvesconveys sociology's diversity of viewpoints and methodologies and includes important issues and debates that capture the fascinating complexity of the social world.
Table of Contents
Preface
xv
About the Editors
xxi

| | |
| --- | --- |
| | The Sociological Imagination |

| | |
| --- | --- |
| | ``The Sociological Imagination'' |

1
(5)

| | |
| --- | --- |
| | ``Invitation to Sociology'' |

6
(4)
10
(4)

| | |
| --- | --- |
| | ``Women and the Birth of Sociology'' |

14
(5)

| | |
| --- | --- |
| | Patricia Madoo Lengermann |

| | |
| --- | --- |
| | ``Body Ritual among the Nacirema'' |

19
(4)

| | |
| --- | --- |
| | ``The Case for Value-Free Sociology'' |

23
(2)

| | |
| --- | --- |
| | ``The Importance of Social Research'' |

25
(3)

| | |
| --- | --- |
| | ``Arab Women in the Field'' |

28
(7)

| | |
| --- | --- |
| | ``Symbol: The Basic Element of Culture'' |

35
(5)

| | |
| --- | --- |
| | ``Manifest and Latent Functions'' |

40
(2)

| | |
| --- | --- |
| | ``Cultural Obsessions with Thinness: African American, Latina, and White Women'' |

42
(9)
51
(4)

| | |
| --- | --- |
| | ``Manifesto of the Communist Party'' |

55
(8)

| | |
| --- | --- |
| | ``Gemeinschaft and Gesellschaft'' |

63
(3)

| | |
| --- | --- |
| | ``Unmarried with Children'' |

66
(6)

| | |
| --- | --- |
| | ``The Amish: A Small Society'' |

72
(3)
75
(8)

| | |
| --- | --- |
| | ``Boyhood, Organized Sports, and the Construction of Masculinities'' |

83
(12)

| | |
| --- | --- |
| | ``Socialization and the Power of Advertising'' |

95
(6)

| | |
| --- | --- |
| | ``Parents' Socialization of Children in Global Perspective'' |

101
(5)

| | |
| --- | --- |
| | Social Interaction in Everyday Life |

| | |
| --- | --- |
| | ``The Dyad and the Triad'' |

106
(2)

| | |
| --- | --- |
| | ``The Presentation of Self'' |

108
(6)
114
(4)

| | |
| --- | --- |
| | ``You Just Don't Understand: Women and Men in Conversation'' |

118
(6)

| | |
| --- | --- |
| | ``The DOs and TABOOs of Body Language around the World'' |

124
(6)
130
(4)

| | |
| --- | --- |
| | ``The Characteristics of Bureaucracy'' |

134
(4)

| | |
| --- | --- |
| | ``McJobs: McDonaldization and the Workplace'' |

138
(5)

| | |
| --- | --- |
| | ``'Even If I Don't Know What I'm Doing, I Can Make It Look Like I Do': Becoming a Doctor in Canada'' |

143
(11)

| | |
| --- | --- |
| | ``The Functions of Crime'' |

154
(3)

| | |
| --- | --- |
| | ``On Being Sane in Insane Places'' |

157
(13)

| | |
| --- | --- |
| | ``The Code of the Streets'' |

170
(10)

| | |
| --- | --- |
| | ``Prostitution: A Worldwide Business of Sexual Exploitation'' |

180
(14)

| | |
| --- | --- |
| | ``Understanding Sexual Orientation'' |

194
(3)

| | |
| --- | --- |
| | ``Sex in America: How Many Partners Do We Have?'' |

197
(7)

| | |
| --- | --- |
| | ``Homosexual Behavior in Cross-Cultural Perspective'' |

204
(11)

| | |
| --- | --- |
| | ``Some Principles of Stratification'' |

215
(8)

| | |
| --- | --- |
| | ``Who Has How Much and Why'' |

223
(6)

| | |
| --- | --- |
| | ``The Uses of Global Poverty: How Economic Inequality Benefits the West'' |

229
(8)

| | |
| --- | --- |
| | ``Sex and Temperament in Three Primitive Societies'' |

237
(6)

| | |
| --- | --- |
| | ``'Night to His Day': The Social Construction of Gender'' |

243
(6)

| | |
| --- | --- |
| | ``How Subtle Sex Discrimination Works'' |

249
(6)

| | |
| --- | --- |
| | ``Domestic Violence: A Cross-Cultural View'' |

255
(6)

| | |
| --- | --- |
| | ``The Souls of Black Folk'' |

261
(5)

| | |
| --- | --- |
| | ``Controlling Images and Black Women's Oppression'' |

266
(8)

| | |
| --- | --- |
| | ``How Did Jews Become White Folks?'' |

274
(10)

| | |
| --- | --- |
| | ``Out of Harmony: Health Problems and Young Native American Men'' |

284
(9)

| | |
| --- | --- |
| | ``The Tragedy of Old Age in America'' |

293
(6)

| | |
| --- | --- |
| | ``How the Grandparent Role Is Changing'' |

299
(9)
308
(4)
312
(4)
316
(10)

| | |
| --- | --- |
| | ``Getting a Job in Harlem: Experiences of African American, Puerto Rican, and Dominican Youth'' |

326
(9)

| | |
| --- | --- |
| | Politics, Government, and the Military |

335
(7)

| | |
| --- | --- |
| | ``Who's Running America?'' |

342
(7)

| | |
| --- | --- |
| | ``The Roots of Terrorism'' from The 9/11 Commission Report |

349
(7)

| | |
| --- | --- |
| | `` `His' and `Her' Marriage'' |

356
(6)
362
(6)

| | |
| --- | --- |
| | ``Mate Selection and Marriage around the World'' |

368
(7)

| | |
| --- | --- |
| | ``The Protestant Ethic and the Spirit of Capitalism'' |

375
(6)

| | |
| --- | --- |
| | ``How Student Life Is Different at Religious Colleges'' |

381
(6)
387
(7)

| | |
| --- | --- |
| | ``Education and Inequality'' |

394
(7)

| | |
| --- | --- |
| | ``Savage Inequalities: Children in U.S. Schools'' |

401
(6)

| | |
| --- | --- |
| | ``Japanese Mothers as the Best Teachers'' |

407
(9)

| | |
| --- | --- |
| | ``The Social Structure of Medicine'' |

416
(4)

| | |
| --- | --- |
| | ``The Slaughterhouse: The Most Dangerous Job'' |

420
(5)

| | |
| --- | --- |
| | ``Female Genital Mutilation'' |

425
(8)

| | |
| --- | --- |
| | Population and Urbanization |

| | |
| --- | --- |
| | ``The Metropolis and Mental Life'' |

433
(7)

| | |
| --- | --- |
| | ``Urbanism as a Way of Life'' |

440
(6)

| | |
| --- | --- |
| | ``Urban Sprawl: The Formation of Edge Cities'' |

446
(5)

| | |
| --- | --- |
| | ``Let's Reduce Global Population!'' |

451
(5)

| | |
| --- | --- |
| | ``Why Humanity Faces Ultimate Catastrophe'' |

456
(4)

| | |
| --- | --- |
| | ``Rich Planet, Poor Planet: Global Environment and Poverty in 2001'' |

460
(12)

| | |
| --- | --- |
| | ``Supporting Indigenous Peoples'' |

472
(8)

| | |
| --- | --- |
| | Collective Behavior and Social Movements |

| | |
| --- | --- |
| | ``On the Origins of Social Movements'' |

480
(13)

| | |
| --- | --- |
| | ``The Animal Rights Movement as a Moral Crusade'' |

493
(7)

| | |
| --- | --- |
| | ``Abortion Movements in Poland, Great Britain, and the United States'' |

500
(10)

| | |
| --- | --- |
| | Social Change and Modernity |

| | |
| --- | --- |
| | ``Anomy and Modern Life'' |

510
(5)

| | |
| --- | --- |
| | ``The Disenchantment of Modern Life'' |

515
(2)

| | |
| --- | --- |
| | ``The American Paradox: Spiritual Hunger in an Age of Plenty'' |

517
(5)

| | |
| --- | --- |
| | ``The Price of Modernization: The Case of Brazil's Kaiapo Indians'' |

522
(7)
Photo Credits
529
Excerpts
PREFACE If there is a college course that is more exciting for students than the introduction to sociology, we don't know what it is. Both of us began our careers as students taking the "intro course," and we both found it to be life-changing. Over the (many) years since then, we have received thousands of e-mail messages from students that, in different ways and using different words, say pretty much the same thing: "Sociology has given me a new way to see the world around me, it has changed the way I think about myself and our society, it has given me knowledge and skills that I can use every day." Why is sociology so exciting? First, understanding how society operates is a source of power, helping us to recognize the opportunities and challenges that frame our lives and to see that society is a human creation that is subject to change. Second, sociology is liberating. It frees us from the belief that we alone are responsible for our life situations and, by showing how society shapes our world, opens the door to new possibilities. Third, sociology is plain fun. Looking at our families, workplaces, campuses, and local communities with a sociological eye, we suddenly recognize patterns and processes that were always there but went unnoticed. To learn to see sociologically is to have the world around you come alive as it never has before. What could be more fun than that? Sociology is also a vast and diverse body of knowledge that stretches back more than 150 years. Seeing Ourselves: Classic, Contemporary, and Cross-Cultural Readings in Sociology captures this rich legacy, presenting it to readers in the words of the men and women who created it. This collection of readings contains the work of the discipline's founders and others who have made lasting contributions. In addition, it contains important research being done by women and men who are standing on the shoulders of the founders. Finally, it deepens our understanding of our own way of life by making comparisons with other societies and cultural systems. This reader provides excellent material for use in a wide range of courses. Seeing Ourselves is most widely used in introductory sociology, but it is also well suited for courses in social problems, cultural anthropology, social theory, social stratification, American studies, women's studies, and marriage and the family. Since its introduction a decade ago, Seeing Ourselves has been the most popular reader in the discipline. This seventh edition offers eighty-three readings that represent the widest range of material found in any similar text. In short, Seeing Ourselves gives instructors the largest selection of articles to consider for their courses. It also give students the best value for their textbook dollar, costing less per article than competing readers and "custom" readers. THE THREE C'S: CLASSIC, CONTEMPORARY, AND CROSS-CULTURAL Seeing Ourselves is the only reader that systematically weaves together three types of selections. For each general topic typically covered in a sociology course, three types of articles are included: classic, contemporary, and cross-cultural. Classic articlesthirty in allare sociological statements of recognized importance and lasting significance. Included here are the ideas of sociology's founders and shakers--including Emile Durkheim, Karl Marx, Max Weber, Georg Simmel, Ferdinand Tönnies, as well as Margaret Mead, W. E. B. Du Bois, Louis Wirth, George Herbert Mead, Thomas Robert Malthus, and Charles Horton Cooley. There are also many more recent contributions by Alfred Kinsey, Jessie Bernard, Robert Merton, Erving Goffman, Peter Berger, Kingsley Davis and Wilbert Moore, C. Wright Mills, Talcott Parsons, Leslie White, and Jo Freeman. We realize that not everyone will agree about precisely which selections should be called "classics." But we hope that instructors will be pleased to see the work of so many outstanding men and womenc