Note: Supplemental materials are not guaranteed with Rental or Used book purchases.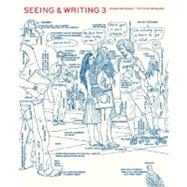 Questions About This Book?
Why should I rent this book?
Renting is easy, fast, and cheap! Renting from eCampus.com can save you hundreds of dollars compared to the cost of new or used books each semester. At the end of the semester, simply ship the book back to us with a free UPS shipping label! No need to worry about selling it back.
How do rental returns work?
Returning books is as easy as possible. As your rental due date approaches, we will email you several courtesy reminders. When you are ready to return, you can print a free UPS shipping label from our website at any time. Then, just return the book to your UPS driver or any staffed UPS location. You can even use the same box we shipped it in!
What version or edition is this?
This is the 3rd edition with a publication date of 1/3/2006.
What is included with this book?
The Used copy of this book is not guaranteed to include any supplemental materials. Typically, only the book itself is included.
The Rental copy of this book is not guaranteed to include any supplemental materials. You may receive a brand new copy, but typically, only the book itself.
Summary
Seeing & Writingwas the first 4-color composition reader to truly reflect the visual in our culture and in composition. Instructors who have used the past two editions tell us that this textbook helped them envision a new kind of composition class, based on a simple grounding principle: Careful seeing leads to effective writing. Students read this book when they don't have to. They actively and critically see the details of each verbal and visual text, think about its composition and the cultural context within which it operates, and then write thoughtfully and convincingly about it. With a new look, new essays and images, and new notes on teaching from teachers who have used this cutting-edge text,Seeing & Writing 3continues to lead the way -- as a visual, flexible, and above all, inspiring tool for the composition classroom.
Author Biography
DONALD MCQUADE is professor of English and former dean of undergraduate studies at the University of California, Berkeley; he currently serves as Vice Chancellor -- University Relations. A past chair of CCCC, he has directed the writing program at Berkeley and at Queens College, CUNY, and has published widely on American literature, American culture, and composition theory and practice.

CHRISTINE MCQUADE teaches composition at Queens College in New York. When she began working with her father on the first edition of Seeing & Writing, she had recently graduated from the University of California, Berkeley and was touring with modern dance company STREB. She has since worked in media as an editor for Contentville.com and a new-media producer for Courtroom Television's Public Affairs and Education group. A passionate advocate for traditional Chinese medicine, she works actively with the Traditional Chinese Medicine World Foundation to increase awareness of the role of complementary and alternative medicine in modern health care.

2x4 is a design firm that includes among its list of clients the New York Times Fashions of the Times, Levi Strauss, the Whitney Museum of Modern Art, and the Princeton School of Architecture. Partner Michael Rock is an associate professor of design at the Yale University School of Art and a contributing editor to I.D. magazine. He has received numerous awards including the 1999 Rome Prize in Design from the American Academy in Rome.
Table of Contents
Introduction. WRITING MATTERS

1. Observing the Ordinary
*PORTFOLIO: Roe Ethridge [6 photographs]
*PAIR: Abelardo Morell, Pencil, 2000 [photograph] and Henry Petroski, From The Pencil [essay]
Larry Woiwode, Ode to an Orange [essay]
Sequoia Citrus Association, Have One [labels]
*John Updike, An Oil on Canvas [essay]
*Leong Ka Tai, The Wu Family [3 photos + statistics]
*RE:SEARCHING THE WEB
*RETROSPECT: Advertising on the Run [5 ads]
Tracey Baran, Untitled 2 [photograph]
Tillie Olsen, I Stand Here Ironing [essay]
VISUALIZING COMPOSITION: Close Reading
*PORTFOLIO: Gueorgui Pinkhassov [6 photos]
*Brian Doyle, Joyas Volardores [essay]
Alfred Leslie, Television Moon [painting]
*TALKING PICTURES
Pepón Osorio, Badge of Honor, 1995 (detail) [photograph]
CONTEXT: Osario
*INTERVIEW: Osario
*Joseph Jacobs, Pepón Osorio -- Badge of Honor [essay]
*Volkswagen, Drivers Wanted [advertisement]
Annie Dillard, Seeing [essay]
LOOKING CLOSER: Seeing is Believing
*Willard Wigan, Man v. Ant [sculpture]
Steven Millhauser, The Fascination of the Miniature [essay]
*Bill Bryson, from A Brief History of Nearly Everything [essay]
Carl Sagan, Voyager 1, Pale Blue Dot [photograph], Reflections on a Mote of Dust [essay]
*Harold Edgerton, .30 Bullet Piercing an Apple [photograph]
*Bryan Steiff, Terra Futura #9 [sculpture]
K.C. Cole, A Matter of Scale [essay]
Chuck Close, Self-Portrait [painting]
Chuck Close, Self Portrait [detail]

2. Coming to Terms with Place
*PORTFOLIO: Richard Misrach from the Golden Gate series [6 photographs]
PAIR: Edward Hopper, House by the Railroad [painting] and Edward Hirsch, Edward Hopper and the House by the Railroad [essay]
Eudora Welty, The Little Store [essay]
*E.B. White, Once More to the Lake [essay]
*Kerry James Marshall, Watts [painting]
CONTEXT: Marshall
*Eric Liu, The Chinatown Idea [essay]
Retropect: Camilo José Vergara, [12 photographs]
*RE:SEARCHING THE WEB
Mark Peterson, Image of Homelessness [photograph]
David Guterson, No Place like Home [essay]
*PORTFOLIO: Joel Sternfeld [4 photos]
*TALKING PICTURES
*Bill McKibben, Worried? Us? [essay]
*National Geographic Maps, Earth at Night [photo]
VISUALIZING COMPOSITION: Tone
Scott Russell Sanders, Homeplace [essay]
*Bharati Mukherjee, Imagining Homelands [essay]
INTERVIEW: Mukherjee
LOOKING CLOSER: Imagining the Grand Canyon
*Thomas Moran, The Chasm of the Colorado, 1873-74 [painting]
*Fitz-James MacCarthy [quotation]
*Santa Fe Railroad [advertisement]
*Ansel Adams, Grand Canyon from Yavapai Point [photograph]
*Shawn Macomber, The Chasm Between Grand and Great; Next to Hoover Dam, the Grand Canyon is a hole in the ground. [essay]
*Walker Percy, The Loss of the Creature [essay]
*Martin Parr, Grand Canyon, 1994 [photo]
*Bill Owens [photo]
*Woody Gwyn, Tourists, 1989 [painting]

3. Capturing Memorable Moments
*PORTFOLIO: Martin Parr [7 photographs]
*PAIR: Joel Sternfeld, A Young Man Gathering Shopping Carts, Huntington, NY, 1993 [photo] and Tom Brokaw, An Ode to Loved Labors Lost [essay]
*Sarah Vowell, The First Thanksgiving [essay]
*Amy Tan, Fish Cheeks [essay]
*RETROSPECT: Yearbook Photos [18 photographs]
*Robert Olen Butler, This is Earle Sandt [photo + story]
PORTFOLIO: Andrew Savulich [4 photographs]
*National Public Radio, Snapshots Freeze the Moment [advertisement]
*TALKING PICTURES
Dorothy Allison, This Is Our World [essay]
*RE:SEARCHING THE WEB
*Steve McCurry, Sharbat Gula [2 photographs]
*VISUALIZING COMPOSITION: Structure
Joe Rosenthal, Marines Raising the Flag on Mount Suribachi, Iwo Jima, 1945 [photograph]; Flag Raising on Iwo Jima, February 23, 1945 [essay]
CONTEXT: Rosenthal [3 photographs]
*Art Spiegelman, In the Shadow of No Towers [comic]
*INTERVIEW: Spiegelman
James Nachtwey, Ground Zero [essay] with Crushed Car [photograph]
LOOKING CLOSER: Taking Pictures
Susan Sontag, On Photography [essay]
Duane Hanson, Tourists [sculpture]
*Yutaka Sone, Birthday Party [4 photographs]
*Babbette Hines, Photobooth [text + 4 photographs]
N. Scott Momaday, The Photograph [essay]
*Michael Bragg, From Forgotten collection [2 photographs]
*Mercedes, No One Ever Poses with Their Toaster [advertisement]
Ethan Canin, Viewfinder [fiction] with Vivian, Fort Barnwell [photograph]
Eastman Kodak Company, Keep the Story with a Kodak [advertisement]

4. Projecting Gender
*PORTFOLIO: Robert Mapplethorpe [2 photographs]
PAIR: César A. Martinez, Bato Con Khakis, 1982 [painting] and Jacinto Jesús Cardona, Bato Con Khakis [poem]
Jamaica Kincaid, Girl [poem]
Judith Ortiz Cofer, The Story of My Body [essay]
INTERVIEW: Cofer
*Marjane Satrapi, The Veil [comic]
CONTEXT: Satrapi
RETROSPECT: Building the Male Body [magazine cover & 3 advertisements]
*Jane Slaughter, A Beaut of a Shiner [essay]
*PORTFOLIO: Nancy Burson, [6 photographs]
*TALKING PICTURES
Susan Bordo, Never Just Pictures [essay with 2 photographs]
Rockport, I'm Comfortable Being a Man [advertisement]
*VISUALIZING COMPOSTION: Purpose
RE:SEARCHING THE WEB
*Extreme Makeover, Tess [5 TV stills]
*Chris Ballard, How to Write a Catchy Beer Ad [essay]
LOOKING CLOSER: Gender Training
*Art Spiegleman, Nature vs. Nurture [comic]
*Marianne Ghantous, Kids Couture [kids drawing]
Lauren Greenfield, Ashleigh, 13 [photograph]
Katha Pollit, Why Boys Don't Play with Dolls [essay]
*Brian Finke, Cheerleaders #12 [photograph]; Football #11 [photograph]
*Army, There's Something About a Soldier [advertisement]

5. Examining Difference
PORTFOLIO: Nikki S. Lee [8 photos]
*INTERVIEW: Lee
PAIR: *David Mura, Fresh from the Island Angel [poem] and *Pacita Abad, How Mali Lost Her Accent, 1991 [painting]
*Annie Dillard, How to Live [essay]
Mario Testino, Doubles, Lima, and Shalom and Linda, Paris [2 photos]
*Gish Jen, Coming Into the Country [essay]
RE:SEARCHING THE WEB
RETROSPECT: Reel Native Americans
TALKING PICTURES
Donnell Alexander, Cool Like Me [essay]
*Stanley Crouch, Goose-Loose Blues for the Melting Pot [essay]
*PORTFOLIO: "The American Effect"
*Robert Shireman, 10 Questions College Officials Should Ask About Diversity [essay]
VISUALIZING COMPOSITION: Audience
*Roger Shimomura, 24 People for Whom I Have Been Mistaken, 1999.
*Nicholas D. Kristof,Believe It, or Not[essay]
CONTEXT: Kristof
LOOKING CLOSER: Reflecting Class
*Paul Fussell, A Touchy Subject [essay]
*Margaret Bourke White, The Louisville Flood, 1937 [photo]
*Jim Goldberg, USA. San Francisco. 1979; USA. San Francisco. 1982; and USA. San Francisco, 1982
*The Onion, National Museum of the Middle Class Opens in Schaumburg, IL [essay + photos]
*Bruce Gilden, 1984. Fifth Avenue [photo]
*Tina Barney, The Reunion [photo]
*Baby Phat, [advertisement]
*Nation cover, January, 2005

6. Reading Icons
*PORTFOLIO: Bathroom Signs [15 signs]
PAIR: Grant Wood, American Gothic [painting] and Guy Davenport, from The Geography of the Imagination [essay]
CONTEXT: Wood, American Gothic [photograph]
Mercedes-Benz, What Makes a Symbol Endure? [advertisement]
*Kari Lynn Dean, She Can't Smile Without You [essay + 5 details of Leonardo da Vinci's Mona Lisa]
*RETROSPECT: The Madonna [8 paintings]
*Sally Stein, Passing Likeness: Dorothea Lange's 'Migrant Mother' and the Paradox of Iconicity [essay + 10 photographs]
VISUALIZING COMPOSITION: Metaphor
PORTFOLIO: Tibor Kalman [four images]
*Chip Kidd, Super [essay]
*Interview: Kidd
*Richard B. Woodward, Wonder [essay]
*RE:SEARCHING THE WEB
Neal Gabler, Inside Every Superhero Lurks a Nerd [essay]
*TALKING PICTURES
Paul Rand, Logos, Flags, and Estucheons [essay]
Tom Perrotta, The Cosmic Significance of Britney Spears [essay]
*Coca-Cola, Nu. Classic. Soul [ad]
LOOKING CLOSER: The Stars and Stripes
*Ann Fadiman, A Piece of Cotton [essay]
Jesse Gordon, What is America? [op-art]
Justice William J. Brennan Jr., Majority Opinion of the US Supreme Court in Texas v. Johnson [legal opinion]
Chief Justice William H. Rehnquist, Dissenting Opinion in Texas v. Johnson [legal opinion]
Matt Groening, Pledging the Flag [cartoon]
Several Artists, Section of Sunnyside, Queens [mural]
*Adbusters, Corporate American Flag [illustration]
*Oshkosh, Land That I Love [ad]

7. Challenging Images
PORTFOLIO: *Amnesty International [3 ads]; *Sierra Club & Amnesty [ad]; *Rock the Vote [ad]
PAIR: Frank Fournier, Omayra Sanchez, Colombia, 1985 [photograph] and Isabelle Allende, Omayra Sanchez [essay]
INTERVIEW: Fournier
Nick Hornby, Richard Billingham [essay with photos]
*PORTFOLIO: WritersCorps [5 poems with images]
*Susan Sontag, from Regarding the Pain of Others [essay]
*RETROSPECT: Picturing American War [5 photos]
James Rosenquist, Professional Courtesy [painting]
Office of National Drug Control Policy, Parents, the Anti-Drug (Tommy) [advertisement]
CONTEXT: Partnership for a Drug-Free America, This is your brain. This is your brain on drugs, 1987 [advertisement]
*TALKING PICTURES
Michael Kimmelman, 150th Anniversary: 1851-2001. The Assignment Is to Get the Story, but the Image Can Rise to Art [essay]
VISUALIZING COMPOSITION: Point of View
*Edward Tufte, Power Point is Evil [essay + photo + 2 slides]
*RE:SEARCHING THE WEB
LOOKING CLOSER: The Ethics of Representation
*HP, This photograph is not true [ad]
Mitchell Stephens, Expanding the Language of Photographs [essay]
George Hunt, Doctoring Reality to Document What's True [photograph]
John Long, Ethics in the Age of Digital Photography [essay]
Lance Cheung, Untitled and Charles Maxwell, Hoax Photo [photographs]
*Brian Walski, March 31, 2003 [3 photos]
*Carla Marinucci, Doctored Kerry photo brings anger, threat of suit [essay + photos]
*Rankin [2 photographs]
*Kelly K. Spors, Where All School Photos Are Above Average [essay]

Appendix A: On the Theory and Practice of Seeing
John Berger, Ways of Seeing [essay with images]
Scott McCloud, Show and Tell [comic]

Appendix B: On Reading Visual and Verbal Texts

Glossary

Rhetorical Table of Contents

Index of Verbal and Visual Texts


*new to this edition