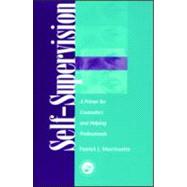 Questions About This Book?
What version or edition is this?
This is the 1st edition with a publication date of 4/5/2002.
What is included with this book?
The New copy of this book will include any supplemental materials advertised. Please check the title of the book to determine if it should include any CDs, lab manuals, study guides, etc.
The eBook copy of this book is not guaranteed to include any supplemental materials. Typically only the book itself is included.
Summary
Self-Supervisionsynthesizes past and current literature on the theory and practice of self-supervision and provides counselors and human service professionals with a plan for the pursuit of independent professional growth. Beginning with a historical overview and discussion of the counselor-client relationship, boundary transgressions, the counselor's family-of-origin and unresolved issues, and disclosure styles, the author provides the reader with a foundation for understanding the issues that must be examined when evaluating one's own work. He then outlines the reflective process and describes the actual practice, guiding principles, and strategies for self-supervision. Finally the author presents several proactive measures for counselor self-care that readers will find useful.
Author Biography
Patrick J. Morrissette, Ph.D., RMFT, NCC, is an Associate Professor in the School of Health Studies at Brandon University in Manitoba, Canada. He is a Clinical Member and Approved Supervisor with the American Association for Marriage and Family Therapy (AAMFT), an Approved Clinical Supervisor with the National Board for Certified Counselors (NBCC), and a Licensed Clinical Professional Counselor
Table of Contents
Acknowledgments
xi
Foreword
xiii

| | |
| --- | --- |
| | List of Tables and Figures |

xv
Introduction
xvii

| | |
| --- | --- |
| | Counselor Self-Supervision: A Historical Overview |

1
(32)

| | |
| --- | --- |
| | Broadening the Supervisory Lens |

2
(2)

| | |
| --- | --- |
| | The Influence of Constructivism |

4
(2)

| | |
| --- | --- |
| | A Changing Tide: The Influence of a Solution-Focused Orientation |

6
(1)

| | |
| --- | --- |
| | Competency-Based to Solution-Oriented Supervision |

7
(1)

| | |
| --- | --- |
| | Methods of Self-Introspection |

8
(6)

| | |
| --- | --- |
| | Communication Specialists' Influence in the Development of Self-Supervision |

14
(1)

| | |
| --- | --- |
| | Developmental Frameworks of Self-Supervision |

15
(1)

| | |
| --- | --- |
| | Self-Assessment Instruments |

16
(2)

| | |
| --- | --- |
| | Cognitive Behavioral-Oriented Self-Supervision |

18
(1)

| | |
| --- | --- |
| | Counselor Self-Assessment |

19
(1)

| | |
| --- | --- |
| | Self-Supervision in Systemic and Family Therapy |

20
(7)

| | |
| --- | --- |
| | Self-Supervision Within a Group Context |

27
(1)

| | |
| --- | --- |
| | Self-Supervision in Psychiatry |

27
(4)
31
(1)

| | |
| --- | --- |
| | Review/Discussion Questions |

32
(1)

| | |
| --- | --- |
| | The Counselor-Client Relationship |

33
(23)

| | |
| --- | --- |
| | Counselor Centrality and Overinvolvement |

33
(1)

| | |
| --- | --- |
| | Overinvolvement Through a Systemic Lens |

34
(2)
36
(1)

| | |
| --- | --- |
| | Transitional Points in Counseling |

37
(1)

| | |
| --- | --- |
| | Indicators of Counselor Overinvolvement |

38
(7)

| | |
| --- | --- |
| | Cycle of Counselor-Client Conflict |

45
(1)

| | |
| --- | --- |
| | Complementary Coupling Behaviors |

45
(2)

| | |
| --- | --- |
| | Epistemology and Counselor-Client Conflict |

47
(1)

| | |
| --- | --- |
| | Therapeutic Alliance and Collaboration |

47
(3)

| | |
| --- | --- |
| | Counselor Self-Disclosure |

50
(3)

| | |
| --- | --- |
| | Client Responses to Counselor Disclosure and Overinvolvement |

53
(1)
54
(1)

| | |
| --- | --- |
| | Review/Discussion Questions |

55
(1)
56
(21)

| | |
| --- | --- |
| | Counselor-Client Parallel Growth Process |

57
(1)

| | |
| --- | --- |
| | Counselor Values, Assumptions, and Life Experiences |

58
(2)
60
(1)
61
(1)
62
(1)

| | |
| --- | --- |
| | Transparency and Competency |

62
(2)

| | |
| --- | --- |
| | Models for Self-Exploration |

64
(10)
74
(1)
75
(1)

| | |
| --- | --- |
| | Review/Discussion Questions |

76
(1)

| | |
| --- | --- |
| | Reflectivity: The Essence of Self-Supervision |

77
(32)

| | |
| --- | --- |
| | The Evolution of Reflectivity |

77
(2)

| | |
| --- | --- |
| | Counselor Self-Awareness and Understanding |

79
(5)

| | |
| --- | --- |
| | Counselor Motivation Versus Counselor Coercion |

84
(1)

| | |
| --- | --- |
| | Reflecting for Personal Growth |

85
(4)

| | |
| --- | --- |
| | Necessary Attitudes for Reflective Thinking |

89
(1)

| | |
| --- | --- |
| | Removing Roadblocks to Reflectivity |

89
(4)

| | |
| --- | --- |
| | Practical Strategies for Reflective Practice |

93
(3)

| | |
| --- | --- |
| | Reflectivity: A Developmental Framework |

96
(3)

| | |
| --- | --- |
| | Coloring Outside the Lines |

99
(5)

| | |
| --- | --- |
| | Teasing Out Personal Assumptions |

104
(1)
105
(2)
107
(1)

| | |
| --- | --- |
| | Review/Discussion Questions |

108
(1)

| | |
| --- | --- |
| | Self-Supervision in Action |

109
(20)

| | |
| --- | --- |
| | Information Gathering and Integration |

110
(1)

| | |
| --- | --- |
| | The Timing of Self-Supervision |

110
(1)

| | |
| --- | --- |
| | Participation in the Self-Supervisory Process |

111
(1)

| | |
| --- | --- |
| | Development of Counselor Self-Reliance |

112
(1)

| | |
| --- | --- |
| | Perceptual, Conceptual, and Executive Skills |

112
(1)

| | |
| --- | --- |
| | Pragmatics of Self-Supervision |

113
(3)

| | |
| --- | --- |
| | Self-Supervision: Preliminary Guidelines |

116
(11)
127
(1)

| | |
| --- | --- |
| | Review/Discussion Questions |

128
(1)

| | |
| --- | --- |
| | Self-Supervision and Counselor Self-Care |

129
(19)
130
(1)

| | |
| --- | --- |
| | Counselor Well-Being and Service Delivery |

131
(1)

| | |
| --- | --- |
| | The Professional and Personal Lives of Counselors |

132
(1)

| | |
| --- | --- |
| | Occupational Hazards of Counseling |

133
(2)
135
(8)

| | |
| --- | --- |
| | Proactive Strategies for Counselors |

143
(4)
147
(1)

| | |
| --- | --- |
| | Review/Discussion Questions |

147
(1)
Epilogue
148
(1)
References
149
(11)
Index
160