Note: Supplemental materials are not guaranteed with Rental or Used book purchases.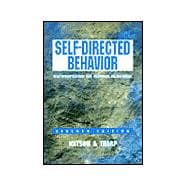 Self-Directed Behavior : Self-Modification for Personal Adjustment
ISBN13:
9780534344818
by
WATSON/THARP
Related Products
Summary
More than just a self-help book, this text provides readers with step-by-step instructions for carrying out self-modification programs. Readers are guided through the process of selecting a goal, developing a plan, and keeping a record of progress. They are also alerted to ways to recognize and cope with situations that might sabotage progress.
Table of Contents
| | |
| --- | --- |
| | 1 Adjustment and the Skills of Self-Direction |

1
(30)

| | |
| --- | --- |
| | Outline and Learning Objectives |

1
(1)

| | |
| --- | --- |
| | Adjustment and Self-Direction |

2
(2)

| | |
| --- | --- |
| | Alternative Ways of Thinking about Self-Direction |

4
(4)

| | |
| --- | --- |
| | Explanation by Skills: The Person/Situation Interaction |

8
(2)
10
(2)

| | |
| --- | --- |
| | The Process of Self-Modification |

12
(6)

| | |
| --- | --- |
| | Does Self-Modification Really Work? |

18
(6)
24
(1)

| | |
| --- | --- |
| | Your Own Self-Direction Project: Step 1 |

25
(6)

| | |
| --- | --- |
| | 2 Specifying Targets, Anticipating Obstacles, and Creating Goals |

31
(38)

| | |
| --- | --- |
| | Outline and Learning Objectives |

31
(1)

| | |
| --- | --- |
| | Specifying Targets for Change |

32
(9)
41
(12)
53
(12)
65
(1)
66
(2)

| | |
| --- | --- |
| | Your Own Self-Direction Project: Step 2 |

68
(1)

| | |
| --- | --- |
| | 3 Self-Knowledge: Observation and Recording |

69
(42)

| | |
| --- | --- |
| | Outline and Learning Objectives |

69
(1)
70
(1)
71
(6)

| | |
| --- | --- |
| | Recording Frequency and Duration |

77
(7)

| | |
| --- | --- |
| | Recording the Intensity of Emotions |

84
(5)

| | |
| --- | --- |
| | Practicalities of Record Keeping |

89
(10)
99
(3)
102
(6)
108
(1)

| | |
| --- | --- |
| | Your Own Self-Direction Project: Step 3 |

109
(2)

| | |
| --- | --- |
| | 4 The Principles of Self-Regulation |

111
(26)

| | |
| --- | --- |
| | Outline and Learning Objectives |

111
(1)
112
(2)

| | |
| --- | --- |
| | Regulation by Others and Regulation by Self |

114
(2)
116
(1)
117
(6)
123
(2)

| | |
| --- | --- |
| | Respondent Behavior and Conditioning |

125
(4)
129
(1)
130
(5)

| | |
| --- | --- |
| | Your Own Self-Direction Project: Step 4 |

135
(2)
137
(29)

| | |
| --- | --- |
| | Outline and Learning Objectives |

137
(1)
138
(5)

| | |
| --- | --- |
| | Modifying Old Antecedents |

143
(6)

| | |
| --- | --- |
| | Arranging New Antecedents |

149
(9)
158
(5)
163
(2)

| | |
| --- | --- |
| | Your Own Self-Direction Project: Step 5 |

165
(1)

| | |
| --- | --- |
| | 6 Behaviors: Actions, Thoughts, and Feelings |

166
(40)

| | |
| --- | --- |
| | Outline and Learning Objectives |

166
(1)

| | |
| --- | --- |
| | Substituting New Thoughts and Behaviors |

167
(4)

| | |
| --- | --- |
| | Substitutions for Anxiety and Stress Reactions |

171
(4)
175
(8)
183
(6)

| | |
| --- | --- |
| | Shaping: The Method of Successive Approximations |

189
(7)
196
(7)
203
(1)

| | |
| --- | --- |
| | Your Own Self-Direction Project: Step 6 |

204
(2)
206
(40)

| | |
| --- | --- |
| | Outline and Learning Objectives |

206
(2)

| | |
| --- | --- |
| | Discovering and Selecting Reinforcers |

208
(4)

| | |
| --- | --- |
| | Using Others to Dispense Reinforcers |

212
(4)

| | |
| --- | --- |
| | Self-Administered Consequences |

216
(3)

| | |
| --- | --- |
| | Techniques of Self-Reinforcement |

219
(10)

| | |
| --- | --- |
| | Self-Punishment and Extinction |

229
(5)

| | |
| --- | --- |
| | Reinforcement in Plans for Self-Modification |

234
(4)
238
(6)
244
(1)

| | |
| --- | --- |
| | Your Own Self-Direction Project: Step 7 |

245
(1)

| | |
| --- | --- |
| | 8 Developing a Successful Plan |

246
(26)

| | |
| --- | --- |
| | Outline and Learning Objectives |

246
(1)

| | |
| --- | --- |
| | Combining A, B, and C Elements |

247
(5)
252
(11)

| | |
| --- | --- |
| | Evaluating Your Plan for Change |

263
(6)
269
(1)
269
(2)

| | |
| --- | --- |
| | Your Own Self-Direction Project: Step 8 |

271
(1)

| | |
| --- | --- |
| | 9 Problem Solving and Relapse Prevention |

272
(27)

| | |
| --- | --- |
| | Outline and Learning Objectives |

272
(1)
273
(13)
286
(10)
296
(1)

| | |
| --- | --- |
| | Your Own Self-Direction Project: Step 9 |

297
(2)

| | |
| --- | --- |
| | 10 Termination and Beyond |

299
(14)

| | |
| --- | --- |
| | Outline and Learning Objectives |

299
(1)

| | |
| --- | --- |
| | Formal Termination: Planning to Maintain Gains |

300
(7)
307
(4)
311
(1)

| | |
| --- | --- |
| | Your Own Self-Direction Project: Step 10 |

312
(1)
Bibliography
313
(22)
Name Index
335
(10)
Subject Index
345
(6)
Topic Index
351