Note: Supplemental materials are not guaranteed with Rental or Used book purchases.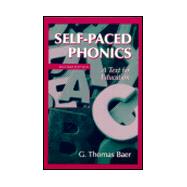 Self-Paced Phonics: A Text for Education
ISBN13:
9780139568893
by
Baer, G. Thomas
Related Products
Summary
Students can work at their own pace with minimal direct instruction using this concise workbook designed to provide future teachers with a sound understanding of both the content and pedagogy of phonics. Using evaluative feedback from both students and reading professionals in the field who have used the previous edition, the contents of this workbook have been expanded and strengthened to better serve the needs of prospective teachers. Strong evidence indicates that children who are taught phonics at the beginning stages of reading instruction tend to do better than those who are not. Therefore, the concentration of this text is not on whether or not phonics should be included in beginning instruction, but how phonics can be taught most effectively.
Table of Contents
1
(7)
5
(3)
8
(10)
8
(1)
9
(1)
9
(6)
15
(1)

| | |
| --- | --- |
| | Cumulative Review of Chapters 1 and 2 |

15
(3)
18
(7)
20
(2)

| | |
| --- | --- |
| | Cumulative Review of Chapters 1 through 3 |

22
(3)
25
(16)
25
(1)
26
(1)
27
(1)
28
(1)
29
(3)

| | |
| --- | --- |
| | Visual Discrimination Exercises |

29
(3)
32
(2)

| | |
| --- | --- |
| | Auditory Awareness Exercises |

32
(1)

| | |
| --- | --- |
| | Auditory Discrimination Exercises |

33
(1)
34
(1)

| | |
| --- | --- |
| | Measuring Visual and Auditory Discrimination |

35
(1)
35
(1)
36
(2)

| | |
| --- | --- |
| | Cumulative Review of Chapters 1 through 4 |

38
(3)
41
(8)

| | |
| --- | --- |
| | Consonant Phonemes--Pronunciation Key |

41
(1)

| | |
| --- | --- |
| | Vowel Phonemes--Pronunciation Key |

42
(1)
43
(2)
45
(1)

| | |
| --- | --- |
| | Cumulative Review of Chapters 1 through 5 |

46
(3)
49
(11)

| | |
| --- | --- |
| | Consonant Generalizations |

54
(1)
55
(1)
56
(2)

| | |
| --- | --- |
| | Cumulative Review of Chapters 1 through 6 |

58
(2)

| | |
| --- | --- |
| | 7 Teaching Consonants and Vowels |

60
(14)
61
(3)
61
(2)

| | |
| --- | --- |
| | Consonant Blends (Clusters) |

63
(1)
63
(1)
64
(4)
65
(1)
66
(1)
67
(1)
67
(1)

| | |
| --- | --- |
| | Teaching Vowels through Phonograms |

67
(1)
68
(2)

| | |
| --- | --- |
| | Cumulative Review of Chapters 1 through 7 |

70
(4)

| | |
| --- | --- |
| | 8 Syllabication/Accenting |

74
(8)
77
(1)

| | |
| --- | --- |
| | Cumulative Review of Chapters 1 through 8 |

78
(4)
82
(10)

| | |
| --- | --- |
| | General Principles of Diagnosis |

82
(1)

| | |
| --- | --- |
| | Procedures For Diagnosing Phonic Skills |

83
(7)
83
(1)

| | |
| --- | --- |
| | Informal Reading Inventory (IRI) |

84
(1)
84
(1)
85
(1)
86
(2)
88
(2)
90
(1)
90
(2)
92
(8)
92
(1)
92
(1)
93
(7)
Appendix A Answer Key
100
(16)
Glossary
116
(3)
References
119