Note: Supplemental materials are not guaranteed with Rental or Used book purchases.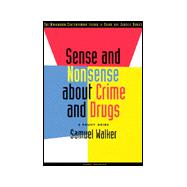 Sense and Nonsense about Crime and Drugs : A Policy Guide
ISBN13:
9780534554361
by
Walker
Questions About This Book?
What version or edition is this?
This is the 5th edition with a publication date of 7/28/2000.
What is included with this book?
The New copy of this book will include any supplemental materials advertised. Please check the title of the book to determine if it should include any CDs, lab manuals, study guides, etc.
Summary
Walker's SENSE AND NONSENSE was the first book to challenge common misconceptions about crime and remains the most effective at doing so. Described as a "masterful critique" of American policies on everything from crime control to guns to drugs Walker cuts through myths and political rhetoric and confronts both conservative and liberal propositions relative to current research and proven effectiveness. The result is a research-based, lucid work that stimulates critical thinking and enlivens class discussions. Walker captures the complexity of the administration of justice while providing students with a clear sense of the general patterns.
Table of Contents
xiii
Foreword
xvi
Preface
xviii
THINKING CLEARLY ABOUT CRIME
1
(74)

| | |
| --- | --- |
| | Crime and Policy: A Complex Problem |

3
(23)

| | |
| --- | --- |
| | The Miracle of Falling Crime Rates |

3
(3)
4
(1)

| | |
| --- | --- |
| | The Great American Paternity Fight |

5
(1)

| | |
| --- | --- |
| | Understanding the Crime Problem |

6
(2)

| | |
| --- | --- |
| | America's Two Crime Problems |

6
(2)
8
(5)

| | |
| --- | --- |
| | Race and the War on Crime |

9
(2)

| | |
| --- | --- |
| | The War on Crime and the Criminal Justice System |

11
(1)

| | |
| --- | --- |
| | The Futility of Waging ``War'' on Crime |

11
(1)

| | |
| --- | --- |
| | Crime Policy: A Plague of Nonsense |

12
(1)
13
(4)

| | |
| --- | --- |
| | Thinking Clearly about Crime Prevention |

14
(1)

| | |
| --- | --- |
| | Reducing Crime: The New Community Focus |

15
(1)

| | |
| --- | --- |
| | The Larger Context: Recent Social Trends |

16
(1)

| | |
| --- | --- |
| | Guilty: Liberals and Conservatives |

17
(1)
17
(5)
18
(2)
20
(1)
21
(1)

| | |
| --- | --- |
| | Ideological Confusion: Switching Sides |

22
(1)
22
(1)
23
(3)

| | |
| --- | --- |
| | Models of Criminal Justice |

26
(15)

| | |
| --- | --- |
| | The Crime Commission's Model |

28
(1)

| | |
| --- | --- |
| | The Criminal Justice Wedding Cake |

29
(9)

| | |
| --- | --- |
| | Celebrated Cases: The Top Layer |

29
(2)

| | |
| --- | --- |
| | Serious Felonies: The Second and Third Layer |

31
(5)

| | |
| --- | --- |
| | Prior Relationship: A Policy Dilemma |

36
(1)

| | |
| --- | --- |
| | Hard or Soft on Crime? Unraveling the Paradox |

36
(1)

| | |
| --- | --- |
| | The Lower Depths: The Fourth Layer |

37
(1)
38
(1)
39
(2)
41
(21)
41
(2)
43
(9)

| | |
| --- | --- |
| | Rejections and Dismissals: Loophole? |

46
(4)

| | |
| --- | --- |
| | From Indictment to Punishment |

50
(1)

| | |
| --- | --- |
| | An International Perspective on the Going Rate |

51
(1)
52
(6)
54
(1)
55
(1)

| | |
| --- | --- |
| | Criminal Justice Thermodynamics |

55
(2)
57
(1)
58
(1)
59
(3)
62
(13)
62
(2)
64
(2)
66
(1)
67
(4)

| | |
| --- | --- |
| | The Rand Selective Incapacitation Study |

69
(2)

| | |
| --- | --- |
| | How Much Crime Do They Do? |

71
(1)
72
(1)
73
(2)
``GET TOUGH'': THE CONSERVATIVE ATTACK ON CRIME
75
(92)
77
(22)
77
(8)
78
(1)

| | |
| --- | --- |
| | The Lessons of Kansas City |

79
(3)

| | |
| --- | --- |
| | Focused Police Officer Activities |

82
(2)
84
(1)
85
(1)
86
(3)

| | |
| --- | --- |
| | Myths and Realities of Detective Work |

86
(2)

| | |
| --- | --- |
| | Targeting Career Criminals |

88
(1)

| | |
| --- | --- |
| | Eliminate the ``Technicalities'' |

89
(6)

| | |
| --- | --- |
| | Repeal the Exclusionary Rule |

89
(4)
93
(2)
95
(1)
95
(4)
99
(22)
99
(4)

| | |
| --- | --- |
| | Assumptions Underlying Deterrence |

100
(2)

| | |
| --- | --- |
| | From Theory to Practice: Four Problems |

102
(1)

| | |
| --- | --- |
| | The Risk of Crime: Some Preliminary Evidence |

102
(1)
103
(4)
103
(1)

| | |
| --- | --- |
| | Executions and Crimes: Sellin's Studies |

104
(1)

| | |
| --- | --- |
| | Dr. Ehrlich's Magic Bullets |

105
(1)
106
(1)
107
(1)
107
(1)

| | |
| --- | --- |
| | Deterring the Drunk Driver |

107
(8)

| | |
| --- | --- |
| | The ``Killer Drunk'' and Other Myths |

107
(2)

| | |
| --- | --- |
| | Deterrence and Drunk Driving |

109
(2)
111
(2)
113
(1)

| | |
| --- | --- |
| | Some Good News: Alternative Strategies for Dealing with Drunk Drivers |

113
(2)

| | |
| --- | --- |
| | Deterring Burglars and Robbers |

115
(2)
116
(1)

| | |
| --- | --- |
| | Deterring Domestic Violence |

117
(1)
118
(1)
119
(2)
121
(26)

| | |
| --- | --- |
| | Getting Criminals off the Street |

121
(1)
122
(7)

| | |
| --- | --- |
| | A Short History of Bail Reform |

122
(1)

| | |
| --- | --- |
| | Preventive Detention in Operation: Washington, D.C. |

123
(1)

| | |
| --- | --- |
| | The 1984 Federal Bail Reform Act |

124
(1)

| | |
| --- | --- |
| | Crime on Bail: Myths and Reality |

125
(2)

| | |
| --- | --- |
| | The Prediction Problem Revisited |

127
(2)

| | |
| --- | --- |
| | Speedy Trial: A Better Way |

129
(1)
129
(6)

| | |
| --- | --- |
| | Selective Incapacitation: The Rand Formula |

129
(3)

| | |
| --- | --- |
| | Gross Incapacitation: Zedlewski's New Math |

132
(2)

| | |
| --- | --- |
| | Incapacitation: A Sober Estimate |

134
(1)
135
(5)
136
(3)

| | |
| --- | --- |
| | Mandatory Sentencing and Crime |

139
(1)

| | |
| --- | --- |
| | Three Strikes---We Are All Out |

140
(3)
141
(1)
141
(1)
142
(1)
143
(1)
143
(4)
147
(20)

| | |
| --- | --- |
| | Prosecute the Career Criminal |

147
(3)

| | |
| --- | --- |
| | Getting Tough in San Diego |

147
(2)

| | |
| --- | --- |
| | Other Prosecution Programs |

149
(1)

| | |
| --- | --- |
| | Abolish the Insanity Defense |

150
(6)
151
(1)

| | |
| --- | --- |
| | The Reality of the Insanity Defense |

151
(1)
152
(1)
153
(1)
153
(3)
156
(5)

| | |
| --- | --- |
| | Alaska Bans Plea Bargaining |

157
(2)
159
(1)

| | |
| --- | --- |
| | In Search of Plea Bargains |

159
(2)
161
(2)
161
(1)
162
(1)
163
(1)
163
(4)
THE MIDDLE GROUND: GUNS AND VICTIMS
167
(40)
169
(15)

| | |
| --- | --- |
| | The Victims' Rights Movement |

170
(4)
172
(1)
172
(1)
172
(1)
172
(1)
173
(1)

| | |
| --- | --- |
| | Victim Assistance Programs |

174
(3)
175
(1)
176
(1)

| | |
| --- | --- |
| | Expanding the Victim's Voice |

177
(2)

| | |
| --- | --- |
| | The Impact of Victim's Voice Laws |

178
(1)
179
(1)
180
(1)

| | |
| --- | --- |
| | Mandatory Arrest for Domestic Violence |

181
(1)
181
(1)
182
(2)
184
(23)

| | |
| --- | --- |
| | The Problem with Guns---and Gun Policy |

184
(2)

| | |
| --- | --- |
| | Gun Ownership and Gun-Related Violence |

186
(2)
186
(1)
186
(1)
187
(1)

| | |
| --- | --- |
| | Handguns as Self-Protection |

187
(1)
188
(1)
188
(1)

| | |
| --- | --- |
| | Public Attitudes toward Gun Control |

189
(1)
189
(4)
189
(1)

| | |
| --- | --- |
| | The Limits of ``Banning'' Handguns |

190
(1)
191
(1)

| | |
| --- | --- |
| | Ban the Manufacture and Importation of Handguns |

191
(1)
191
(1)

| | |
| --- | --- |
| | Buy Saturday Night Specials |

192
(1)
192
(1)
193
(1)

| | |
| --- | --- |
| | Regulate the Sale and Possession of Handguns |

193
(2)

| | |
| --- | --- |
| | Restrict the Use of Handguns |

195
(5)

| | |
| --- | --- |
| | Restrict the Carrying of Handguns |

195
(2)

| | |
| --- | --- |
| | Boston: Operation Cease Fire |

197
(1)

| | |
| --- | --- |
| | Guns at Airports and Schools |

198
(1)

| | |
| --- | --- |
| | Get Guns Off the Street: The Kansas City Experiment |

199
(1)
200
(1)

| | |
| --- | --- |
| | Get Though on Weapons Offenses |

200
(2)
201
(1)
202
(1)
203
(4)
REFORM: THE LIBERAL PRESCRIPTION
207
(42)
209
(27)
209
(2)

| | |
| --- | --- |
| | The Philosophy of Rehabilitation |

209
(1)

| | |
| --- | --- |
| | The Politics of Rehabilitation: The Willie Horton Furlough |

210
(1)

| | |
| --- | --- |
| | The ``Nothing Works'' Controversy |

211
(2)
212
(1)

| | |
| --- | --- |
| | The Prediction Problem Revisited |

212
(1)

| | |
| --- | --- |
| | Traditional Rehabilitation Programs |

213
(9)
213
(3)
216
(3)
219
(3)

| | |
| --- | --- |
| | The New Intermediate Punishments |

222
(7)
222
(2)

| | |
| --- | --- |
| | Intensive Probation Supervision |

224
(3)

| | |
| --- | --- |
| | Home Confinement and Electronic Monitoring |

227
(1)

| | |
| --- | --- |
| | Summary: Lessons of the Intermediate Punishment Movement |

228
(1)
229
(2)

| | |
| --- | --- |
| | Restorative Justice in Operation |

230
(1)

| | |
| --- | --- |
| | Conclusion: Is Rehab Running on Empty? |

231
(1)
232
(4)

| | |
| --- | --- |
| | Reform the Law and the System |

236
(13)
236
(3)
238
(1)
239
(6)

| | |
| --- | --- |
| | The Rationale for Decriminalization |

240
(2)
242
(1)

| | |
| --- | --- |
| | The Impact of Decriminalization |

243
(2)
245
(1)
245
(1)
246
(3)
THE DRUG PROBLEM
249
(32)

| | |
| --- | --- |
| | Sense and Nonsense About Drugs |

251
(30)
251
(5)
251
(1)

| | |
| --- | --- |
| | Myths and Realities about Drugs and Crime |

252
(3)
255
(1)

| | |
| --- | --- |
| | The War on Drugs: Policy and Consequences |

256
(5)

| | |
| --- | --- |
| | The Impact of the War on Drugs |

257
(1)
258
(1)

| | |
| --- | --- |
| | Interdiction and Eradication |

259
(1)
260
(1)

| | |
| --- | --- |
| | Limits of the Criminal Law: The Lessons of History |

261
(2)
262
(1)

| | |
| --- | --- |
| | When Social Control Does Work |

262
(1)

| | |
| --- | --- |
| | Demand Reduction: Drug Education |

263
(3)
263
(1)

| | |
| --- | --- |
| | DARE: Success or Failure? |

264
(1)

| | |
| --- | --- |
| | But Some Education Programs Do Work |

265
(1)
266
(4)
267
(1)
267
(2)

| | |
| --- | --- |
| | But Something Positive Has Happened |

269
(1)
270
(5)

| | |
| --- | --- |
| | Varieties of Legalization |

271
(1)

| | |
| --- | --- |
| | The Impact of Legalization |

272
(1)
272
(3)
275
(1)
275
(6)
CONCLUSIONS
281
(12)
283
(10)

| | |
| --- | --- |
| | A Great American Paternity Fight |

284
(1)

| | |
| --- | --- |
| | A Quick Review of What We Have Learned |

285
(2)

| | |
| --- | --- |
| | Crime Prevention: The Maryland Report |

287
(3)
290
(1)
290
(3)
Index
293