Note: Supplemental materials are not guaranteed with Rental or Used book purchases.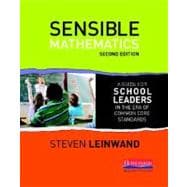 Sensible Mathematics, Second Edition : A Guide for School Leaders in the Era of Common Core State Standards
ISBN13:
9780325043821
by
Leinwand, Steven
Summary
"The fact that, for the first time, the U.S. has what is essentially a national curriculum, equivalent in quality to what is found in the highest scoring countries in the world, means that the focus of leadership can finally shift from arguing about what math to teach, to how best to teach the agreed upon content to all students." --Steven Leinwand Providing effective leadership for school mathematics programs is particularly challenging in an era of both ambitious Common Core State Standards and unprecedented pressure to raise mathematics achievement. In this updated edition of the bestselling Sensible Mathematics, Steve Leinwand provides principals, teacher leaders, math coaches and administrators with specific guidance on how to make the necessary shifts in curriculum, instruction, assessment, and professional development to meet and exceed the Common Core State Standards in mathematics. Even more important, he shows us why these changes are so urgently needed if we truly are to prepare students to become mathematical thinkers in a 21stcentury world. Making these critical shifts requires strong, clear, and effective leadership. Sensible Mathematicsserves as a guiding light through the sea of change and provides a broad array of practical strategies for implementing the standards, as well as how-to game plans for overcoming obstacles and challenges. Other topics of discussion include: Making the case for change: strategies, ammunition, and compelling examples 10 characteristics of sensible, sense-making mathematics Math Coaches: how to recruit the best and support their efforts Intervention: providing effective support services Technology and instruction: providing access for teachers and students 15 key components of a high performance mathematics program Success stories: school leaders who made a difference Sensible Mathematicsis a call-to-arms for positive, realistic change that empowers teachers and prepares students for our changing world. Make a difference-move your school mathematics program into the 21stcentury.
Author Biography
Steven Leinwand is Principal Research Analyst at the American institutes for Research in Washington. D.C., where he supports a range of mathematics education initiatives and research. He is a former president of the National Council of Supervisors of Mathematics (NCSM) and author of the bestselling Accessible Mathematics (2009).
Table of Contents
Introduction
Change Requires Leadership
p. vi
The Math Leader's Domains of Responsibility
p. 1
Making the Case for Change: Strategies and Compelling Examples
p. 9
Responding to These Changes: What to Expect and Advocate
p. 25
Building Sensible, Sense-Making Mathematics: What to Encourage and Implement
p. 44
Pulling It All Together: Glimpses of What We Should See
p. 63
Recognizing and Overcoming Obstacles: Insights and Practical Strategies
p. 76
Changing the System: Assuring Quality of Program Components
p. 86
Conclusion: Critical Lessons Learned Along the Way
p. 100
Appendices
It's Time to Abandon Computational Drudgery (But Not the Computation)
p. 104
Moving Mathematics Out of Mediocrity
p. 107
Four Teacher-Friendly Postulates for Thriving in a Sea of Change
p. 110
What the World Needs Now: Math TLCs
p. 113
Changing the System
p. 120
Making Math Commonplace and Real for Our Children
p. 122
Giving Students the Benefit of the Doubt
p. 124
Characteristics of Excellence
p. 126
Table of Contents provided by Ingram. All Rights Reserved.