Note: Supplemental materials are not guaranteed with Rental or Used book purchases.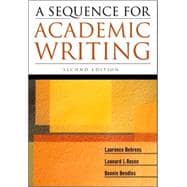 Summary
This brief rhetoric focuses on the key academic writing strategies of summary, synthesis, analysis, and critique. Responding to the growing interest in academic writing, this popular guide focuses on the critical reading and writing strategies necessary to help students interpret and incorporate source material into their own papers. The text employs high-interest readings from a range of disciplines to allow students to practice their summary and synthesis skills, while numerous student papers model the kinds of academic texts students are expected to produce, no matter what their area of study. Individuals who want help with writing up researched or documented papers.
Table of Contents
Preface for Instructors
Introduction
Summary, Paraphrase, and Quotation
What Is a Summary?
Can a Summary Be Objective?
Using the Summary
The Reading Process
How to Write Summaries
Demonstration: Summary
The Future of Love: Kiss Romance Goodbye, It's Time for the Real Thing
Read, Reread, Underline
Divide into Stages of Thought
Write a One- or Two-Sentence Summary of Each Stage of Thought
Write a Thesis: A One- or Two-Sentence Summary of the Entire Passage
Write the First Draft of the Summary
Summarizing a Narrative or Personal Essay
Arrival at Manzanar
Summarizing Figures and Tables
Paraphrase
Quotations
Choosing Quotations
Incorporating Quotations Into Your Sentences
Avoiding Plagiarism
Writing Assignment: Summary
Landscape in the Classic Hollywood Western
Critical Reading and Critique
Critical Reading
Question Category 1: What Is the Author's Purpose? Does He or She Succeed in This Purpose?
Writing to Inform
Writing to Persuade?
Too Much of a Good Thing, Greg Critser
Writing To Entertain
Question Category 2: To What Extent Do You Agree or Disagree With the Author?
Critique
How to Write Critiques
Demonstration: Critique
What Is the Author's Purpose in Writing?
Does He or She Succeed in This Purpose?
To What Extent Do You Agree or Disagree with the Author?
Evaluate Assumptions
Model Critique: A Critique of Greg Critser's "Too Much of a Good Thing?
Discussion
Writing Assignment: Critique
Driving Down the Highway, Mourning the Death of American Radio, Brent Staples
Writing as a Process
Writing as Thinking
Stages of the Writing Process
Stage 1: Understanding the Task
Papers in the Academic Disciplines
Stage 2: Gathering Data
Table of Contents provided by Publisher. All Rights Reserved.