Note: Supplemental materials are not guaranteed with Rental or Used book purchases.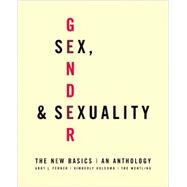 Questions About This Book?
What version or edition is this?
This is the edition with a publication date of 4/11/2008.
What is included with this book?
The Used copy of this book is not guaranteed to include any supplemental materials. Typically, only the book itself is included.
Summary
Interest in gender and sexual identity has soared in recent years, sparking lively discussions both inside and outside of the classroom. Sex, Gender, and Sexuality: The New Basics brings together many of the vibrant voices in this ongoing dialogue, constructing a compelling new model for making sense of gender and sexuality. As it bridges the study of these topics, this dynamic anthology provides a thorough examination of their various interconnections and intersections. Working from an accessible, incisive framework, editors Abby L. Ferber, Kimberly Holcomb, and Tre Wentling raise many provocative questions, including * How does our understanding of the relationships between sex, gender, and sexuality vary across time and culture? * What are the relationships between transgender, transsexual, and queer? * How do class and race shape the experiences and expressions of gender and sexuality? To capture the broad spectrum of its subject, Sex, Gender, and Sexuality: The New Basics integrates a variety of selections, including first-person accounts and narratives, poems, theoretical analyses, and critiques of existing research. In addition, the editors have created a unique glossary, which provides current definitions of both basic and cutting-edge terms. An invaluable resource for both students and instructors in this constantly evolving field, this collection of key concepts familiarizes readers with the latest developments in research and vocabulary. Ideal for courses in sociology and women's studies, Sex, Gender, and Sexuality: The New Basics introduces students to the exciting new research that will shape the ways in which we understand sex, gender, and sexuality--as well as the complex and shifting relationships among these categories.
Author Biography

Abby L. Ferber is Professor of Sociology and Director of Women's Studies and the Matrix Center for the Advancement of Social Equity and Inclusion at the University of Colorado at Colorado Springs.
Kimberly Holcomb is an adjunct instructor of Sociology and Women's Studies at the University of Colorado at Colorado Springs. Her primary sociological interests include gender, sexuality, and the intersections of social categorizations.
Tre Wentling is a Ph.D. student in the Department of Sociology at Syracuse University. Wentling's current research concentrates on transgender-related social stressors and their trajectories.

Table of Contents
Rethinking Foundations: Theorizing Sex, Gender, And Sexuality
Poem: The Occupied Territories
Dualing Dualisms
Muddying the Waters: Constructions of Sexuality, Gender, and Sex in Cross-Cultural Perspective, Karen Yescavage
Intersex Narratives: Gender, Medicine, and Identity
Doing Gender, Candace West
Masculinity as Homophobia: Fear, Shame, and Silence in the Construction of Gender Identity
Goodbye to the Sex-Gender Distinction, Hello to Embodied Gendered: On Masculinities, Bodies, and Violence
The Ambiguity of Sex and Virginity Loss: Insights from Feminist Research Methods
Moving Toward Agency: Gender Subjectivity and the Learning Curve of Sexual Encounters, Heather Powers Albanesi
Prisons for Our Bodies, Closets for Our Minds: Racism, Heterosexism, and Black Sexuality
Keeping Sex in Bounds: Sexuality and the (De)Construction of Race and Gender
Sexuality, Heterosexuality, and Gender Hierarchy: Getting Our Priorities Straight
Which One's the Man? The Heterosexualisation of Lesbian Sex
Examining Our Lives, Expanding The Boundaries
Poem: Nose Is a Country . . . I Am the Second Generation
Loving Outside Simple Lines
Whose Body Is This Anyway?
Holding My Breath Underwater
Arab American Femininities: Beyond Arab Virgin American(ized) Whore
Walk Like a Man: Enactments and Embodiments of Masculinity and the Potential for Multiple Genders
'O Au No Keia: Voice From Hawai'i's Mahu and Transgender Communities
Becoming La Mujer
A Young Man from Chelm: Or a Nontraditionally Gendered Hebrew School Teacher Tells All
Intimate Relationships: Learning from Later Life Experience, Ingrid Arnet Connidis
Investigating Power: Knowledge Production, Popular Culture, And Violence
A: Constructing Knowledge
Narrative: Click. Hello?
The Egg and the Sperm: How Science Has Constructed a Romance Based on Stereotypical Male-Female Roles
Gender Shock: Exploding the Myths of Male and Female
Am I Obsessed? Gender Identity Disorder, Stress, and Obsession, Tre Wentling
The Function of the Orgasm
Scientific Racism and the Invention of the Homosexual Body
Heterosexism in Research: The Heterosexual Questionnaire
Privileges Held by Non-Trans People
Loose Lips Sink Ships
B: Popular Culture
Poem: When I Was Growing Up
The Third Sex: Asian-American Men in Popular Culture
From the "Muscle Moll" to the "Butch" Ballplayer: Mannishness, Lesbianism, and Homophobia in U.S. Women's Sports
Victims and Villains
Snow White and the Seven "Dwarfs"--Queercripped
C: Violence
Poem: With No Immediate Cause
Rape and the War Against Native Women
Rape and the Prison Code
Sexual Science and the Law: Regulating Sex--Reifying the Power of the Hetero
Table of Contents provided by Publisher. All Rights Reserved.