Note: Supplemental materials are not guaranteed with Rental or Used book purchases.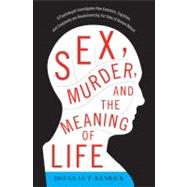 Summary
Evolutionary psychology is a powerful tool but can be hackneyed. Cognitive science exposes the many inherent shortcuts and biases we use to think. In Sex, Murder, and the Meaning of Life, social psychologist Douglas Kenrick argues that it is in the fusion of these two fields that we can begin to tell a coherent story of human nature. In his view, many ingrained, apparently irrational behaviors-- one-night stands, prejudice, conspicuous consumption, even art and religious devotion-- are quite explicable and (when desired) avoidable. When combined with insights from complexity theory, Kenrick's argument reveals how simple mechanisms give rise to complex life. Idiosyncratic, controversial, and fascinating, Sex, Murder, and the Meaning of Lifeis an exploration of the pitfalls and promise of our biological inheritance.
Table of Contents
Introduction: You, Me, Charles Darwin, and Dr. Seuss
p. vii
Standing in the Gutter
p. 1
How did an innocent young student accidentally fall in with a band of intellectual revolutionaries?
Why Playboy Is Bad for Your Mental Mechanisms
p. 9
When is beauty bad for you?
Homicidal Fantasies
p. 23
Why have most of us had at least one fantasy about committing murder?
Outgroup Hatred in the Blink of an Eye
p. 41
Why can't we all just get along?
The Mind as a Coloring Book
p. 61
Why doesn't cultural variation support the blank-slate view of the mind?
Subselves
p. 75
The three faces of thee
Reconstructing Maslow's Pyramid
p. 97
Where are the missing bricks in the classic pyramid of needs?
How the Mind Warps
p. 115
Why do men and women forget different people and regret different things?
Peacocks, Porsches, and Pablo Picasso
p. 127
Why do men go out of their way to avoid a Consumer Reports Best Buy?
Sex and Religion
p. 145
When is godliness just another mating strategy?
Deep Rationality and Evolutionary Economics
p. 159
Why are behavioral economists only half right when they say that our economic choices are irrational?
Bad Crowds, Chaotic Attractors, and Humans as Ants
p. 175
Why your parents were right about the company you keep.
Conclusion: Looking Up at the Stars
p. 195
How does research on unsavory and taboo topics converge into a grand view of human nature and answer the question: What is the meaning of life?
Notes
p. 207
References
p. 219
Index
p. 235
Table of Contents provided by Ingram. All Rights Reserved.