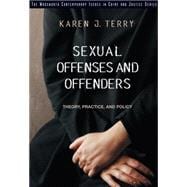 Sexual Offenses and Offenders : Theory, Practice and Policy
by
Terry, Karen J.
Questions About This Book?
What version or edition is this?
This is the 1st edition with a publication date of 2/18/2005.
What is included with this book?
The New copy of this book will include any supplemental materials advertised. Please check the title of the book to determine if it should include any CDs, lab manuals, study guides, etc.
The Used copy of this book is not guaranteed to include any supplemental materials. Typically, only the book itself is included.
Summary
This book is a comprehensive text on sexual offenders that examines the causes and treatment of sexual offenses, as well as the policy implications of research outcomes. The subject matter is inherently controversial, well-researched, and rich in policy implications. As a result of the recidivism and the public scorn for sexual offenders, they are often treated differently by both the community and the criminal justice system. It was necessary to develop a book on sex offenders because of the uniqueness of their offenses and the laws that pertain to them.
Author Biography
Karen Terry is an Associate Professor in the Department of Law, Police Science, and Criminal Justice Administration at John Jay College of Criminal Justice (CUNY).
Table of Contents
Foreword
xv
Preface
xix

| | |
| --- | --- |
| | PART I SEXUAL OFFENSES, OFFENDERS, AND VICTIMS |

1
(136)

| | |
| --- | --- |
| | Sexual Offenses and Offenders |

3
(17)

| | |
| --- | --- |
| | What Is a Sexual Offense? |

5
(1)

| | |
| --- | --- |
| | Prevalence and Scope of Sexual Offending |

6
(8)
7
(4)
11
(3)
14
(4)
17
(1)
18
(1)
19
(1)
19
(1)

| | |
| --- | --- |
| | Historical Perspectives on Sexual Behavior |

20
(17)

| | |
| --- | --- |
| | Historical, Religious, and Cultural Perspectives of Sexual Behavior |

20
(3)

| | |
| --- | --- |
| | Changing Perceptions of Deviant Sexual Behavior: The 20th Century |

23
(13)

| | |
| --- | --- |
| | 1885--1935: The First Wave of Panic |

24
(4)

| | |
| --- | --- |
| | 1936--1976: The Rise of the Sexual Psychopath |

28
(4)

| | |
| --- | --- |
| | 1976--Present: The Emergence of the Sexually Violent Predator |

32
(4)
36
(1)
36
(1)
36
(1)

| | |
| --- | --- |
| | Etiology of Sexually Deviant Behavior |

37
(15)
38
(1)
39
(2)
41
(1)
42
(1)

| | |
| --- | --- |
| | Behavioral and Cognitive-Behavioral Theories |

43
(2)
45
(1)

| | |
| --- | --- |
| | Integrated Theories and Empirical Research |

46
(5)
51
(1)
51
(1)
51
(1)

| | |
| --- | --- |
| | Cycle of Sexual Offending |

52
(18)
53
(1)
54
(3)

| | |
| --- | --- |
| | Maintenance of Offending Behavior |

57
(11)
57
(8)
65
(2)
67
(1)
68
(1)
69
(1)
69
(1)

| | |
| --- | --- |
| | Types and Typologies of Sexual Offenders |

70
(24)
71
(5)

| | |
| --- | --- |
| | Sexually Motivated Offenses |

73
(1)

| | |
| --- | --- |
| | Non-Sexually Motivated Offenses |

74
(2)

| | |
| --- | --- |
| | Typologies of Child Molesters |

76
(8)

| | |
| --- | --- |
| | The Fixated-Regressed Typologies |

77
(4)
81
(1)
81
(1)
82
(2)

| | |
| --- | --- |
| | Paraphilias and Other Sexual Disorders |

84
(8)

| | |
| --- | --- |
| | Noncontact and Minimal Contact Paraphilias |

86
(2)
88
(4)
92
(1)
92
(1)
93
(1)
94
(17)

| | |
| --- | --- |
| | Who Are Juvenile Sexual Offenders? |

95
(5)

| | |
| --- | --- |
| | Statistics on Juvenile Sexual Offenders: Prevalence, Delinquency, and Recidivism |

95
(2)
97
(1)

| | |
| --- | --- |
| | Juvenile Sex Offenders and Non-Sex Offenders: A Comparison |

98
(2)

| | |
| --- | --- |
| | Why Juveniles Sexually Offend |

100
(5)

| | |
| --- | --- |
| | Experimental or Criminal Behavior? |

100
(1)

| | |
| --- | --- |
| | Theories and Antecedents of Offending Behavior |

101
(2)

| | |
| --- | --- |
| | Typologies of Juvenile Sex Offenders |

103
(2)

| | |
| --- | --- |
| | Assessment and Treatment of Juvenile Offenders |

105
(3)
106
(2)
108
(1)

| | |
| --- | --- |
| | Management of Juvenile Offenders |

108
(1)
109
(1)
110
(1)
111
(26)
112
(1)
113
(7)
113
(2)

| | |
| --- | --- |
| | Rape Trauma Syndrome and the Stages of Victimization |

115
(1)
116
(3)
119
(1)

| | |
| --- | --- |
| | Sexual Abuse and the Criminal Justice System |

120
(10)
120
(2)
122
(2)
124
(6)

| | |
| --- | --- |
| | Victim Treatment and Counseling |

130
(3)
133
(1)
134
(1)
134
(3)

| | |
| --- | --- |
| | PART II THE RESPONSE TO SEXUAL OFFENDING |

137
(88)

| | |
| --- | --- |
| | Assessment and Treatment of Sexual Offenders |

139
(27)
140
(3)

| | |
| --- | --- |
| | Variables in Treatment Efficacy |

143
(7)

| | |
| --- | --- |
| | Who Should Participate: The Assessment Process |

144
(2)

| | |
| --- | --- |
| | Participation in a Treatment Program |

146
(1)

| | |
| --- | --- |
| | Staff Selection and Training |

147
(2)

| | |
| --- | --- |
| | Length and Timing of Treatment |

149
(1)

| | |
| --- | --- |
| | Measuring Treatment Effectiveness |

150
(2)
152
(2)

| | |
| --- | --- |
| | Cognitive-Behavioral Treatments |

154
(7)

| | |
| --- | --- |
| | Prison Treatment Programs |

161
(2)
163
(1)
164
(1)
165
(1)

| | |
| --- | --- |
| | Management and Supervision of Sex Offenders in the Community |

166
(17)

| | |
| --- | --- |
| | Management of Sexual Offenders: Actors in the Supervision Role |

167
(9)

| | |
| --- | --- |
| | The Police: Investigation, Prevention, and Control |

169
(1)
170
(1)
171
(5)

| | |
| --- | --- |
| | The Containment Approach: Increased Collaboration for Effective Management |

176
(2)

| | |
| --- | --- |
| | Balancing the Rights of Sex Offenders and the Community |

178
(3)
178
(1)
179
(2)

| | |
| --- | --- |
| | Recreation and Social Relationships |

181
(1)
181
(1)
182
(1)
182
(1)

| | |
| --- | --- |
| | Registration and Community Notification Laws |

183
(23)

| | |
| --- | --- |
| | Megan's Law: Requirements and Guidelines |

184
(7)

| | |
| --- | --- |
| | Assessing Risk Levels for Sex Offenders |

191
(5)

| | |
| --- | --- |
| | Problems with Registration and Notification |

196
(7)

| | |
| --- | --- |
| | Constitutional Arguments against Registration and Notification Laws |

197
(3)

| | |
| --- | --- |
| | Nonconstitutional Issues Related to RCNL |

200
(3)
203
(1)
204
(1)
204
(2)

| | |
| --- | --- |
| | Controlling the Sexually Violent Predator |

206
(19)

| | |
| --- | --- |
| | SVP Legislation: The Commitment Process |

207
(3)

| | |
| --- | --- |
| | State Variation in SVP Statutes |

210
(2)

| | |
| --- | --- |
| | The Courts and SVP Legislation |

212
(4)

| | |
| --- | --- |
| | Retribution or Rehabilitation: Examining the Goals of SVP Legislation |

216
(5)
217
(1)
218
(1)
219
(2)
221
(1)

| | |
| --- | --- |
| | Management and Supervision of Sex Offenders: What Works |

221
(1)
222
(1)
222
(1)
223
(2)

| | |
| --- | --- |
| | PART III THE FUTURE OF RESEARCH ON SEXUAL OFFENSES AND OFFENDERS |

225
(18)

| | |
| --- | --- |
| | Sexual Offending: Future Directions of Research |

227
(16)
228
(3)

| | |
| --- | --- |
| | Sexual Abuse in the Church |

231
(6)

| | |
| --- | --- |
| | Nature and Scope of Child Sexual Abuse in the Church |

231
(3)

| | |
| --- | --- |
| | Causes of Child Sexual Abuse in the Church: Current Hypotheses |

234
(3)

| | |
| --- | --- |
| | Child Pornography, the Internet, and Child Predators |

237
(3)
240
(1)
240
(1)
241
(1)
241
(2)
Bibliography
243
(28)
Index
271