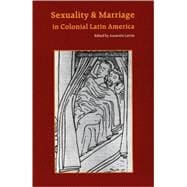 Author Biography
Asunción Lavrin is a professor of history at Arizona State University at Tempe. Her 1995 book, Women, Feminism, and Social Change in Argentina, Chile, and Uruguay, 1890–1940, won the Arthur P. Whitaker Prize from the Middle Atlantic Council on Latin American Studies.


Table of Contents
Latin American Studies Series
p. i
Preface
p. vii
Abbreviations
p. ix
Introduction The Scenario, the Actors, and the Issues
p. 1
Sexuality
p. 45
Sexuality in Colonial Mexico: A Church Dilemma
p. 47
Notes
p. 80
Individualization and Acculturation: Confession among the Nahuas of Mexico from the Sixteenth to the Eighteenth Century
p. 96
Honor, Sexuality, and Illegitimacy in Colonial Spanish America
p. 118
The Sinners and the Bishop in Colonial Venezuela: The Visita of Bishop Mariano Martí, 1771-1784
p. 156
Sexual Witchcraft, Colonialism, and Women's Powers: Views from the Mexican Inquisition
p. 178
Notes
p. 201
Marriage
p. 207
Acceptable Partners: Marriage Choice in Colonial Argentina, 1778-1810
p. 209
Notes
p. 236
Women, La Mala Vida, and the Politics of Marriage
p. 252
Notes
p. 281
The Warmth of the Hearth: Seventeenth-Century Guadalajara Families
p. 287
Divorce in Colonial Brazil: The Case of São Paulo
p. 313
Notes
p. 336
The Contributors
p. 341
Index
p. 343
Table of Contents provided by Publisher. All Rights Reserved.