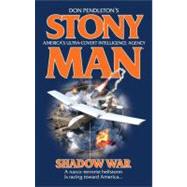 List Price: $6.99
Usually Ships in 7-10 Business Days

More New and Used
from Private Sellers
Questions About This Book?
What version or edition is this?
This is the edition with a publication date of 2/10/2009.
What is included with this book?
The New copy of this book will include any supplemental materials advertised. Please check the title of the book to determine if it should include any CDs, lab manuals, study guides, etc.
Summary
The war against terror is played by a different set of rules for the men and women of the elite unit known as Stony Man. On the record, they don't exist, and plausible deniability is the first mandate if a mission goes sour. Off the books, the cyberteams and field commandos understand the risk...and accept America's dirtiest missions without hesitation.Intelligence has picked up chatter of the launch of an imminent strike of unknown origin and scope against the U.S. Code-named Bellicose Dawn, it involves Mexican drug runners, jihadists and international funding. Stony Man must navigate an unknown strike point, fragmented information and a brewing political firestorm. But soon it's enough to unleash the ultimate nightmare--men down, missing, maybe dead, and things going so bad so fast that the day every Stony Man member prayed would never happen may have arrived.
Excerpts
Lost Parish, New Orleans, LouisianaThe men hung from chains.Gabriel Gonzales turned his blindfolded head and spit blood from his mouth. His lips were swollen and his teeth loose from where the Zetas gunmen had smashed a rifle butt into his face. His nose had been broken, so the act of spitting left him breathless. He quickly sucked in air, trying not to choke on blood. The air was stale and tinged with the harsh chemical smell of spilled oil.His arms screamed in their sockets, and Gonzales pushed his toes against the concrete floor beneath his feet to give them some relief. Around him he heard the moans and shuffling of the two other men hanging next to him. He didn't know who they were, as they had already been bound and blindfolded in the back of the Lincoln Navigator SUV when he'd been picked up.Let them have gotten my call,he prayed silently.The sound of vibrating corrugated metal reached him as a door slammed. The noise echoed in hollow tones and Gonzales realized he had to be inside a large structure, such as an abandoned factory or, more probably, an empty warehouse. He heard the sounds of boot soles striking the floor as a group of men muttering low in Spanish moved closer.He heard Lagos and his heart sank. The man was speaking rapidly, and after a moment Gonzales realized he had to be on his cell phone because he was talking to his mysterious patron, the Frenchman "Henri."This is going to hurt,he realized, and felt hopeless tears well up in his eyes behind the filthy cloth that covered them. When Lagos got off the phone with Henri, violent things always followed. There was a snap of hard plastic as a cell phone was shut. A snarling baritone growled an order and suddenly the blindfold was ripped from his eyes.Powerful headlights snapped on, burning into his eyes and keeping him blinded. Gonzales tried to turn his head away from the painful, high-intensity beams. He didn't need his eyes to recognize the voice in command: Lagos was here and Gabriel Gonzales realized he was going to die. There was no doubt anymore, he was a dead man. All that remained was the suffering.Jack Grimaldi banked the Hughes 500MD Scout Defender hard in the darkness. The helicopter settled down into a hover some ten feet above the dark ground. All around the veteran pilot the devastation of Hurricane Katrina spread in a broken tableau of ruin and debris years after the storm had struck.Behind him acres of swamp stretched toward the tide tables nestled against the sea, while in front of him mud-caked rubble in geometrically spaced piles marked where houses and stores had once stood along roads. It looked like a war zone, even in the yellow moonlight, a ghostly boneyard of destruction and destroyed lives.Reconstruction had passed this Parish by. The residents had been too poor, the neighborhood too peripheral to the campaign aspirations of politicians. This was an area the hurricane could keep as New Orleans fought its way back from the devastation.But power abhorred a vacuum. The Zetas--former members of the army who had gone over to the dark side--had come to claim the forgotten place for themselves. The hard-core drug smugglers had found little in the way of opposition when they had first arrived. All of that was about to change.The three men of Able Team leaped from the hovering helicopter and entered the stifling heat of the Louisiana night.Lagos snatched Gonzales by the hair and twisted his face around. Ignoring the pain, Gonzales stared dully into the eyes of the former Mexican army special-operations soldier. The eyes stared back at him, black and empty like the dull, lifeless eyes of a shark. Devoid of emotion. What was happening was just business.Lagos leaned in close to the sweating Gonzales and behind him the bound man could see the hulking forms of Lagos's men, all of them wearing balaclava hoods and holding weapons. Gonzales rolled his eyes around to try