Note: Supplemental materials are not guaranteed with Rental or Used book purchases.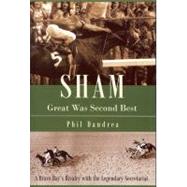 Sham Great Was Second Best : A Brave Bay's Rivalry with the Legendary Secretariat
ISBN13:
9780984217335
by
Dandrea, Phil
Summary
In early 1973, a sleek, sturdy bay named Sham was winning races by impressive margins as great as fifteen lengths. After defeating the mighty Secretariat in the Wood Memorial, many turf writers were touting Sham as the Kentucky Derby favorite. The stage was set for Sham-mania to sweep the country at a time when the nation needed a hero. But it was Secretariat who won over the nation. The chestnut colt known affectionately as Big Red, running under the white and blue silks of Meadow Stable, was the embodiment of the American flag. Despite impressive victories and record-breaking performances, Sham's popularity paled in comparison. If Secretariat were America's horse, Sham might well have been everyman's horse, a working-class hero who couldn't get the recognition he deserved. This is the other side of the story of Secretariat's famous Triple Crown season and of his remarkable challenger who found that great was only second best.
Table of Contents
Copyrights
p. iv
Acknowledgements
p. vii
Prologue
p. 4
Nearly Decked at the Derby
p. 10
Best of the Lot
p. 21
First Time on the Oval
p. 30
Early Days on the Farm
p. 37
Trainer Tries Again
p. 61
A Change of Order
p. 69
Last Chance for the Two-Year-Old
p. 79
Sham's New Stable
p. 85
Go West, Young Horse
p. 96
A Derby Winner in this Field?
p. 104
Best Ever Three-Year-Old
p. 116
Pincay Chooses
p. 122
Rival in the East, Challenge in the West
p. 131
The Field Takes Shape
p. 144
High Pressure Before the Storm
p. 151
Rivals Finally Meet
p. 162
Other Contenders
p. 174
Prep for the Roses
p. 185
It's Official
p. 190
The Day Arrives
p. 201
The Derby Dust Settles
p. 214
Round Two in Baltimore
p. 220
Facing the Phantom of Pimlico
p. 229
Daisies on Old Hilltop
p. 238
Broken Record and Broken Clock?
p. 251
The Test of Champions
p. 261
Sham Refuses to Yield the Crown
p. 271
Battling a Tremendous Machine
p. 283
All Over but the Shouting
p. 297
Sham's Biggest Challenge
p. 304
Adding to the Princequillo Legacy
p. 314
Bibliography
p. 325
Endnotes
p. 361
About the Author
p. 415
Table of Contents provided by Ingram. All Rights Reserved.