Note: Supplemental materials are not guaranteed with Rental or Used book purchases.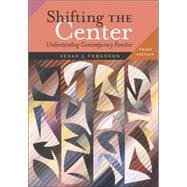 Shifting the Center : Understanding Contemporary Families
by
Ferguson, Susan J.
McGraw-Hill Humanities/Social Sciences/Languages
Questions About This Book?
What version or edition is this?
This is the 3rd edition with a publication date of 12/14/2005.
What is included with this book?
The Used copy of this book is not guaranteed to include any supplemental materials. Typically, only the book itself is included.
Summary
This anthology explores the issues and diversity of contemporary families, presenting balanced coverage of racial and ethnic variation and discussing a wide variety of family arrangements and processes. 32 out of the 50 selections included are new to this edition.
Table of Contents
Preface
ix
PART I. INTRODUCTION TO THE STUDY OF FAMILIES
1
(58)

| | |
| --- | --- |
| | 1. The Family in Question: What Is the Family? Is It Universal? |

7
(11)

| | |
| --- | --- |
| | Gittins examines how the family has been defined in both the anthropological and the sociological literature. |

| | |
| --- | --- |
| | 2. Feminist Rethinking from Racial-Ethnic Families |

18
(9)

| | |
| --- | --- |
| | Baca Zinn argues that the family is socially constructed and influenced by race-ethnicity, social class, and gender. |

27
(15)

| | |
| --- | --- |
| | Weston challenges traditional definitions of family by examining the meaning of families among gays and lesbians. |

| | |
| --- | --- |
| | 4. Marriage and Family in a Multiracial Society |

| | |
| --- | --- |
| | Daniel T. Lichter and Zhenchao Qian |

42
(21)

| | |
| --- | --- |
| | Lichter and Qian provide an overview of current issues and data related to families in the United States. |

PART II. HISTORICAL CHANGES AND FAMILY VARIATIONS
59
(74)

| | |
| --- | --- |
| | 5. Historical Perspectives on Family Diversity |

63
(17)

| | |
| --- | --- |
| | Coontz provides a historical overview of family diversity in Europe and in the United States. |

| | |
| --- | --- |
| | 6. Black Families: Beyond Revisionist Scholarship |

80
(19)

| | |
| --- | --- |
| | Hill examines how family scholarship has conceptualized and problematized African American families in the United States. |

| | |
| --- | --- |
| | 7. La Familia: Family Cohesion among Mexican American Families in the Urban Southwest, 1848-1900. |

| | |
| --- | --- |
| | Richard Griswold del Castillo |

99
(15)

| | |
| --- | --- |
| | Griswold del Castillo uses census data to examine historical patterns of family solidarity and kinship networks in Mexican American households. |

| | |
| --- | --- |
| | 8. Split Household, Small Producer, and Dual Wage Earner: An Analysis of Chinese American Family Strategies |

114
(25)

| | |
| --- | --- |
| | Nakano Glenn examines the cultural and institutional constraints that have influenced how Chinese Americans have structured their families over time. |

PART III. COURTSHIP, DATING, AND POWER
133
(44)

| | |
| --- | --- |
| | 9. Choosing Mates — The American Way |

139
(10)

| | |
| --- | --- |
| | Whyte examines the history of courtship and dating in the United States. |

| | |
| --- | --- |
| | 10. "She's 16 Years Old and There's Boys Calling over to the House": An Exploratory Study of Sexual Socialization in Latino Families |

| | |
| --- | --- |
| | Marcela Raffaelli and Lenna L. Ontai |

149
(14)

| | |
| --- | --- |
| | Raffaelli and Ontai explore family socialization of adolescent romantic and sexual behavior among Latinas. |

| | |
| --- | --- |
| | 11. Dating and Romantic Relationships among Gay, Lesbian, and Bisexual Youths |

163
(20)

| | |
| --- | --- |
| | Savin-Williams examines the dating behavior among lesbian, bisexual, and gay adolescents. |

PART IV. MARRIAGE, COHABITATION, AND PARTNERSHIP
177
(88)

| | |
| --- | --- |
| | 12. The Deinstitutionalization of American Marriage |

183
(19)

| | |
| --- | --- |
| | Cherlin examines the weakening of social norms in the institution of marriage. |

| | |
| --- | --- |
| | 13. Clashing Dreams: Highly Educated Overseas Brides and Low-Wage U.S. Husbands |

202
(20)

| | |
| --- | --- |
| | Cam Thai interviews Vietnamese American men, who have marriages arranged for them in Vietnam, and the Vietnamese women they are bethrothed to. |

222
(10)

| | |
| --- | --- |
| | Schwartz reports on her research of gender and power dynamics in modern marriages. |

| | |
| --- | --- |
| | 15. Families Formed Outside of Marriage |

232
(19)

| | |
| --- | --- |
| | Seltzer reviews recent research on cohabitation. |

| | |
| --- | --- |
| | 16. From This Day Forward: Commitment, Marriage, and Family in Lesbian and Gay Relationships |

251
(20)

| | |
| --- | --- |
| | Stiers interviews 90 lesbian and gay couples to discover the meanings of commitment ceremonies and marriages. |

PART V. PARENTS AND CHILDREN
265
(102)

| | |
| --- | --- |
| | 17. Historical Perspectives on Parent-Child Interactions |

271
(16)

| | |
| --- | --- |
| | Vinovskis summarizes the major changes in parent-child relationships during the past 400 years. |

| | |
| --- | --- |
| | 18. Single-Parent Families |

287
(12)

| | |
| --- | --- |
| | Sugarman provides an overview of the diversity of and policies about single-parent families. |

| | |
| --- | --- |
| | 19. (How) Does the Sexual Orientation of Parents Matter? |

| | |
| --- | --- |
| | Judith Stacey and Timothy J. Biblarz |

299
(24)

| | |
| --- | --- |
| | Stacey and Biblarz examine the cases for and against lesbian and gay parenthood. |

| | |
| --- | --- |
| | 20. How Families Still Matter: A Longitudinal Study of Youth in Two Generations |

| | |
| --- | --- |
| | Vern L. Bengtson, Timothy J. Biblarz, and Robert E.L. Roberts |

323
(13)

| | |
| --- | --- |
| | Bengtson et al. examine how family influences on children have changed over three decades. |

| | |
| --- | --- |
| | 21. Invisible Inequality: Social Class and Childrearing in Black Families and White Families |

336
(31)

| | |
| --- | --- |
| | Lareau's research examines social class differences in parenting and childrearing in African American and white families. |

PART VI. MOTHERHOOD AND FATHERHOOD
367
(100)
367
(49)

| | |
| --- | --- |
| | 22. Shifting the Center: Race, Class, and Feminist Theorizing about Motherhood |

371
(18)

| | |
| --- | --- |
| | Collins argues that family scholars need to place the voices and experiences of women of color at the center of feminist research on motherhood. |

| | |
| --- | --- |
| | 23. Teenage Mothering on the Navajo Reservation: An Examination of Intergenerational Perceptions and Beliefs |

| | |
| --- | --- |
| | Rochelle L. Dalla and Wendy C. Gamble |

389
(15)

| | |
| --- | --- |
| | Dalla and Gamble investigate the attitudes and relationships toward teen parenting among two generations of Navajo and other individuals in the Navajo community. |

| | |
| --- | --- |
| | 24. Mothering from a Distance: Emotions, Gender, and Intergenerational Relations in Filipino Transnational Families |

404
(12)

| | |
| --- | --- |
| | Salazar Parreñas investigates the effects of transnational work on Filipina mothers and their families. |

| | |
| --- | --- |
| | 25. Fathering: Paradoxes, Contradictions, and Dilemmas |

416
(15)

| | |
| --- | --- |
| | Coltrane reviews various fathering practices and the current research on father involvement. |

| | |
| --- | --- |
| | 26. What It Means to Be Daddy: Fatherhood for Black Men Living Away from Their Children |

431
(16)

| | |
| --- | --- |
| | Hamer examines the meaning of fatherhood among low-income African American men. |

| | |
| --- | --- |
| | 27. Overlooked Aspects of Stepfathering |

447
(20)

| | |
| --- | --- |
| | Marsiglio interviews stepfathers to discover the less obvious ways stepfathers influence their stepchildren's lives. |

PART VII. AGING AND MULTIGENERATIONAL RELATIONSHIPS
467
(50)

| | |
| --- | --- |
| | Lynne M. Casper and Suzanne M. Bianchi |

473
(14)

| | |
| --- | --- |
| | Casper and Bianchi provide a detailed review of grandparenting and multigenerational relationships in the United States. |

| | |
| --- | --- |
| | 29. The Strengths of Apache Grandmothers: Observations on Commitment, Culture, and Caretaking |

487
(17)

| | |
| --- | --- |
| | Bahr compares grandparenting in the Apache and Anglo American cultures. |

| | |
| --- | --- |
| | 30. My Mother's Hip: Lessons from the World of Eldercare |

504
(19)

| | |
| --- | --- |
| | Margolies examines the elderly parent carework done by children, primarily daughters. |

PART VIII. DIVORCE, REMARRIAGE, AND BLENDED FAMILIES
517
(90)

| | |
| --- | --- |
| | 31. No Easy Answers: Why the Popular View of Divorce Is Wrong |

523
(11)

| | |
| --- | --- |
| | Ahrons challenges seven popular misconceptions about divorce in the United States. |

| | |
| --- | --- |
| | 32. The Social Self as Gendered: A Masculinist Discourse of Divorce |

534
(17)

| | |
| --- | --- |
| | Arendell reports her findings on divorce and how it affects men and their gender identities. |

| | |
| --- | --- |
| | 33. Divorced Parents and the Jewish Community |

551
(16)

| | |
| --- | --- |
| | Friedman examines how divorce impacts ties to the Jewish community. |

| | |
| --- | --- |
| | 34. Life-Span Adjustment of Children to Their Parents' Divorce |

567
(21)

| | |
| --- | --- |
| | Amato reviews all of the research related to the effects of divorce on children. |

| | |
| --- | --- |
| | 35. The Modern American Stepfamily: Problems and Possibilities |

588
(23)

| | |
| --- | --- |
| | Mason provides an overview of stepfamilies in law and public policy. |

PART IX. FAMILIES AND VIOLENCE
607
(60)

| | |
| --- | --- |
| | 36. Gender, Diversity, and Violence: Extending the Feminist Framework |

611
(12)

| | |
| --- | --- |
| | Yllä examines family violence through a feminist lens. |

| | |
| --- | --- |
| | 37. Lifting the Veil of Secrecy: Domestic Violence against South Asian Women in the United States |

| | |
| --- | --- |
| | Satya P. Krishnan, Malahat Baig-Amin, Louisa Gilbert, Nabila El-Bassel, and Anne Waters |

623
(12)

| | |
| --- | --- |
| | Krishnan et al. utilize focus groups to gain a better understanding of how South Asian women perceive and experience domestic violence. |

| | |
| --- | --- |
| | 38. Toward a Better Understanding of Lesbian Battering |

635
(12)

| | |
| --- | --- |
| | Renzetti provides an overview of lesbian battering and suggestions for changes in services for survivors of abuse. |

| | |
| --- | --- |
| | Ola Barnett, Cindy L. Miller-Perrin, and Robin D. Perrin |

647
(26)

| | |
| --- | --- |
| | Barnett et al. examine the definitions, prevalence, and patterns of elder abuse. |

PART X. FAMILIES, WORK, AND CAREWORK
667
(68)

| | |
| --- | --- |
| | Kathleen Gerson and Jerry A. Jacobs |

673
(10)

| | |
| --- | --- |
| | Gerson and Jacobs compare individual work time to total family work time to determine why Americans feel overworked. |

| | |
| --- | --- |
| | 41. The Emotional Geography of Work and Family Life |

683
(15)

| | |
| --- | --- |
| | Hochschild studies a Fortune 500 company to see how people are balancing their work and family lives. |

698
(11)

| | |
| --- | --- |
| | Crittenden examines the income discrimination faced by working mothers. |

| | |
| --- | --- |
| | 43. No Place Like Home: The Division of Domestic Labor in Lesbigay Families |

709
(17)

| | |
| --- | --- |
| | Carrington interviews gay, lesbian, and bisexual families to discover how kin work is delineated. |

| | |
| --- | --- |
| | 44. Caring for Our Young: Child Care in Europe and the United States |

| | |
| --- | --- |
| | Dan Clawson and Naomi Gerstel |

726
(13)

| | |
| --- | --- |
| | Clawson and Gerstel compare child care availability and quality in Europe and the United States. |

PART XI. FAMILIES AND POVERTY
735

| | |
| --- | --- |
| | 45. As American as Apple Pie: Poverty and Welfare |

739
(7)

| | |
| --- | --- |
| | Rank investigates why most Americans will experience poverty at some point in their lives. |

| | |
| --- | --- |
| | 46. Flat Broke with Children: The Ground-Level Results of Welfare Reform |

746
(8)

| | |
| --- | --- |
| | Hays examines the quagmire of welfare reform and the effects it has on poor families. |

| | |
| --- | --- |
| | 47. Poor Mothers and the Care of Teenage Children |

754
(16)

| | |
| --- | --- |
| | Kurz interviews poor women to discover what parenting challenges they face in raising teenage children. |

| | |
| --- | --- |
| | 48. Is There Hope for America's Low-Income Children? |

| | |
| --- | --- |
| | Lee Rainwater and Timothy M. Smeeding |

770

| | |
| --- | --- |
| | Rainwater and Smeeding propose several policies to reduce child poverty in the United States. |