Note: Supplemental materials are not guaranteed with Rental or Used book purchases.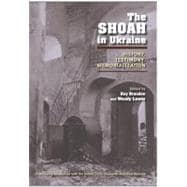 Summary
Ukraine was once home to the largest population of Jews in the Russian Empire, and on the eve of the Nazi invasion of the USSR in 1941 it was the largest Jewish community in Europe. As such, Ukraine was one of the most important centers of Jewish life destroyed during the Holocaust. Between 1941 and 1944, some 1.4 million Jews were killed there. Yet, little is known about this chapter of Holocaust history. Drawing on new archival sources from the former Soviet Union and bringing together researchers from Ukraine, Germany, Great Britain, the Netherlands, and the United States, The Shoah in Ukraine sheds new light on the critical themes of perpetration, collaboration, Jewish-Ukrainian relations, testimony, rescue, and Holocaust remembrance in Ukraine.Contributors are Andrej Angrick, Omer Bartov, Karel C. Berkhoff, Ray Brandon, Martin Dean, Dennis Deletant, Frank Golczewski, Alexander Kruglov, Wendy Lower, Dieter Pohl, and Timothy Snyder.
Author Biography
Ray Brandon is a freelance editor, translator, and researcher based in Berlin. A former editor at the Frankfurter Allgemeine Zeitung, English Edition, he has also lived and worked in Ukraine and Poland.
Wendy Lower is Assistant Professor of History at Towson University in Maryland and Research Fellow at Ludwig Maximilian University, Munich, Germany. She is author of Nazi Empire-Building and the Holocaust in Ukraine.
Table of Contents
List of Maps
p. vii
Acknowledgments
p. ix
Introduction
p. 1
The Murder of Ukraine's Jews under German Military Administration and in the Reich Commissariat Ukraine
p. 23
The Life and Death of Western Volhynian Jewry, 1921-1945
p. 77
Shades of Grey: Reflections on Jewish-Ukrainian and German-Ukrainian Relations in Galicia
p. 114
Transnistria and the Romanian Solution to the "Jewish Problem"
p. 156
Annihilation and Labor: Jews and Thoroughfare IV in Central Ukraine
p. 190
"On Him Rests the Weight of the Administration": Nazi Civilian Rulers and the Holocaust in Zhytomyr
p. 224
Soviet Ethnic Germans and the Holocaust in the Reich Commissariat Ukraine, 1941-1944
p. 248
Jewish Losses in Ukraine, 1941-1944
p. 272
Dina Pronicheva's Story of Surviving the Babi Yar Massacre: German, Jewish, Soviet, Russian, and Ukrainian Records
p. 291
White Spaces and Black Holes: Eastern Galicia's Past and Present
p. 318
Comparative Table of Ranks
p. 355
Map Sources
p. 357
Selected Supplemental Bibliography
p. 359
Contributors
p. 363
Index
p. 367
Table of Contents provided by Ingram. All Rights Reserved.