Note: Supplemental materials are not guaranteed with Rental or Used book purchases.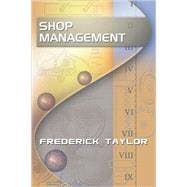 Summary
With the growth of Lean into all sectors of manufacturing and service industries around the globe, a survey into the origins of Lean becomes vital. As English economist Maynard Keynes once said "ideas shape the course of history," and Frederick Taylor's ideas still shape the course of history well after a century of use. Shop Management is a living lesson that shows how an innovative idea will adapt in order to survive. The purpose of Enna's Lean Origin Series is to facilitate that adaptation by publishing classic texts that are relevant to today's business needs.The basic premise of Taylor's system was always high wages coupled with low labor cost; taken in that context, the leap from Taylor to Toyota is not one of faith, but one of logic.
Author Biography
Frederick W. Taylor (1856-1915), was an American mechanical engineer who sought to modernize industrial efficiency. A management consultant in his later years, he is considered by many to be the Father of Scientific Management." As one of the intellectual leaders of the Efficiency Movement, his ideas were highly influential during the Progressive Era. Taylor believed that the industrial management of his day was unfocused, relying on outdated ruleŻofŻthumb techniques for production needs.