Note: Supplemental materials are not guaranteed with Rental or Used book purchases.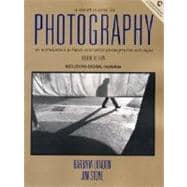 Short Course in Photography, A: An Introduction to Black and White Photographic Technique
ISBN13:
9780130283177
by
London, Barbara
;
Stone, Jim
Summary
For one-semester introductory courses in photography. This easy-to-use, inexpensive text introduces students to the fundamentals of photography and suggests ways in which they might create photographs that have meaning. Oriented toward traditional black and white photography, the book also explores digital techniques and web photography resources, equipment, cameras and camera accessories, the exposure and development of film, and the making and finishing of prints. All aspects of the process are explained and illustrated clearly in two-page spreads, each of which addresses a self-contained topic.
Table of Contents
preface
vii
2
(22)

| | |
| --- | --- |
| | Getting Started Camera and film |

4
(1)

| | |
| --- | --- |
| | Loading film into the camera |

5
(1)

| | |
| --- | --- |
| | Focusing and setting the exposure |

6
(1)
7
(1)
8
(1)

| | |
| --- | --- |
| | What will you photograph? |

9
(1)
10
(2)
12
(2)

| | |
| --- | --- |
| | Automatic Camera Controls |

14
(2)

| | |
| --- | --- |
| | Shutter Speed Affects light and motion |

16
(2)

| | |
| --- | --- |
| | Aperture Affects light and depth of field |

18
(2)

| | |
| --- | --- |
| | Shutter Speed and Aperture Blur vs. depth of field |

20
(2)
22
(2)
24
(22)

| | |
| --- | --- |
| | Lens Focal Length The basic difference between lenses |

26
(2)

| | |
| --- | --- |
| | Normal Focal Length The most like human vision |

28
(2)

| | |
| --- | --- |
| | Long Focal Length Telephoto lenses |

30
(2)

| | |
| --- | --- |
| | Short Focal Length Wide-angle lenses |

32
(2)

| | |
| --- | --- |
| | Zoom, Macro, and Fisheye Lenses |

34
(2)
36
(1)
37
(1)

| | |
| --- | --- |
| | Depth of Field Controlling sharpness in a photograph |

38
(2)

| | |
| --- | --- |
| | More About Depth of Field How to preview it |

40
(2)

| | |
| --- | --- |
| | Perspective How a photograph shows depth |

42
(2)

| | |
| --- | --- |
| | Lens Performance Getting the most from a lens |

44
(1)

| | |
| --- | --- |
| | Solving Camera and Lens Problems |

45
(1)
46
(10)
48
(2)

| | |
| --- | --- |
| | Film Speed and Grain The two go together |

50
(2)

| | |
| --- | --- |
| | Special-Purpose Films High contrast, infrared, and chromogenic |

52
(2)
54
(2)
56
(20)

| | |
| --- | --- |
| | Normal Exposure, Underexposure, and Overexposure |

58
(2)

| | |
| --- | --- |
| | Exposure Meters What different types do |

60
(2)

| | |
| --- | --- |
| | How to calculate and adjust an exposure manually |

62
(2)

| | |
| --- | --- |
| | Overriding an Automatic Exposure Camera |

64
(2)

| | |
| --- | --- |
| | Making an Exposure of an Average Scene |

66
(2)

| | |
| --- | --- |
| | Exposing Scenes that are Lighter or Darker than Average |

68
(2)
70
(1)

| | |
| --- | --- |
| | Exposing Scenes with High Contrast |

71
(1)

| | |
| --- | --- |
| | Low Light and Reciprocity |

72
(1)

| | |
| --- | --- |
| | Exposures in Hard-to-Meter Situations |

73
(1)

| | |
| --- | --- |
| | Solving Exposure Problems |

74
(2)
76
(20)

| | |
| --- | --- |
| | Processing Film Equipment and chemicals you'll need |

78
(2)

| | |
| --- | --- |
| | Mixing and Handling Chemicals |

80
(1)

| | |
| --- | --- |
| | Processing Film Step by Step Setting out materials needed |

81
(1)
82
(2)
84
(1)
85
(1)
86
(1)

| | |
| --- | --- |
| | Summary of Film Processing |

87
(1)

| | |
| --- | --- |
| | How Chemicals Affect Film |

88
(2)

| | |
| --- | --- |
| | Evaluating Your Negatives |

90
(2)
92
(2)

| | |
| --- | --- |
| | Solving Negative Development Problems |

94
(2)
96
(30)

| | |
| --- | --- |
| | Printing Equipment and materials you'll need |

98
(2)

| | |
| --- | --- |
| | Making a Contact Print Step by Step |

100
(2)

| | |
| --- | --- |
| | Processing a Print Step by Step Development |

102
(1)
103
(1)
104
(1)

| | |
| --- | --- |
| | Summary of Print Processing |

105
(1)

| | |
| --- | --- |
| | Making an Enlarged Print Step by Step Setting up the enlarger |

106
(2)
108
(1)
109
(1)

| | |
| --- | --- |
| | Evaluating Your Print for Density and Contrast |

110
(2)

| | |
| --- | --- |
| | More About Contrast How to control it in a print |

112
(2)

| | |
| --- | --- |
| | Local Controls Burning in and dodging |

114
(2)

| | |
| --- | --- |
| | More About Local Controls Burning in and dodging |

116
(1)
117
(1)
118
(1)

| | |
| --- | --- |
| | Solving Printing Problems |

119
(1)
120
(1)

| | |
| --- | --- |
| | Equipment and materials you'll need |

121
(1)

| | |
| --- | --- |
| | Dry Mounting a Print Step by Step |

122
(2)

| | |
| --- | --- |
| | Bleed Mounting/Overmatting |

124
(2)
126
(18)

| | |
| --- | --- |
| | Qualities of Light From direct to diffused |

128
(2)

| | |
| --- | --- |
| | Existing Light Use what's available |

130
(2)

| | |
| --- | --- |
| | The Main Light The strongest source of light |

132
(2)

| | |
| --- | --- |
| | Fill Light To lighten shadows |

134
(2)
136
(2)

| | |
| --- | --- |
| | Using Artificial Light Photolamp or flash |

138
(2)

| | |
| --- | --- |
| | More About Flash How to position it |

140
(2)
142
(2)
144
(12)
146
(2)

| | |
| --- | --- |
| | Using Filters How to change film's response to light |

148
(2)

| | |
| --- | --- |
| | Lens Attachments Polarization and other effects |

150
(2)
152
(1)

| | |
| --- | --- |
| | Equipment and materials you'll need |

153
(1)
154
(2)
156
(21)

| | |
| --- | --- |
| | What's in the Picture The edges or frame |

158
(2)
160
(2)

| | |
| --- | --- |
| | Depth in a Picture Three dimensions become two |

162
(2)

| | |
| --- | --- |
| | Depth of Field Which parts are sharp |

164
(2)

| | |
| --- | --- |
| | Time and Motion in a Photograph |

166
(2)

| | |
| --- | --- |
| | Photographing for Meaning |

168
(2)
170
(2)

| | |
| --- | --- |
| | Photographing the Landscape/Cityscape |

172
(2)

| | |
| --- | --- |
| | Responding to Photographs |

174
(2)

| | |
| --- | --- |
| | Photography on the Internet |

176
(1)
Glossary
177
(4)
Photo Credits
181
(1)
Bibliography
182
(1)
Index
183