Note: Supplemental materials are not guaranteed with Rental or Used book purchases.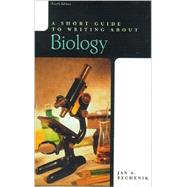 Questions About This Book?
What version or edition is this?
This is the 4th edition with a publication date of 7/1/2000.
What is included with this book?
The New copy of this book will include any supplemental materials advertised. Please check the title of the book to determine if it should include any CDs, lab manuals, study guides, etc.
Summary
Emphasizing writing as a means to examining, evaluating, sharing, and refining ideas, A Short Guide to Writing about Biology helps students get more out of their biology courses and prepares them for work beyond the classroom. More than a "writing guide," this book teaches students to think as biologists and to then express that thinking clearly and concisely through their writing and speaking. With comprehensive coverage on how to read and evaluate articles, how to interpret and describe the results of statistical tests, how to maintain laboratory and field notebooks, and how to communicate information concisely and convincingly to professional and general audiences, this book is a "must have" for any biology student. This edition also provides considerable emphasis on the Internet and work with computers in Biology.
Table of Contents
Preface
xiii
Part I General Advice About Writing and Reading Biology
1
(132)

| | |
| --- | --- |
| | Introduction and General Rules |

3
(20)

| | |
| --- | --- |
| | What Do Biologists Write about, and Why? |

3
(3)
6
(12)

| | |
| --- | --- |
| | Eight major rules for preparing a first draft |

6
(5)

| | |
| --- | --- |
| | Seven major rules for developing your final draft |

11
(5)

| | |
| --- | --- |
| | Six finer points: one last pass |

16
(2)

| | |
| --- | --- |
| | On Using Computers in Writing |

18
(2)

| | |
| --- | --- |
| | On Using Computers for Data Storage, Analysis, and Presentation |

20
(1)
21
(2)

| | |
| --- | --- |
| | General Advice on Reading and Note-Taking |

23
(30)
23
(2)
25
(5)
30
(2)

| | |
| --- | --- |
| | Plagiarism and Note-Taking |

32
(8)
32
(1)
33
(7)

| | |
| --- | --- |
| | Split-page note-taking: a can't-fail system |

40
(1)

| | |
| --- | --- |
| | Final Thoughts on Note-Taking |

40
(2)
42
(9)
43
(1)

| | |
| --- | --- |
| | Using Science Citation Index |

44
(1)
45
(1)

| | |
| --- | --- |
| | Using Medline, Biological Abstracts, Basic BIOSIS, and BioDigest |

45
(1)
46
(2)

| | |
| --- | --- |
| | Seeking other relevant Web sites |

48
(2)

| | |
| --- | --- |
| | Final thoughts about efficient searching |

50
(1)
51
(1)
52
(1)

| | |
| --- | --- |
| | Reading and Writing about Statistical Analyses |

53
(17)
53
(13)

| | |
| --- | --- |
| | Variability and its representation |

53
(3)

| | |
| --- | --- |
| | What you need to know about tomatoes, coins, and random events |

56
(3)

| | |
| --- | --- |
| | Establishing a null hypothesis |

59
(1)

| | |
| --- | --- |
| | Conducting the analysis and interpreting the results |

60
(5)
65
(1)
66
(1)
67
(1)
67
(3)

| | |
| --- | --- |
| | Citing Sources and Listing References |

70
(10)
70
(5)

| | |
| --- | --- |
| | Preparing the Literature Cited Section |

75
(3)
75
(2)

| | |
| --- | --- |
| | Listing journal references |

77
(1)

| | |
| --- | --- |
| | Listing items from the World Wide Web |

77
(1)
78
(1)

| | |
| --- | --- |
| | Listing an article from a book |

78
(1)

| | |
| --- | --- |
| | Listing a laboratory manual or handout |

78
(1)

| | |
| --- | --- |
| | Sample Literature Cited Section |

78
(2)
80
(53)

| | |
| --- | --- |
| | Preparing the Draft for Surgery: Plotting Idea Maps |

82
(5)
87
(4)
91
(6)

| | |
| --- | --- |
| | Taming disobedient sentences |

91
(4)
95
(2)

| | |
| --- | --- |
| | Revising for Completeness |

97
(3)
100
(7)

| | |
| --- | --- |
| | First commandment: eliminate unnecessary prepositions |

101
(1)

| | |
| --- | --- |
| | Second commandment: avoid weak verbs |

102
(2)

| | |
| --- | --- |
| | Third commandment: do not overuse the passive voice |

104
(2)

| | |
| --- | --- |
| | Fourth commandment: make the organism the agent of the action |

106
(1)
107
(5)

| | |
| --- | --- |
| | A short exercise in establishing coherence |

110
(1)

| | |
| --- | --- |
| | Improving flow using punctuation |

111
(1)

| | |
| --- | --- |
| | Revising for Teleology and Anthropomorphism |

112
(1)

| | |
| --- | --- |
| | Revising for Spelling Errors |

113
(1)

| | |
| --- | --- |
| | Revising for Grammar and Proper Word Usage |

114
(7)
121
(9)
123
(2)
125
(1)
126
(1)

| | |
| --- | --- |
| | Sentences in need of revision |

126
(4)
130
(3)
Part II Guidelines for Specific Tasks
133
(166)

| | |
| --- | --- |
| | Writing Summaries and Critiques |

135
(9)
136
(1)
137
(1)
138
(2)

| | |
| --- | --- |
| | Analysis of student summary |

140
(1)
140
(3)
141
(2)

| | |
| --- | --- |
| | Analysis of student critique |

143
(1)
143
(1)

| | |
| --- | --- |
| | Writing Essays and Terms Papers |

144
(12)
145
(1)
146
(1)
147
(1)
147
(6)
153
(1)
154
(1)
155
(1)

| | |
| --- | --- |
| | Writing Laboratory and Other Research Reports |

156
(77)
156
(1)

| | |
| --- | --- |
| | The Purpose of Laboratory and Field Notebooks |

157
(6)
158
(5)

| | |
| --- | --- |
| | Components of the Research Report |

163
(2)
165
(1)

| | |
| --- | --- |
| | Writing the Materials and Methods Section |

165
(6)

| | |
| --- | --- |
| | Determining the correct level of detail |

166
(4)

| | |
| --- | --- |
| | A model materials and methods section |

170
(1)

| | |
| --- | --- |
| | Writing the Results Section |

171
(36)

| | |
| --- | --- |
| | Summarizing data using tables and graphs |

172
(3)

| | |
| --- | --- |
| | Constructing a summary table |

175
(1)
175
(6)
181
(2)
183
(1)

| | |
| --- | --- |
| | The question: to connect or not to connect the dots |

183
(6)

| | |
| --- | --- |
| | Bar graphs and histograms |

189
(2)

| | |
| --- | --- |
| | Learning to love logarithms |

191
(4)
195
(2)

| | |
| --- | --- |
| | Self-sufficient graphs and tables |

197
(1)

| | |
| --- | --- |
| | Verbalizing results: general principles |

198
(4)

| | |
| --- | --- |
| | Verbalizing results: turning principles into action |

202
(1)

| | |
| --- | --- |
| | Writing about negative results |

203
(1)
203
(2)
205
(2)
207
(1)

| | |
| --- | --- |
| | Writing the Discussion Section |

207
(9)
208
(1)

| | |
| --- | --- |
| | Explaining unexpected results |

209
(2)

| | |
| --- | --- |
| | Analysis of specific examples |

211
(5)

| | |
| --- | --- |
| | Writing the Introduction Section |

216
(7)
216
(2)

| | |
| --- | --- |
| | An aside: studies versus experiments |

218
(1)
219
(4)
223
(2)
225
(1)

| | |
| --- | --- |
| | Preparing an Acknowledgements Section |

226
(1)

| | |
| --- | --- |
| | Preparing the Literature Cited Section |

227
(1)

| | |
| --- | --- |
| | Preparing Papers for Formal Publication |

228
(2)

| | |
| --- | --- |
| | Checklist for the Final Draft of Your Research Report |

230
(3)

| | |
| --- | --- |
| | Answering Essay Questions |

233
(8)
233
(8)
238
(3)

| | |
| --- | --- |
| | Writing Research Proposals |

241
(11)
242
(2)

| | |
| --- | --- |
| | What Makes a Good Research Question? |

244
(1)
245
(6)
245
(2)
247
(2)
249
(1)

| | |
| --- | --- |
| | Citing references and preparing the literature cited section |

250
(1)
251
(1)

| | |
| --- | --- |
| | The Life of a Real Research Proposal |

251
(1)

| | |
| --- | --- |
| | Writing a Poster Presentation |

252
(8)
255
(3)
258
(1)

| | |
| --- | --- |
| | Checklist for Making Posters |

259
(1)

| | |
| --- | --- |
| | Writing for a General Audience: Science Journalism |

260
(10)

| | |
| --- | --- |
| | Science Journalism Based on Published Research |

260
(5)

| | |
| --- | --- |
| | Journalism Based on an Interview |

265
(5)

| | |
| --- | --- |
| | Preparing Oral Presentations |

270
(12)

| | |
| --- | --- |
| | Talking about Published Research Papers |

271
(5)
271
(2)
273
(3)

| | |
| --- | --- |
| | Talking about Original Research |

276
(1)

| | |
| --- | --- |
| | Talking about Proposed Research |

277
(1)

| | |
| --- | --- |
| | The Listener's Responsibility |

277
(1)

| | |
| --- | --- |
| | Preparing Effective Slides and Overheads |

278
(2)
280
(2)

| | |
| --- | --- |
| | Writing Letters of Application |

282
(17)
283
(1)
283
(4)

| | |
| --- | --- |
| | Preparing the Cover Letter |

287
(10)

| | |
| --- | --- |
| | Recruiting Effective Letters of Recommendation |

297
(2)
Appendix A
299
(2)

| | |
| --- | --- |
| | The Disassembled Paragraph Reconstituted (From Chapter 5) |

299
(2)
Appendix B
301
(3)
301
(3)
Appendix C
304
(2)

| | |
| --- | --- |
| | The Revised Sample Sentences in Final Form |

304
(2)
Appendix D
306
(2)

| | |
| --- | --- |
| | Commonly Used Abbreviations |

306
(2)
Appendix E
308
(3)

| | |
| --- | --- |
| | Suggested References for Further Reading |

308
(3)
Appendix F
311
(3)

| | |
| --- | --- |
| | Some Computer Software for the Biological Sciences |

311
(3)
Index
314