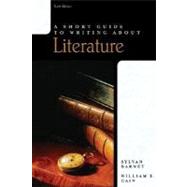 List Price: $46.00
Usually Ships in 2-3 Business Days

More New and Used
from Private Sellers
Questions About This Book?
What version or edition is this?
This is the 10th edition with a publication date of 1/1/2006.
What is included with this book?
The Used copy of this book is not guaranteed to inclue any supplemental materials. Typically, only the book itself is included.
Summary
The tenth edition of A Short Guide to Writing about Literature continues to offer students sound advice on how to become critical thinkers and enrich their reading response through accessible, step-by-step instruction. This highly respected text is ideal as a supplement to any course where writing about literature or literary studies is emphasized. New to the Tenth Edition: A prefatory "Letter to Students" introduces students to the importance of writing about literature. New Chapter 1: What Is Literature, and Why Write About It? Chapter 2 features new material on critical thinking. Epigraphs have been added to the beginning of each chapter to engage the attention of students and instructors. Seventeen "Rules for Writers" have been addded to various chapters. Tips and practical suggestions are highlighted throughout the text. Four checklists have been added: basic matters, revising for clarity, revising for conciseness, and reviewing a revised draft. Two poems, one by Emily Dickinson and one by Edna St. Vincent Millay, and a fable by Aesop have been added. Book jacket.
Table of Contents
PREFACE
xv
LETTER TO STUDENTS
xix
PART 1 Jumping In

| | |
| --- | --- |
| | 1 WHAT IS LITERATURE, AND WHY WRITE ABOUT IT? |

3
(9)

| | |
| --- | --- |
| | Aesop, "The Vixen and the Lioness" |

4
(1)

| | |
| --- | --- |
| | Emily Dickinson, "I'm Nobody! Who are you?" |

5
(1)

| | |
| --- | --- |
| | Why We Write about Literature |

6
(2)
8
(4)

| | |
| --- | --- |
| | A Checklist of Basic Matters |

11
(1)

| | |
| --- | --- |
| | 2 THE WRITER AS READER: READING AND RESPONDING |

12
(11)
12
(1)
13
(2)

| | |
| --- | --- |
| | Reading with a Pen in Hand |

15
(1)

| | |
| --- | --- |
| | Recording Your First Responses |

16
(1)
17
(1)

| | |
| --- | --- |
| | A Writing Assignment on "Ripe Figs" |

18
(3)
18
(1)

| | |
| --- | --- |
| | A Sample Essay: 'Images of Ripening in Kate Chopin's 'Ripe Figs"' |

18
(2)

| | |
| --- | --- |
| | The Student's Analysis Analyzed |

20
(1)

| | |
| --- | --- |
| | Critical Thinking and the Study of Literature |

21
(2)

| | |
| --- | --- |
| | 3 THE READER AS WRITER: DRAFTING AND WRITING |

23
(25)

| | |
| --- | --- |
| | Pre-writing: Getting Ideas |

23
(9)
23
(1)

| | |
| --- | --- |
| | More about Getting Ideas: A Second Story by Kate Chopin, 'The Story of an Hour" |

24
(1)

| | |
| --- | --- |
| | Kate Chopin: 'The Story of an Hour" |

24
(2)

| | |
| --- | --- |
| | Brainstorming for Ideas for Writing |

26
(1)
27
(1)
28
(2)
30
(1)
31
(1)

| | |
| --- | --- |
| | Critical Thinking: Arguing with Yourself |

32
(4)

| | |
| --- | --- |
| | Arriving at a Thesis and Arguing It |

34
(2)
36
(8)

| | |
| --- | --- |
| | A Sample Draft: "Ironies in an Hour" |

36
(2)
38
(2)

| | |
| --- | --- |
| | A Checklist for Revising for Clarity |

39
(1)

| | |
| --- | --- |
| | Two Ways of Outlining a Draft |

40
(2)

| | |
| --- | --- |
| | A Checklist for Reviewing a Revised Draft |

41
(1)
42
(2)
44
(3)

| | |
| --- | --- |
| | Sample Essay: "Ironies of Life in Kate Chopin's The Story of an Hour"' |

44
(2)

| | |
| --- | --- |
| | A Brief Overview of the Final Version |

46
(1)
47
(1)

| | |
| --- | --- |
| | From First Responses to Final Version: Writing an Essay about a Literary Work |

47
(1)

| | |
| --- | --- |
| | 4 TWO FORMS OF CRITICISM: EXPLICATION AND ANALYSIS |

48
(24)
48
(8)

| | |
| --- | --- |
| | A Sample Explication: Langston Hughes's "Harlem" |

48
(2)

| | |
| --- | --- |
| | Working toward an Explication of "Harlem" |

50
(1)
51
(2)

| | |
| --- | --- |
| | The Final Draft: "Langston Hughes's 'Harlem' " |

53
(1)

| | |
| --- | --- |
| | A Brief Overview of the Essay |

54
(1)
55
(1)

| | |
| --- | --- |
| | A Checklist: Drafting an Explication |

56
(1)

| | |
| --- | --- |
| | Analysis: The Judgment of Solomon |

56
(8)

| | |
| --- | --- |
| | Thinking about Form 58 Thinking about Character |

59
(1)

| | |
| --- | --- |
| | Thoughts about Other Possibilities |

59
(1)

| | |
| --- | --- |
| | Comparison: An Analytic Tool |

60
(7)

| | |
| --- | --- |
| | A Checklist: Revising a Comparison |

63
(1)
64
(1)

| | |
| --- | --- |
| | Considering the Evidence 65 Organizing the Material |

65
(1)
66
(1)

| | |
| --- | --- |
| | Review: How to Write an Effective Essay |

67
(5)
67
(1)
67
(1)
68
(2)
70
(7)

| | |
| --- | --- |
| | Editing Checklist: Questions to Ask Yourself When Editing |

70
(2)

| | |
| --- | --- |
| | 5 OTHER KINDS OF WRITING ABOUT LITERATURE |

72
(15)
72
(2)
74
(2)
76
(1)
77
(10)

| | |
| --- | --- |
| | A Review of a Dramatic Production |

77
(1)

| | |
| --- | --- |
| | A Sample Review: "An Effective Macbeth" |

78
(9)
PART 2 Standing Back: Thinking Critically about Literature

| | |
| --- | --- |
| | 6 LITERATURE, FORM, AND MEANING |

87
(10)
87
(4)
89
(1)
90
(1)
91
(2)

| | |
| --- | --- |
| | Robert Frost, 'The Span of Life" |

91
(2)
93
(1)

| | |
| --- | --- |
| | Literature, Texts, Discourses, and Cultural Studies |

94
(1)

| | |
| --- | --- |
| | Suggestions for Further Reading |

95
(2)

| | |
| --- | --- |
| | 7 WHAT IS INTERPRETATION? |

97
(12)

| | |
| --- | --- |
| | Interpretation and Meaning |

97
(1)

| | |
| --- | --- |
| | Is the Author's Intention a Guide to Meaning? |

98
(1)

| | |
| --- | --- |
| | Characteristics of a Good Interpretation |

99
(1)

| | |
| --- | --- |
| | An Example: Interpreting Pat Mora's "Immigrants" |

100
(2)

| | |
| --- | --- |
| | Thinking Critically about Literature |

102
(1)

| | |
| --- | --- |
| | A Student Interpretation of Robert Frost's "Stopping by Woods on a Snowy Evening" |

103
(5)

| | |
| --- | --- |
| | Sample Essay: "Stopping by Woods and Going On" |

104
(4)

| | |
| --- | --- |
| | Suggestions for Further Reading |

108
(1)
109
(7)
110
(1)

| | |
| --- | --- |
| | Evaluative Language and the Canon |

110
(1)

| | |
| --- | --- |
| | Are There Critical Standards? |

111
(4)

| | |
| --- | --- |
| | Morality and Truth as Standards |

111
(2)

| | |
| --- | --- |
| | Other Ways to Think about Truth and Realism |

113
(2)

| | |
| --- | --- |
| | Suggestions for Further Reading |

115
(1)

| | |
| --- | --- |
| | 9 WRITING ABOUT LITERATURE: AN OVERVIEW |

116

| | |
| --- | --- |
| | The Nature of Critical Writing |

117
(1)
117
(14)

| | |
| --- | --- |
| | Formalist Criticism (New Criticism) |

118
(2)
120
(1)

| | |
| --- | --- |
| | Reader-Response Criticism |

121
(2)

| | |
| --- | --- |
| | Archetypal (or myth) Criticism |

123
(1)
124
(1)
125
(1)
125
(1)
126
(1)

| | |
| --- | --- |
| | Psychological (or Psychoanalytic) Criticism |

127
(1)

| | |
| --- | --- |
| | Gender (Feminist, and Lesbian and Gay) Criticism |

128
(3)

| | |
| --- | --- |
| | Suggestions for Further Reading |

131
(8)
PART 3 Up Close: Thinking Critically about Literary Forms

| | |
| --- | --- |
| | 10 WRITING ABOUT FICTION: THE WORLD OF THE STORY |

139
(136)
139
(7)

| | |
| --- | --- |
| | Writing about a Character |

141
(3)

| | |
| --- | --- |
| | A Sample Essay on a Character: "Holden's Kid Sister" |

144
(2)

| | |
| --- | --- |
| | A Brief Overview of the Essay |

146
(1)
146
(3)

| | |
| --- | --- |
| | Organizing an Essay on Foreshadowing |

148
(1)
149
(1)
150
(7)

| | |
| --- | --- |
| | A Sample Essay on Setting as Symbol: "Spring Comes to Mrs. Mallard" |

152
(1)

| | |
| --- | --- |
| | "Spring Comes to Mrs. Mallard" |

153
(4)
157
(4)
157
(2)
159
(2)

| | |
| --- | --- |
| | Notes and a Sample Essay on Narrative Point of View in James Joyce's "Araby" |

161
(5)

| | |
| --- | --- |
| | "The Three First-Person Narrators of Joyce's 'Araby'" |

162
(3)

| | |
| --- | --- |
| | A Brief Overview of the Essay |

165
(1)

| | |
| --- | --- |
| | Theme: Vision or Argument? |

166
(1)

| | |
| --- | --- |
| | Determining and Discussing the Theme |

166
(1)

| | |
| --- | --- |
| | Preliminary Notes and a Sample Essay on the Theme of Eudora Welty's "A Worn Path" |

167
(11)
167
(3)
170
(4)

| | |
| --- | --- |
| | A Brief Overview of the Essay |

174
(1)

| | |
| --- | --- |
| | Basing the Paper on Your Own Responses |

175
(1)

| | |
| --- | --- |
| | A Note on Secondary Sources |

175
(3)

| | |
| --- | --- |
| | Suggestions for Further Reading |

178
(1)

| | |
| --- | --- |
| | A Checklist: Getting Ideas for Writing about Fiction |

179
(3)

| | |
| --- | --- |
| | A Checklist: Getting Ideas for Writing about a Film Based on a Work of Literature |

182
(3)
185
(1)
186
(6)
186
(1)

| | |
| --- | --- |
| | "The Solid Structure of The Glass Menagerie" |

187
(5)
192
(18)
193
(3)

| | |
| --- | --- |
| | A Checklist: Writing about Tragedy |

196
(1)
196
(2)

| | |
| --- | --- |
| | A Checklist: Writing about Comedy |

198
(1)
198
(2)
198
(2)
200
(5)

| | |
| --- | --- |
| | A Checklist: Writing about Plot |

203
(2)

| | |
| --- | --- |
| | Characterization and Motivation |

205
(1)
206
(1)

| | |
| --- | --- |
| | Costumes, Gestures, and Settings |

207
(3)

| | |
| --- | --- |
| | Suggestions for Further Reading |

210
(1)

| | |
| --- | --- |
| | A Checklist: Getting Ideas for Writing about Drama |

211
(2)

| | |
| --- | --- |
| | A Checklist: Getting Ideas for Writing about a Film Based on a Play |

213
(1)
214
(1)
214
(10)

| | |
| --- | --- |
| | Emily Dickinson, "Wild Nights-Wild Nights" |

215
(1)

| | |
| --- | --- |
| | The Language of Poetry: Diction and Tone |

216
(1)

| | |
| --- | --- |
| | Edna St. Vincent Millay, "I, being born a woman and distressed" |

217
(2)

| | |
| --- | --- |
| | Writing about the Speaker: Robert Frost's "The Telephone" |

219
(1)

| | |
| --- | --- |
| | Robert Frost, "The Telephone" |

219
(2)
221
(3)
224
(6)

| | |
| --- | --- |
| | John Keats, "On First Looking into Chapman's Homer" |

225
(3)

| | |
| --- | --- |
| | Preparing to Write about Figurative Language |

228
(1)

| | |
| --- | --- |
| | William Blake, "The Sick Rose" |

229
(1)
230
(8)

| | |
| --- | --- |
| | Robert Herrick, "Upon Julia's Clothes" |

230
(1)

| | |
| --- | --- |
| | Annotating and Thinking about a Poem |

231
(1)

| | |
| --- | --- |
| | The Student's Finished Essay: "Herrick's Julia, Julia's Herrick" |

232
(2)
234
(1)

| | |
| --- | --- |
| | William Wordsworth, "A Slumber Did My Spirit Seal" |

235
(1)
236
(1)
237
(1)
237
(1)
238
(4)

| | |
| --- | --- |
| | A Sample Explication of Yeats's "The Balloon of the Mind" |

239
(1)

| | |
| --- | --- |
| | William Butler Yeats, "The Balloon of the Mind" |

239
(3)

| | |
| --- | --- |
| | Rhythm and Versification: A Glossary for Reference |

242
(9)
242
(2)
244
(3)
247
(1)
248
(1)

| | |
| --- | --- |
| | Blank Verse and Free Verse |

249
(1)

| | |
| --- | --- |
| | Walt Whitman, 'When I Heard the Learn'd Astronomer" |

250
(1)

| | |
| --- | --- |
| | Preparing to Write about Prosody |

251
(1)

| | |
| --- | --- |
| | Sample Essay on Metrics: "Sound and Sense in A.E. Housman's 'Eight O'Clock'" |

252
(5)

| | |
| --- | --- |
| | "Sound and Sense in A.E. Housman's 'Eight O'Clock' " |

253
(4)

| | |
| --- | --- |
| | A Brief Overview of the Essay |

257
(1)

| | |
| --- | --- |
| | Suggestions for Further Reading |

257
(1)

| | |
| --- | --- |
| | A Checklist: Getting Ideas for Writing about Poetry |

258
(3)

| | |
| --- | --- |
| | 13 WRITING ABOUT AN AUTHOR IN DEPTH |

261
(1)

| | |
| --- | --- |
| | A Case Study: Writing about Langston Hughes |

262
(13)

| | |
| --- | --- |
| | Langston Hughes, "The South" |

263
(2)

| | |
| --- | --- |
| | Langston Hughes, "Ruby Brown" |

265
(1)

| | |
| --- | --- |
| | Langston Hughes, "Ballad of the Landlord" |

266
(1)

| | |
| --- | --- |
| | "A National Problem: Race and Racism in the Poetry of Langston Hughes" |

267
(4)

| | |
| --- | --- |
| | A Brief Overview of the Essay |

271
(4)
PART 4 Inside: Style, Format, and Special Assignments
275
(63)
275
(16)
276
(4)

| | |
| --- | --- |
| | Write Effective Sentences |

280
(4)

| | |
| --- | --- |
| | A Checklist for Revising for Conciseness |

281
(3)

| | |
| --- | --- |
| | Write Unified and Coherent Paragraphs |

284
(6)

| | |
| --- | --- |
| | A Checklist: Revising Paragraphs |

289
(1)
290
(1)

| | |
| --- | --- |
| | Notes on the Dash and the Hyphen |

291
(1)

| | |
| --- | --- |
| | Remarks about Manuscript Form |

291
(7)
291
(2)

| | |
| --- | --- |
| | Quotations and Quotation Marks |

293
(5)

| | |
| --- | --- |
| | 15 WRITING A RESEARCH PAPER |

298
(1)

| | |
| --- | --- |
| | What Research Is Not, and What Research Is |

298
(1)

| | |
| --- | --- |
| | Primary and Secondary Materials |

299
(3)

| | |
| --- | --- |
| | Locating Material: First Steps |

299
(3)
302
(1)
302
(3)

| | |
| --- | --- |
| | Two Mechanical Aids: The Photocopier and the Word Processor |

303
(1)
303
(2)
305
(1)
306
(1)
307
(15)

| | |
| --- | --- |
| | What to Document: Avoiding Plagiarism |

307
(3)

| | |
| --- | --- |
| | A Checklist for Avoiding Plagiarism |

309
(1)

| | |
| --- | --- |
| | How to Document: Footnotes, Internal Parenthetical Citations, and a List of Works Cited (MLA Format) |

310
(12)

| | |
| --- | --- |
| | Sample Essay with Documentation: "The Women in Death of a Salesman" |

322
(10)

| | |
| --- | --- |
| | A Checklist: Reading the Draft of a Research Paper |

331
(1)
332
(1)

| | |
| --- | --- |
| | Encyclopedias: Print and Electronic Versions |

332
(1)

| | |
| --- | --- |
| | The Internet/World Wide Web |

332
(1)

| | |
| --- | --- |
| | Evaluating Sources on the World Wide Web |

333
(1)

| | |
| --- | --- |
| | A Checklist: A Review for Using the World Wide Web |

333
(1)

| | |
| --- | --- |
| | Documentation: Citing a Web Source |

334
(4)

| | |
| --- | --- |
| | A Checklist: Citing World Wide Web Sources |

334
(4)
APPENDIX A: TWO STORIES
338
(1)
338
(1)

| | |
| --- | --- |
| | Eudora Welty, "A Worn Path" |

342
(7)
APPENDIX B: LITERARY RESEARCH: PRINT AND ELECTRONIC RESOURCES
349
(7)
APPENDIX C: GLOSSARY OF LITERARY TERMS
356
(15)
CREDITS
371
(2)
INDEX OF AUTHORS, TITLES, AND FIRST LINES OF POEMS
373
(2)
INDEX OF TERMS
375