Note: Supplemental materials are not guaranteed with Rental or Used book purchases.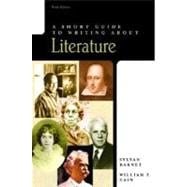 Summary
The tenth edition of A Short Guide to Writing about Literature continues to offer students sound advice on how to become critical thinkers and enrich their reading response through accessible, step-by-step instruction. This highly respected text is ideal as a supplement to any course where writing about literature or literary studies is emphasized. New to the Tenth Edition: A prefatory "Letter to Students" introduces students to the importance of writing about literature. New Chapter 1: What Is Literature, and Why Write About It? Chapter 2 features new material on critical thinking. Epigraphs have been added to the beginning of each chapter to engage the attention of students and instructors. Seventeen "Rules for Writers" have been addded to various chapters. Tips and practical suggestions are highlighted throughout the text. Four checklists have been added: basic matters, revising for clarity, revising for conciseness, and reviewing a revised draft. Two poems, one by Emily Dickinson and one by Edna St. Vincent Millay, and a fable by Aesop have been added. Book jacket.
Table of Contents
I. JUMPING IN.
1. The Writer as Reader: Reading and Responding.
2. The Reader as Writer: Drafting and Writing.
3. Two Forms of Criticism: Explication and Analysis.
4. Other Kinds of Writing About Literature.
II. STANDING BACK: THINKING CRITICALLY ABOUT LITERATURE.
5. What Is Literature?
6. What Is Interpretation?
7. What Is Evaluation?
8. Writing About Literature: An Overview.
III. UP CLOSE: THINKING CRITICALLY ABOUT LITERARY FORMS.
9. Writing About Fiction: The World of the Story.
10. Writing About Drama.
11. Writing About Poetry.
12. Writing About an Author in Depth.
IV. INSIDE: STYLE, FORMAT, AND SPECIAL ASSIGNMENTS.
13. Style and Format.
14. Writing a Research Paper.
15. New Approaches to the Research Paper: Literature, History, and the World Wide Web.
16. Essay Examinations.
Appendix A: Two Stories.
James Joyce, Araby.
Eudora Welty, A Worn Path.
Appendix B: Literary Research: Print and Electronic Resources.
Appendix C: Glossary of Literary Terms.
Credits.
Index of Authors, Titles, and First Lines of Poems.
Index of Literary Terms.