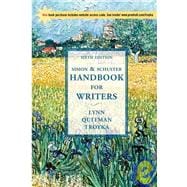 Simon and Schuster Handbook for Writers with APA Updates and Companion Website Subscription
by
Troyka, Lynn Quitman
Questions About This Book?
What version or edition is this?
This is the 6th edition with a publication date of 1/1/2002.
What is included with this book?
The New copy of this book will include any supplemental materials advertised. Please check the title of the book to determine if it should include any CDs, lab manuals, study guides, etc.
The Used copy of this book is not guaranteed to include any supplemental materials. Typically, only the book itself is included.
Summary
This bestselling, exceptionally easy to use rhetoric/handbook is both an ideal source for self-instruction and a comprehensive reference. Throughout, the information is chunked into small quick-to-find, easily digested pieces, and all parts of the book are color-coded at the top of the page--visible without opening the book. A multi-draft sample paper shows the writing process from various idea-generating and prewriting activities through three complete drafts; and a sample research paper is accompanied by a commentary detailing the writing process and research issues. Includes a full range of documentation guidelines--MLA and APA, Chicago Manual, and CBE--each quickly identifiable by its distinctive color bar down the outer edge of the page. Begins with coverage of the writing process, giving extensive attention to critical thinking and writing argument, followed by treatment of all aspects of style, grammar, punctuation, and mechanics. It offers complete coverage of research (electronic and traditional), research writing, writing across the disciplines, and ESL. For anyone wanting a solid tutorial and reference on the elements and process of good writing.
Table of Contents
PART ONE: WRITING AN ESSAY
1
(154)

| | |
| --- | --- |
| | Thinking About Purposes and Audiences |

2
(18)
2
(1)
3
(1)

| | |
| --- | --- |
| | What are the major purposes for writing? |

3
(5)

| | |
| --- | --- |
| | What does ``audience'' mean for writing? |

8
(6)
14
(2)

| | |
| --- | --- |
| | What does ``sources for writing'' mean? |

16
(1)

| | |
| --- | --- |
| | What tools can help me as a writer? |

17
(3)
20
(21)

| | |
| --- | --- |
| | What is the writing process? |

20
(2)

| | |
| --- | --- |
| | What terms describe different kinds of writing? |

22
(1)

| | |
| --- | --- |
| | What is a ``writing situation''? |

22
(3)

| | |
| --- | --- |
| | How can I think through a writing topic? |

25
(2)

| | |
| --- | --- |
| | What can I do if no ideas occur to me? |

27
(1)

| | |
| --- | --- |
| | How do I use an idea book and a journal? |

28
(1)
29
(1)
30
(2)

| | |
| --- | --- |
| | What are the ``journalist's questions''? |

32
(1)
32
(1)

| | |
| --- | --- |
| | How can ``talking it over'' help? |

32
(1)

| | |
| --- | --- |
| | How can an Internet search help? |

33
(1)

| | |
| --- | --- |
| | How can incubation help me? |

34
(1)
35
(1)

| | |
| --- | --- |
| | How can looking for ``levels of generality'' help me? |

36
(1)

| | |
| --- | --- |
| | How can a subject tree help me? |

36
(1)

| | |
| --- | --- |
| | What is a thesis statement? |

37
(4)
41
(33)
47
(1)

| | |
| --- | --- |
| | What can help me write a first draft? |

47
(2)

| | |
| --- | --- |
| | How can I overcome writer's block? |

49
(2)
51
(7)
58
(1)
59
(1)

| | |
| --- | --- |
| | What is collaborative writing? |

60
(2)
62
(12)
74
(31)
74
(1)

| | |
| --- | --- |
| | How can I write effective introductory paragraphs? |

74
(3)

| | |
| --- | --- |
| | What are body paragraphs? |

77
(1)

| | |
| --- | --- |
| | How can I create unity in paragraphs? |

78
(1)

| | |
| --- | --- |
| | How do topic sentences help create paragraph unity? |

79
(2)

| | |
| --- | --- |
| | How can I develop my body paragraphs? |

81
(2)

| | |
| --- | --- |
| | How can I write coherent paragraphs? |

83
(6)

| | |
| --- | --- |
| | In what different ways can I arrange a paragraph? |

89
(5)

| | |
| --- | --- |
| | What rhetorical strategies can I use to write my paragraphs? |

94
(8)

| | |
| --- | --- |
| | What is a transitional paragraph? |

102
(1)

| | |
| --- | --- |
| | How can I write effective concluding paragraphs? |

102
(3)

| | |
| --- | --- |
| | Critical Thinking, Reading, and Writing |

105
(33)

| | |
| --- | --- |
| | What is critical thinking? |

105
(1)

| | |
| --- | --- |
| | How do I engage in critical thinking? |

105
(2)

| | |
| --- | --- |
| | What is the reading process? |

107
(6)

| | |
| --- | --- |
| | How do I engage in critical reading? |

113
(5)

| | |
| --- | --- |
| | How do I tell the difference between summary and synthesis? |

118
(2)

| | |
| --- | --- |
| | How do I write a critical response? |

120
(3)

| | |
| --- | --- |
| | How do I assess evidence critically? |

123
(5)

| | |
| --- | --- |
| | How do I assess cause and effect critically? |

128
(1)

| | |
| --- | --- |
| | How do I assess reasoning processes critically? |

129
(4)

| | |
| --- | --- |
| | How can I recognize and avoid logical fallacies? |

133
(5)
138
(17)

| | |
| --- | --- |
| | What is a written argument? |

138
(1)

| | |
| --- | --- |
| | How do I choose a topic for an argument? |

139
(1)

| | |
| --- | --- |
| | How do I develop an assertion and a thesis statement for my argument? |

140
(1)

| | |
| --- | --- |
| | What part does audience play in my argument? |

141
(1)

| | |
| --- | --- |
| | What is the structure of a classical argument? |

142
(2)

| | |
| --- | --- |
| | What is the Toulmin model for argument? |

144
(1)

| | |
| --- | --- |
| | How do I define key terms in an argument? |

145
(1)

| | |
| --- | --- |
| | How do I reason effectively in an argument? |

146
(2)

| | |
| --- | --- |
| | How do I establish a reasonable tone in an argument? |

148
(1)

| | |
| --- | --- |
| | How did two students draft and revise their arguments? |

148
(2)

| | |
| --- | --- |
| | Final drafts of argument essays by two students |

150
(5)
PART TWO: UNDERSTANDING GRAMMAR AND WRITING CORRECT SENTENCES
155
(148)

| | |
| --- | --- |
| | Parts of Speech and Sentence Structures |

156
(25)
156
(1)

| | |
| --- | --- |
| | Why learn the parts of speech? |

156
(1)
156
(1)
157
(1)
158
(1)
159
(1)
160
(1)
161
(2)
163
(1)
163
(2)
165
(1)
166
(1)

| | |
| --- | --- |
| | How is a sentence defined? |

166
(1)

| | |
| --- | --- |
| | What is a subject and predicate in a sentence? |

167
(2)

| | |
| --- | --- |
| | What are direct and indirect objects? |

169
(1)

| | |
| --- | --- |
| | What are complements, modifiers, and appositives? |

170
(2)
172
(3)
175
(4)

| | |
| --- | --- |
| | What are the four sentence types? |

179
(2)
181
(29)
181
(2)
183
(1)

| | |
| --- | --- |
| | What are the forms of main verbs? |

183
(1)

| | |
| --- | --- |
| | What are the -s forms of verbs? |

184
(1)

| | |
| --- | --- |
| | What is the difference between regular and irregular verbs? |

185
(5)

| | |
| --- | --- |
| | What are auxiliary verbs? |

190
(3)

| | |
| --- | --- |
| | What are intransitive and transitive verbs? |

193
(2)
195
(1)
195
(2)

| | |
| --- | --- |
| | How do I use the simple present tense? |

197
(1)

| | |
| --- | --- |
| | How do I form and use the perfect tenses? |

197
(1)

| | |
| --- | --- |
| | How do I form and use progressive forms? |

198
(1)

| | |
| --- | --- |
| | How do I use tense sequences accurately? |

199
(4)
203
(1)
203
(1)

| | |
| --- | --- |
| | What are correct subjunctive forms? |

203
(2)
205
(1)
205
(1)

| | |
| --- | --- |
| | How do I write in the active, not passive, voice? |

206
(1)

| | |
| --- | --- |
| | What are proper uses of the passive voice? |

206
(4)
208
(2)

| | |
| --- | --- |
| | Pronouns: Case and Reference |

210
(17)
210
(1)
210
(1)

| | |
| --- | --- |
| | What are personal pronouns? |

210
(1)

| | |
| --- | --- |
| | How do pronouns operate in the subjective case? |

211
(1)

| | |
| --- | --- |
| | How do pronouns operate in the objective case? |

211
(1)

| | |
| --- | --- |
| | How do pronouns and nouns operate in the possessive case? |

211
(1)

| | |
| --- | --- |
| | How do pronouns operate in compound constructions? |

211
(3)

| | |
| --- | --- |
| | How does case operate in appositives? |

214
(1)

| | |
| --- | --- |
| | How does case operate after linking verbs? |

214
(1)

| | |
| --- | --- |
| | What cases are correct for who, whoever, whom, and whomever? |

215
(2)

| | |
| --- | --- |
| | What is the appropriate pronoun case after than or as? |

217
(1)

| | |
| --- | --- |
| | How do pronouns operate before infinitives? |

218
(1)

| | |
| --- | --- |
| | How do pronouns operate with -ing words? |

218
(1)
219
(1)

| | |
| --- | --- |
| | What is pronoun reference? |

219
(1)

| | |
| --- | --- |
| | What makes pronoun reference clear? |

220
(1)

| | |
| --- | --- |
| | How do pronouns refer clearly to a single antecedent? |

220
(1)

| | |
| --- | --- |
| | Why should pronouns be close to their antecedents? |

221
(1)

| | |
| --- | --- |
| | How can I avoid vague pronoun reference? |

222
(2)

| | |
| --- | --- |
| | Why use you only for direct address? |

224
(1)

| | |
| --- | --- |
| | How do I use that, which, and who correctly? |

225
(2)
227
(19)
227
(1)
227
(1)

| | |
| --- | --- |
| | What is subject-verb agreement? |

227
(1)

| | |
| --- | --- |
| | Why is a final -s or -es in a subject or verb so important? |

228
(2)

| | |
| --- | --- |
| | Can I ignore words between a subject and its verb? |

230
(1)

| | |
| --- | --- |
| | How do verbs operate when subjects are connected by and? |

231
(1)

| | |
| --- | --- |
| | How do verbs operate when subjects are connected by or? |

232
(1)

| | |
| --- | --- |
| | How do verbs operate with inverted word order? |

233
(1)

| | |
| --- | --- |
| | How do verbs operate with indefinite pronouns? |

234
(1)

| | |
| --- | --- |
| | How do verbs operate with collective nouns? |

235
(1)

| | |
| --- | --- |
| | Does the linking verb agree with the subject or the subject complement? |

236
(1)

| | |
| --- | --- |
| | What verbs agree with who, which, and that? |

236
(1)

| | |
| --- | --- |
| | How do verbs operate with amounts, fields of study, and other special nouns? |

237
(1)

| | |
| --- | --- |
| | How do verbs operate with titles of written works, company names, and words as themselves? |

238
(2)

| | |
| --- | --- |
| | Pronoun-Antecedent Agreement |

240
(1)

| | |
| --- | --- |
| | What is pronoun-antecedent agreement? |

240
(1)

| | |
| --- | --- |
| | How do pronouns operate with antecedents connected by and? |

241
(1)

| | |
| --- | --- |
| | How do pronouns operate when antecedents are connected by or? |

241
(1)

| | |
| --- | --- |
| | How do pronouns operate with indefinite-pronoun antecedents? |

242
(1)

| | |
| --- | --- |
| | How can I use nonsexist pronouns correctly? |

243
(1)

| | |
| --- | --- |
| | How do pronouns operate when antecedents are collective nouns? |

244
(2)
246
(9)

| | |
| --- | --- |
| | What are the differences between adjectives and adverbs? |

246
(1)

| | |
| --- | --- |
| | When should I use adverbs, not adjectives, as modifiers? |

247
(1)

| | |
| --- | --- |
| | How can I avoid double negatives? |

248
(1)

| | |
| --- | --- |
| | Do adjective or adverbs come after linking verbs? |

249
(1)

| | |
| --- | --- |
| | How do I correctly use comparative and superlative forms of adjectives and adverbs? |

250
(3)

| | |
| --- | --- |
| | How do I avoid a string of too many nouns as modifiers? |

253
(2)
255
(15)

| | |
| --- | --- |
| | What is a sentence fragment? |

255
(1)

| | |
| --- | --- |
| | How can I recognize a sentence fragment? |

256
(4)

| | |
| --- | --- |
| | What are major ways of correcting fragments? |

260
(3)

| | |
| --- | --- |
| | How can I correct a fragment that is an incomplete compound predicate? |

263
(1)

| | |
| --- | --- |
| | What are the two special fragment problems? |

264
(1)

| | |
| --- | --- |
| | How can I recognize intentional fragments? |

265
(5)
267
(3)

| | |
| --- | --- |
| | Comma Splices and Run-On Sentences |

270
(13)

| | |
| --- | --- |
| | What are comma splices and run-on sentences? |

270
(1)

| | |
| --- | --- |
| | How can I recognize comma splices and run-on sentences? |

271
(1)

| | |
| --- | --- |
| | How can I correct comma splices and run-on sentences? |

272
(5)

| | |
| --- | --- |
| | How can I correctly use a conjunctive adverb or other transitional expression between independent clauses? |

277
(6)
279
(4)

| | |
| --- | --- |
| | Misplaced and Dangling Modifiers |

283
(6)
283
(1)

| | |
| --- | --- |
| | What is a misplaced modifier? |

283
(1)

| | |
| --- | --- |
| | How can I avoid split infinitives? |

284
(1)

| | |
| --- | --- |
| | How can I avoid other splits in my sentences? |

285
(2)
287
(1)

| | |
| --- | --- |
| | How can I avoid dangling modifiers? |

287
(1)

| | |
| --- | --- |
| | How can I proofread for misplaced and dangling modifiers? |

288
(1)

| | |
| --- | --- |
| | Shifting and Mixed Sentences |

289
(14)
289
(1)

| | |
| --- | --- |
| | What is a shifting sentence? |

289
(1)

| | |
| --- | --- |
| | How can I avoid shifts in person and number? |

289
(2)

| | |
| --- | --- |
| | How can I avoid shifts in subject and voice? |

291
(1)

| | |
| --- | --- |
| | How can I avoid shifts in tense and mood? |

291
(1)

| | |
| --- | --- |
| | How can I avoid shifts between indirect and direct discourse? |

292
(2)
294
(1)

| | |
| --- | --- |
| | What is a mixed sentence? |

294
(1)

| | |
| --- | --- |
| | How can I correct a mixed sentence with faulty predication? |

295
(2)

| | |
| --- | --- |
| | How can I write correct elliptical constructions? |

297
(1)

| | |
| --- | --- |
| | How can I write correct comparisons? |

298
(1)

| | |
| --- | --- |
| | How can I proofread for little words I omit unintentionally? |

298
(5)
299
(4)
PART THREE: WRITING EFFECTIVE SENTENCES AND USING EFFECTIVE WORDS
303
(88)
304
(10)
304
(1)

| | |
| --- | --- |
| | What common expressions reduce conciseness? |

304
(3)

| | |
| --- | --- |
| | What sentence structures usually work against conciseness? |

307
(1)

| | |
| --- | --- |
| | How else can I revise for conciseness? |

308
(3)

| | |
| --- | --- |
| | How do verbs affect conciseness? |

311
(3)

| | |
| --- | --- |
| | Coordination and Subordination |

314
(11)
314
(1)

| | |
| --- | --- |
| | What is coordination of sentences? |

314
(1)

| | |
| --- | --- |
| | What is the structure of a coordinate sentence? |

315
(1)

| | |
| --- | --- |
| | What meaning does each coordinating conjunction convey? |

315
(1)

| | |
| --- | --- |
| | What are two major misuses of coordination? |

316
(1)
317
(1)

| | |
| --- | --- |
| | What is subordination in sentences? |

317
(1)

| | |
| --- | --- |
| | What is the structure of a subordinate sentence? |

317
(2)

| | |
| --- | --- |
| | What meaning does each subordinating conjunction convey? |

319
(2)

| | |
| --- | --- |
| | What are two major misuses of subordination? |

321
(1)

| | |
| --- | --- |
| | How do I effectively use coordination and subordination together? |

322
(3)
325
(8)
325
(1)

| | |
| --- | --- |
| | What is a balanced sentence? |

325
(1)

| | |
| --- | --- |
| | How do words, phrases, and clauses work in parallel form? |

326
(1)

| | |
| --- | --- |
| | How does parallelism deliver impact? |

326
(1)

| | |
| --- | --- |
| | How can I avoid faulty parallelism? |

327
(4)

| | |
| --- | --- |
| | How does parallelism operate in outlines and lists? |

331
(2)
333
(7)

| | |
| --- | --- |
| | What are variety and emphasis in writing? |

333
(1)

| | |
| --- | --- |
| | How do different sentence lengths create variety and emphasis? |

333
(2)

| | |
| --- | --- |
| | How does an occasional question, mild command, or exclamation create variety and emphasis? |

335
(1)

| | |
| --- | --- |
| | How can modifiers create variety and emphasis? |

336
(1)

| | |
| --- | --- |
| | How does a change in word order create variety and emphasis? |

337
(1)

| | |
| --- | --- |
| | How does changing a sentence's subject create emphasis? |

337
(1)

| | |
| --- | --- |
| | How can a periodic sentence among cumulative sentences create variety and emphasis? |

337
(1)

| | |
| --- | --- |
| | How does repetition affect variety and emphasis? |

338
(2)
340
(19)
359
(15)

| | |
| --- | --- |
| | What is American English? |

359
(1)

| | |
| --- | --- |
| | What are levels of formality in language? |

359
(1)

| | |
| --- | --- |
| | What is edited American English? |

360
(1)

| | |
| --- | --- |
| | What is figurative language? |

360
(2)

| | |
| --- | --- |
| | Why should I use exact diction in my writing? |

362
(3)

| | |
| --- | --- |
| | Why should I mix specific, concrete language with general, abstract language? |

365
(1)

| | |
| --- | --- |
| | What is gender-neutral language? |

366
(3)

| | |
| --- | --- |
| | What other types of language should I avoid in academic writing? |

369
(1)

| | |
| --- | --- |
| | What is regional language? |

370
(1)
370
(1)

| | |
| --- | --- |
| | When is jargon unnecessary? |

371
(1)
372
(1)

| | |
| --- | --- |
| | What is bureaucratic language? |

372
(2)
374
(17)

| | |
| --- | --- |
| | What makes a good speller? |

374
(1)

| | |
| --- | --- |
| | How can I proofread for errors in spelling and hyphen use? |

375
(1)
375
(1)
375
(1)

| | |
| --- | --- |
| | How are suffixes spelled? |

376
(1)
377
(1)

| | |
| --- | --- |
| | How are homonyms and other frequently confused words spelled? |

378
(6)
384
(1)

| | |
| --- | --- |
| | What is the role of the hyphen? |

384
(1)

| | |
| --- | --- |
| | When do I use a hyphen at the end of a line? |

384
(1)

| | |
| --- | --- |
| | How do I use a hyphen with prefixes and suffixes? |

385
(1)

| | |
| --- | --- |
| | How do I use hyphens with compound words? |

386
(1)

| | |
| --- | --- |
| | How do I use hyphens with spelled-out numbers? |

387
(4)
PART FOUR: USING PUNCTUATION AND MECHANICS
391
(88)

| | |
| --- | --- |
| | Periods, Question Marks, and Exclamation Points |

392
(5)
392
(1)

| | |
| --- | --- |
| | When does a period end a sentence? |

392
(1)

| | |
| --- | --- |
| | How do I use periods with abbreviations? |

392
(1)
393
(1)

| | |
| --- | --- |
| | When do I use a question mark? |

393
(1)

| | |
| --- | --- |
| | When can I use a question mark in parentheses? |

394
(1)
394
(1)

| | |
| --- | --- |
| | When do I use an exclamation point? |

394
(1)

| | |
| --- | --- |
| | What is considered overuse of exclamation points? |

394
(3)
397
(24)

| | |
| --- | --- |
| | What is the role of the comma? |

397
(1)

| | |
| --- | --- |
| | How does a comma operate with a coordinating conjunction that links independent clauses? |

398
(3)

| | |
| --- | --- |
| | How does a comma operate with introductory clauses, phrases, and words? |

401
(2)

| | |
| --- | --- |
| | How does a comma operate with items in a series? |

403
(2)

| | |
| --- | --- |
| | How does a comma operate with coordinate adjectives? |

405
(2)

| | |
| --- | --- |
| | How do commas operate with nonrestrictive elements? |

407
(3)

| | |
| --- | --- |
| | How do commas operate to set off transitional and parenthetical expressions, contrasts, words of direct address, and tag sentences? |

410
(1)

| | |
| --- | --- |
| | How do commas operate to set off quoted words from explanatory words? |

411
(2)

| | |
| --- | --- |
| | How do commas operate in dates, names, addresses, correspondence, and numbers? |

413
(3)

| | |
| --- | --- |
| | How do commas clarify meaning? |

416
(1)

| | |
| --- | --- |
| | How can I avoid misusing the comma? |

417
(3)

| | |
| --- | --- |
| | How can I avoid comma errors? |

420
(1)
421
(6)

| | |
| --- | --- |
| | What are the uses of a semicolon? |

421
(1)

| | |
| --- | --- |
| | When can I use a semicolon, instead of a period, between independent clauses? |

421
(1)

| | |
| --- | --- |
| | When else can I use a semicolon between independent clauses? |

422
(1)

| | |
| --- | --- |
| | How do semicolons operate with coordinating conjunctions? |

422
(1)

| | |
| --- | --- |
| | When should I use semicolons between items in a series? |

423
(1)

| | |
| --- | --- |
| | How do I avoid misusing the semicolon? |

424
(3)
427
(5)

| | |
| --- | --- |
| | What are the uses of a colon? |

427
(1)

| | |
| --- | --- |
| | When can a colon introduce a list, an appositive, or a quotation? |

427
(1)

| | |
| --- | --- |
| | When can I use a colon between two independent clauses? |

428
(1)

| | |
| --- | --- |
| | What standard formats require a colon? |

429
(1)
430
(2)
432
(6)

| | |
| --- | --- |
| | What is the role of the apostrophe? |

432
(1)

| | |
| --- | --- |
| | How do I use an apostrophe to show a possessive noun? |

432
(1)

| | |
| --- | --- |
| | How do I use an apostrophe with hers, his, its, ours, yours, and theirs? |

433
(1)

| | |
| --- | --- |
| | How do I use an apostrophe with contractions? |

434
(1)

| | |
| --- | --- |
| | How do I use an apostrophe to show a possessive indefinite pronoun? |

435
(1)

| | |
| --- | --- |
| | How does s or `s form the plural of a letter, numeral, symbol, and word as a word? |

435
(1)

| | |
| --- | --- |
| | When is an apostrophe wrong? |

435
(3)
438
(10)

| | |
| --- | --- |
| | What is the role of quotation marks? |

438
(1)

| | |
| --- | --- |
| | How do I use quotation marks with short direct quotations? |

438
(1)

| | |
| --- | --- |
| | Are quotation marks used with long quotations? |

439
(1)

| | |
| --- | --- |
| | How do I use quotation marks for quotations within quotations? |

440
(1)

| | |
| --- | --- |
| | How do I use quotation marks for quotations of poetry and dialogue? |

441
(1)

| | |
| --- | --- |
| | How do quotation marks operate with titles of short works? |

442
(2)

| | |
| --- | --- |
| | How do I use quotation marks for words used in special senses? |

444
(1)

| | |
| --- | --- |
| | How do quotation marks operate with other punctuation? |

445
(1)

| | |
| --- | --- |
| | When are quotation marks wrong? |

446
(2)
448
(11)
448
(1)

| | |
| --- | --- |
| | When can I use a dash in my writing? |

448
(2)
450
(1)

| | |
| --- | --- |
| | When can I use parentheses in my writing? |

450
(2)
452
(1)

| | |
| --- | --- |
| | When should I use brackets in my writing? |

452
(1)
453
(1)

| | |
| --- | --- |
| | How should I use ellipsis points in my writing? |

453
(3)
456
(1)

| | |
| --- | --- |
| | When can I use a slash in my writing? |

456
(3)

| | |
| --- | --- |
| | Capitals, Italics, Abbreviations, and Numbers |

459
(20)
459
(1)

| | |
| --- | --- |
| | When do I capitalize a ``first'' word? |

459
(1)

| | |
| --- | --- |
| | When do I use capitals with listed items? |

460
(1)

| | |
| --- | --- |
| | When do I use capitals with sentences in parentheses? |

461
(1)

| | |
| --- | --- |
| | When do I use capitals with quotations? |

461
(1)

| | |
| --- | --- |
| | When do I capitalize nouns and adjectives? |

462
(5)
467
(1)
467
(1)

| | |
| --- | --- |
| | How do I choose between using italics and quotation marks? |

467
(2)

| | |
| --- | --- |
| | Does documentation require underlining instead of italics? |

469
(1)

| | |
| --- | --- |
| | Can I use italics for special emphasis? |

469
(1)
470
(1)

| | |
| --- | --- |
| | What are standard practices for using abbreviations? |

470
(1)

| | |
| --- | --- |
| | How do I use abbreviations with time and symbols? |

471
(1)

| | |
| --- | --- |
| | How do I use abbreviations for titles, names and terms, and addresses? |

471
(2)

| | |
| --- | --- |
| | What abbreviations are common in MLA-style documentation? |

473
(1)
474
(1)
475
(1)

| | |
| --- | --- |
| | When do I use spelled-out numbers? |

475
(1)

| | |
| --- | --- |
| | What are standard practices for using numbers? |

476
(3)
PART FIVE: WRITING RESEARCH
479
(228)

| | |
| --- | --- |
| | Using Sources and Avoiding Plagiarism |

480
(22)

| | |
| --- | --- |
| | How can I avoid plagiarism? |

481
(3)

| | |
| --- | --- |
| | How can I understand the concept of documentation? |

484
(2)

| | |
| --- | --- |
| | How can I use quotations effectively? |

486
(6)

| | |
| --- | --- |
| | How can I paraphrase accurately? |

492
(4)

| | |
| --- | --- |
| | How can I summarize accurately? |

496
(3)

| | |
| --- | --- |
| | How can I use verbs effectively to integrate source material into my prose? |

499
(1)

| | |
| --- | --- |
| | What comes next in research writing? |

500
(2)

| | |
| --- | --- |
| | Research Writing as a Process |

502
(25)

| | |
| --- | --- |
| | What is research writing? |

502
(1)

| | |
| --- | --- |
| | What is a research question? |

502
(1)

| | |
| --- | --- |
| | What role do the new technologies play in research? |

503
(1)

| | |
| --- | --- |
| | How can I best plan my schedule for research writing? |

504
(2)
506
(1)

| | |
| --- | --- |
| | How do I choose and narrow a research topic? |

507
(3)

| | |
| --- | --- |
| | How do I formulate a research question? |

510
(1)

| | |
| --- | --- |
| | How do I determine the purpose and audience for my research paper? |

511
(1)

| | |
| --- | --- |
| | What practical steps can help me work efficiently? |

511
(2)
513
(3)

| | |
| --- | --- |
| | What documentation style should I use? |

516
(1)

| | |
| --- | --- |
| | Why do I need to evaluate my sources? |

516
(1)

| | |
| --- | --- |
| | What is a working bibliography? |

517
(2)

| | |
| --- | --- |
| | How do I take content notes? |

519
(2)

| | |
| --- | --- |
| | How do I draft a thesis statement for a research paper? |

521
(2)

| | |
| --- | --- |
| | How do I outline a research paper? |

523
(1)

| | |
| --- | --- |
| | How do I draft and revise a research paper? |

523
(4)

| | |
| --- | --- |
| | Successful Library Research |

527
(17)

| | |
| --- | --- |
| | What is library research? |

527
(1)
527
(1)

| | |
| --- | --- |
| | What is a library-research search strategy? |

528
(1)

| | |
| --- | --- |
| | How can I narrow the focus of my search? |

529
(2)

| | |
| --- | --- |
| | How do I use a library's book catalog? |

531
(2)

| | |
| --- | --- |
| | What are general reference works? |

533
(2)

| | |
| --- | --- |
| | What are specialized reference works? |

535
(2)

| | |
| --- | --- |
| | How do I use electronic databases? |

537
(1)

| | |
| --- | --- |
| | How do I use periodicals for research? |

538
(4)

| | |
| --- | --- |
| | How do I use government documents? |

542
(1)

| | |
| --- | --- |
| | How should I evaluate print sources? |

542
(2)

| | |
| --- | --- |
| | Successful Online Research |

544
(17)
544
(1)
545
(1)

| | |
| --- | --- |
| | What is a search strategy for online research? |

546
(2)

| | |
| --- | --- |
| | How do I narrow my online search for information? |

548
(8)

| | |
| --- | --- |
| | How can I avoid plagiarizing from online sources? |

556
(1)

| | |
| --- | --- |
| | How do I evaluate online sources? |

557
(4)

| | |
| --- | --- |
| | MLA Documentation with Case Study |

561
(57)
561
(1)

| | |
| --- | --- |
| | What is an MLA in-text citation? |

561
(1)

| | |
| --- | --- |
| | What are MLA guidelines for in-text citations? |

562
(7)

| | |
| --- | --- |
| | How should I compile an MLA-style Works Cited list? |

569
(24)

| | |
| --- | --- |
| | Lisa Laver's MLA research paper |

593
(25)

| | |
| --- | --- |
| | APA Documentation with Case Study |

618
(36)
618
(1)

| | |
| --- | --- |
| | What are APA in-text citations? |

618
(1)

| | |
| --- | --- |
| | What are APA guidelines for in-text citations? |

619
(5)

| | |
| --- | --- |
| | What are APA guidelines for writing an abstract? |

624
(1)

| | |
| --- | --- |
| | What are APA guidelines for content notes? |

624
(1)

| | |
| --- | --- |
| | What are APA general guidelines for a References list? |

625
(4)

| | |
| --- | --- |
| | What are APA guidelines for specific sources in a References list? |

629
(10)

| | |
| --- | --- |
| | What are APA format guidelines for research papers? |

639
(3)

| | |
| --- | --- |
| | Carlos Velez's APA-style research paper |

642
(12)

| | |
| --- | --- |
| | CM, CBE and Columbia Online Style (COS) Documentation |

654
(33)
654
(1)

| | |
| --- | --- |
| | What should I know about CM documentation with bibliographic notes? |

654
(3)

| | |
| --- | --- |
| | What are CM-style guidelines for specific sources in bibliographic notes? |

657
(10)
667
(1)

| | |
| --- | --- |
| | What should I know about CBE documentation? |

667
(3)

| | |
| --- | --- |
| | What are CBE guidelines for specific sources in a list of references? |

670
(5)

| | |
| --- | --- |
| | Columbia Online Style (COS) Documentation |

675
(1)

| | |
| --- | --- |
| | What should I know about The Columbia Guide to Online Style documentation? |

675
(4)

| | |
| --- | --- |
| | What are COS guidelines for specific sources in bibliographic notes? |

679
(8)

| | |
| --- | --- |
| | Effective Document Design |

687
(20)
687
(1)

| | |
| --- | --- |
| | How are print documents designed? |

687
(2)
689
(3)
692
(4)

| | |
| --- | --- |
| | How should I incorporate visuals? |

696
(3)
699
(1)

| | |
| --- | --- |
| | What should I know about writing for the Web? |

699
(2)

| | |
| --- | --- |
| | How do I plan a Web page? |

701
(1)

| | |
| --- | --- |
| | How do I create a Web site? |

702
(2)

| | |
| --- | --- |
| | How do I display my Web page? |

704
(1)

| | |
| --- | --- |
| | How should I edit my Web site? |

705
(2)
PART SIX: WRITING ACROSS THE CURRICULUM
707
(72)

| | |
| --- | --- |
| | Comparing the Disciplines |

708
(4)

| | |
| --- | --- |
| | How do the disciplines compare? |

708
(2)

| | |
| --- | --- |
| | What are primary research and secondary research in the disciplines? |

710
(1)

| | |
| --- | --- |
| | How do I use documentation in the disciplines? |

711
(1)
712
(20)

| | |
| --- | --- |
| | How can I understand methods of inquiry into literature? |

712
(1)

| | |
| --- | --- |
| | What are purposes and practices specific to writing about literature? |

713
(1)

| | |
| --- | --- |
| | How can I use documentation style in writing about literature? |

713
(1)

| | |
| --- | --- |
| | How do I write different types of papers about literature? |

714
(2)

| | |
| --- | --- |
| | How should I write about literature? |

716
(16)

| | |
| --- | --- |
| | Writing in the Social Sciences and Natural Sciences |

732
(10)
732
(1)

| | |
| --- | --- |
| | How do I gather information in the social sciences? |

732
(1)

| | |
| --- | --- |
| | How can I understand writing purposes and practices in the social sciences? |

733
(1)

| | |
| --- | --- |
| | How can I use documentation style in the social sciences? |

734
(1)

| | |
| --- | --- |
| | How can I write different types of papers in the social sciences? |

734
(1)
735
(1)

| | |
| --- | --- |
| | How do I gather information in the sciences? |

735
(1)

| | |
| --- | --- |
| | What are writing purposes and practices in the natural sciences? |

736
(1)

| | |
| --- | --- |
| | How do I use documentation style in the natural sciences? |

737
(1)

| | |
| --- | --- |
| | How do I write different types of papers in the natural sciences? |

737
(5)

| | |
| --- | --- |
| | Business and Public Writing |

742
(18)
742
(1)

| | |
| --- | --- |
| | How do I write and format a business letter? |

742
(4)
746
(2)

| | |
| --- | --- |
| | How can I create a resume? |

748
(4)

| | |
| --- | --- |
| | How do I compose a job application letter? |

752
(2)

| | |
| --- | --- |
| | What are guidelines for writing e-mail? |

754
(2)
754
(2)

| | |
| --- | --- |
| | How do I write reports for the public? |

756
(2)

| | |
| --- | --- |
| | How do I write letters to my community or its representatives? |

758
(2)
760
(6)

| | |
| --- | --- |
| | What are cue words and key words? |

760
(3)

| | |
| --- | --- |
| | How do I write effective responses to essay test questions? |

763
(1)

| | |
| --- | --- |
| | What strategies can I use when writing under pressure? |

764
(2)
766
(13)

| | |
| --- | --- |
| | Preparing an Oral Presentation |

766
(1)

| | |
| --- | --- |
| | How do I determine my purpose and topic? |

766
(1)

| | |
| --- | --- |
| | How do I adapt my message to my audience? |

767
(1)

| | |
| --- | --- |
| | How do I formulate a working thesis? |

768
(1)

| | |
| --- | --- |
| | How do I organize my presentation? |

768
(4)

| | |
| --- | --- |
| | How do I present collaboratively? |

772
(1)

| | |
| --- | --- |
| | Delivering an Oral Presentation |

773
(1)

| | |
| --- | --- |
| | How do I choose a presentation style? |

773
(1)

| | |
| --- | --- |
| | How do I vary my voice and use nonverbal communication? |

774
(1)

| | |
| --- | --- |
| | How do I incorporate visual aids into my presentation? |

775
(1)

| | |
| --- | --- |
| | What can I do to practice for my presentation? |

776
(3)
PART SEVEN: WRITING WHEN ENGLISH IS A SECOND LANGUAGE
779
(42)
780
(7)

| | |
| --- | --- |
| | What are count and noncount nouns? |

780
(2)

| | |
| --- | --- |
| | How do I use determiners with singular and plural nouns? |

782
(2)

| | |
| --- | --- |
| | How do I use one of, nouns as adjectives, and states in names or titles? |

784
(1)

| | |
| --- | --- |
| | How do I use nouns with irregular plurals? |

785
(2)
787
(7)

| | |
| --- | --- |
| | How do I use a, an, or the with singular count nouns? |

787
(2)

| | |
| --- | --- |
| | How do I use articles with plural nouns and with noncount nouns? |

789
(2)

| | |
| --- | --- |
| | How do I use the with proper nouns and with gerunds? |

791
(3)
794
(6)

| | |
| --- | --- |
| | How do I understand standard and inverted word order in sentences? |

794
(3)

| | |
| --- | --- |
| | How can I understand the placement of adjectives? |

797
(1)

| | |
| --- | --- |
| | How can I understand the placement of adverbs? |

798
(2)
800
(5)

| | |
| --- | --- |
| | How can I recognize prepositions? |

801
(1)

| | |
| --- | --- |
| | How do I use prepositions with expressions of time and place? |

801
(1)

| | |
| --- | --- |
| | How do I use prepositions in phrasal verbs? |

802
(2)

| | |
| --- | --- |
| | How do I use prepositions in common expressions? |

804
(1)

| | |
| --- | --- |
| | Gerunds, Infinitives, and Participles |

805
(9)

| | |
| --- | --- |
| | How can I use gerunds and infinitives as subjects? |

806
(1)

| | |
| --- | --- |
| | When do I use a gerund, not an infinitive, as an object? |

806
(2)

| | |
| --- | --- |
| | When do I use an infinitive, not a gerund, as an object? |

808
(2)

| | |
| --- | --- |
| | How does meaning change when certain verbs are followed by a gerund or an infinitive? |

810
(1)

| | |
| --- | --- |
| | Why is meaning unchanged whether or not a gerund or an infinitive follows sense verbs? |

810
(1)

| | |
| --- | --- |
| | How do I choose between -ing and -ed forms for adjectives? |

811
(3)
814
(7)

| | |
| --- | --- |
| | How do I convey ability, necessity, advisability, possibility, and probability with modals? |

815
(3)

| | |
| --- | --- |
| | How do I convey preferences, plans, and past habits with modals? |

818
(1)

| | |
| --- | --- |
| | How can I recognize modals in the passive voice? |

818
(3)
Terms Glossary
821
(23)
Index
844
(43)
List of Boxes
887