Note: Supplemental materials are not guaranteed with Rental or Used book purchases.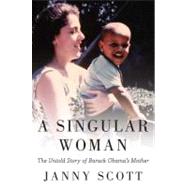 A Singular Woman: The Untold Story of Barack Obama's Mother
by
Scott, Janny
Summary
A major publishing event: an unprecedented look into the life of the woman who most singularly shaped Barack Obama-his mother. Barack Obama has written extensively about his father, but little is known about Stanley Ann Dunham, the fiercely independent woman who raised him, the person he credits for "what is best in me." Here is the missing piece of the story. Award-winning reporter Janny Scott has interviewed nearly two hundred of Ann's friends, colleagues, and relatives (including both her children), and combed through boxes of personal and professional papers, letters to friends, and photo albums, to uncover the full breadth of Ann's inspiring and untraditional life, and to show the remarkable extent to which she shaped the man Obama is today. Ann's story moves from Kansas and Washington State to Hawaii and Indonesia. It begins in a time when interracial marriage was still a felony in much of the United States and culminates in the present moment, with her son as our president-something she never got to see. It is a poignant look at how character is passed from parent to child, and insight into how Obama's destiny was created early, by his mother's extraordinary faith in his gifts, and by her unconventional mothering. Finally, it is a heartbreaking story of a woman who died at age fifty-two, before her son had gone on to his greatest accomplishments and reflections of what she had taught him.