Note: Supplemental materials are not guaranteed with Rental or Used book purchases.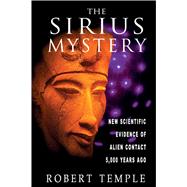 The Sirius Mystery: New Scientific Evidence for Alien Contact 5,000 Years Ago
ISBN13:
9780892817504
by
Temple, Robert K. G.
Questions About This Book?
What version or edition is this?
This is the Revised edition with a publication date of 10/1/1998.
What is included with this book?
The New copy of this book will include any supplemental materials advertised. Please check the title of the book to determine if it should include any CDs, lab manuals, study guides, etc.
Summary
Convincing evidence that the Egyptian, Sumerian, and Dogon civilizations were founded by aliens from the Sirius star system who are now ready to return

• Updated with 140 pages of new scientific evidence that solidifies the hypothesis that the KGB, CIA, and NASA attempted to suppress

• An awe-inspiring work of research that calls for a profound reappraisal of our role in the universe

• Over 10,000 copies sold in its first two months of release in Britain

Publication of The Sirius Mystery in 1976 set the world abuzz with talk of an extraterrestrial origin to human civilization and triggered a 15-year persecution campaign against Robert Temple by the KGB, CIA, NASA, and other government agencies. Undaunted, however, Temple is back, with 140 pages of new scientific evidence that makes his hypothesis more compelling than ever.
Many authors have speculated on the subject of extraterrestrial contact, but never before has such detailed evidence been presented. Temple applies his in-depth knowledge of ancient history, mythology, Pythagorean physics, chaos theory, and Greek, to a close examination of the measurements of the Great Pyramid of Giza, which was built to align directly with the star Sirius. He concludes that the alien civilization of Sirius and our own civilization are part of the same harmonic system, and are destined to function and resonate together. His findings warrant a profound reappraisal of our role in the universe.
Author Biography
<p><b>The Sirius Mystery</b> <br><i>New Scientific Evidence of Alien Contact 5,000 Years Ago</i> <p>Acknowledgments&nbsp; <br>Author's Note&nbsp; <br>1&nbsp; The Sirius Mystery Today&nbsp; <br>What is the Mystery&nbsp; <br><b>Part One</b> <br>The Sirius Question is posed&nbsp; <br>2&nbsp; The Knowledge of the Dragon&nbsp; <br><b>Part Two</b> <br>The Sirius Question is Rephrased&nbsp; <br>3&nbsp; A Fairytale&nbsp; <br>4&nbsp; The Sacred Fifty&nbsp; <br>5&nbsp; The Hounds of Hell&nbsp; <br>6&nbsp; The Oracle Centres&nbsp; <br>7&nbsp; Origins of the Dogon&nbsp; <br>8&nbsp; The Rising of 'Serpent's Tooth'&nbsp; <br><b>Part Three</b> <br>Beyond the Mystery&nbsp; <br>9&nbsp; A Fable&nbsp; <br>Appendices&nbsp; <br>I&nbsp;&nbsp;&nbsp;&nbsp;&nbsp; 'A Sudanese Sirius System', By M. Griaule and G. Dieterlen&nbsp; <br>II&nbsp;&nbsp;&nbsp;&nbsp; The Moons of the Planets, the Planets around Stars, and Revolutions and Rotations of Bodies in Space - Described by the Neoplatonic Philosopher Proclus&nbsp; <br>III&nbsp;&nbsp;&nbsp; The Surviving Fragment of Berossus, in English Translation&nbsp; <br>IV&nbsp;&nbsp;&nbsp; Why Sixty Years?&nbsp; <br>V&nbsp;&nbsp;&nbsp;&nbsp; The Meaning of the E at Delphi&nbsp; <br>VI&nbsp;&nbsp;&nbsp; Why the Hittites were at Hebron in Palestine&nbsp; <br>VII&nbsp;&nbsp; The Dogon Stages of Initiation&nbsp; <br>VIII A Note about Freemasonry&nbsp; <br>Bibliography&nbsp; <br>Notes to the Plates&nbsp; <br>Index
Table of Contents
The Sirius Mystery
New Scientific Evidence of Alien Contact 5,000 Years Ago
Acknowledgments
Author's Note
1 The Sirius Mystery Today
What is the Mystery
Part One
The Sirius Question is posed
2 The Knowledge of the Dragon
Part Two
The Sirius Question is Rephrased
3 A Fairytale
4 The Sacred Fifty
5 The Hounds of Hell
6 The Oracle Centres
7 Origins of the Dogon
8 The Rising of 'Serpent's Tooth'
Part Three
Beyond the Mystery
9 A Fable
Appendices
I 'A Sudanese Sirius System', By M. Griaule and G. Dieterlen
II The Moons of the Planets, the Planets around Stars, and Revolutions and Rotations of Bodies in Space - Described by the Neoplatonic Philosopher Proclus
III The Surviving Fragment of Berossus, in English Translation
IV Why Sixty Years?
V The Meaning of the E at Delphi
VI Why the Hittites were at Hebron in Palestine
VII The Dogon Stages of Initiation
VIII A Note about Freemasonry
Bibliography
Notes to the Plates
Index