Note: Supplemental materials are not guaranteed with Rental or Used book purchases.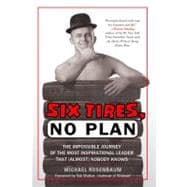 Six Tires, No Plan : The Impossible Journey of the Most Inspirational Leader That (almost) Nobody Knows
ISBN13:
9781608322572
by
Rosenbaum, Michael
Summary
Most Unlikely to Succeed No one who charted Bruce Halle's early years would predict that the poor kid from New Hampshire might achieve greatness as an adult. Challenged in school and growing up in a struggling family, Halle looked like every other kid who would leave high school in the 1940s and disappear into a factory. Instead, Halle created one of America's most respected companies, rose to join the Forbesmagazine list of the four hundred richest Americans and serve as the role model for the ordinary Joes who seek out success at Discount Tire Company. Six Tires, No Planmaps Halle's journey out of poverty and failure and reveals the deceptively simple values that drive success for him, his company and thousands of employees. Key among those principles is Halle's commitment to passing on his good fortune to the thousands of employees who serve his customers every day. This is Halle's true passion, and paying it forward to the ordinary guy is a cornerstone of Discount Tire's ongoing success. Avoiding the spotlight, crediting his employees for the success of the company, Halle demonstrates the incredible power of perseverance and fundamental values to create long-term success. His journey offers a roadmap worth following in both career and life.
Table of Contents
Foreword
p. ix
Introduction
p. 1
The Back of the Store
p. 5
A Normal Childhood
p. 11
Brave New World
p. 21
The Polished People
p. 27
The Speech
p. 35
A Few Good Men
p. 39
Coming of Age
p. 45
False Starts
p. 53
Six Tires, No Plan
p. 61
'Til Death Do Us Part
p. 71
Arizona Invasion
p. 81
Going for Broke
p. 95
The Lost Boys
p. 105
Reversal of Fortune
p. 111
Reset Button
p. 119
The Whirlwind
p. 123
The World According to Bruce
p. 131
I'm Checking His Progress
p. 139
Paying Forward
p. 149
Perfecting the System
p. 155
The Bumblebee
p. 161
Woodstock for Tire Jockeys
p. 169
I'm Going to Build You a House
p. 177
About the Author
p. 185
Table of Contents provided by Ingram. All Rights Reserved.