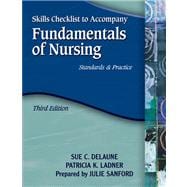 Skills Checklist for DeLaune/Ladner's Fundamentals of Nursing: Standards and Practice, 3rd
by
DeLaune,Sue C.
Questions About This Book?
What version or edition is this?
This is the 3rd edition with a publication date of 12/19/2005.
What is included with this book?
The New copy of this book will include any supplemental materials advertised. Please check the title of the book to determine if it should include any CDs, lab manuals, study guides, etc.
Related Products
Summary
This clinical learning tool contains the step-by-step actions for every procedure found in Fundamentals of Nursing: Standards and Practice, third edition, by Sue C. DeLaune and Patricia K. Ladner.
Table of Contents
| | |
| --- | --- |
| | Measuring Body Temperature |

1
(8)
9
(4)
13
(2)
15
(4)

| | |
| --- | --- |
| | Performing Venipuncture (Blood Drawing) |

19
(6)

| | |
| --- | --- |
| | Performing a Skin Puncture |

25
(4)

| | |
| --- | --- |
| | Obtaining a Residual Urine Specimen from an Indwelling Catheter |

29
(2)

| | |
| --- | --- |
| | Collecting a Clean-Catch, Midstream Urine Specimen |

31
(4)

| | |
| --- | --- |
| | Measuring Blood Glucose Levels |

35
(4)
39
(4)
43
(2)

| | |
| --- | --- |
| | Applying Sterile Gloves via the Open Method |

45
(4)

| | |
| --- | --- |
| | Donning and Removing Clean and Conlaminated Gloves, Cap, and Mask |

49
(4)
53
(4)

| | |
| --- | --- |
| | Applying Sterile Gloves and Gown via the Closed Method |

57
(2)

| | |
| --- | --- |
| | Removing Contaminated Items |

59
(4)
63
(4)

| | |
| --- | --- |
| | Changing Linens in an Unoccupied Bed |

67
(6)

| | |
| --- | --- |
| | Changing Linens in an Occupied Bed |

73
(4)

| | |
| --- | --- |
| | Perineal and Genital Care |

77
(2)
79
(8)
87
(8)

| | |
| --- | --- |
| | Medication Administration: Oral, Sublingual, and Buccal |

95
(4)

| | |
| --- | --- |
| | Withdrawing Medication from an Ampule |

99
(2)

| | |
| --- | --- |
| | Withdrawing Medication from a Vial |

101
(2)

| | |
| --- | --- |
| | Mixing Medications from Two Vials into One Syringe |

103
(4)

| | |
| --- | --- |
| | Medication Administration: Intradermal |

107
(2)

| | |
| --- | --- |
| | Medication Administration: Subcutaneous |

109
(2)

| | |
| --- | --- |
| | Medication Administration: Intramuscular |

111
(2)

| | |
| --- | --- |
| | Medication Administration: Secondary Administration Sets (Piggyback) |

113
(2)

| | |
| --- | --- |
| | Medication Administration: Eye and Ear |

115
(6)

| | |
| --- | --- |
| | Medication Administration: Nasal |

121
(2)

| | |
| --- | --- |
| | Medication Administration: Nebulizer |

123
(6)

| | |
| --- | --- |
| | Medication Administration: Rectal |

129
(4)

| | |
| --- | --- |
| | Medication Administration: Vaginal |

133
(4)

| | |
| --- | --- |
| | Administering Therapeutic Massage |

137
(4)

| | |
| --- | --- |
| | Maintaining and Cleaning the Tracheostomy Tube |

141
(6)

| | |
| --- | --- |
| | Performing Nasopharyngeal and Oropharyngeal Suctioning |

147
(6)

| | |
| --- | --- |
| | Suctioning Endotracheal and Tracheal Tubes |

153
(4)

| | |
| --- | --- |
| | Administering Oxygen Therapy |

157

| | |
| --- | --- |
| | Performing the Heimlich Maneuver |

153
(16)

| | |
| --- | --- |
| | Administering Cardiopulmonary Resuscitation (CPR) |

169
(8)

| | |
| --- | --- |
| | Measuring Intake and Output |

177
(2)
179
(4)

| | |
| --- | --- |
| | Preparing the IV Bag and Tubing |

183
(2)

| | |
| --- | --- |
| | Assessing and Maintaining an IV Insertion Site |

185
(2)
187
(2)

| | |
| --- | --- |
| | Flushing a Central Venous Catheter |

189
(2)
191
(2)

| | |
| --- | --- |
| | Changing the Central Venous Dressing |

193
(2)

| | |
| --- | --- |
| | Discontinuing the IV and Changing to a Saline or Heparin Lock |

195
(4)

| | |
| --- | --- |
| | Administering a Blood Transfusion |

199
(4)

| | |
| --- | --- |
| | Inserting a Nasogastric or Nasointestinal Tube for Suction and Enteral Feedings |

203
(6)

| | |
| --- | --- |
| | Administering Enteral Tube Feedings |

209
(6)

| | |
| --- | --- |
| | Administering Patient-Controlled Analgesia (PCA) |

215
(4)

| | |
| --- | --- |
| | Administering Epidural Analgesia |

219
(4)

| | |
| --- | --- |
| | Proper Body Mechanics, Safe Lifting, and Transferring |

223
(4)

| | |
| --- | --- |
| | Administering Passive Range of Motion (ROM) Exercises |

227
(6)

| | |
| --- | --- |
| | Turning and Positioning a Client |

233
(6)
239
(6)

| | |
| --- | --- |
| | Assisting from Bed to Wheelchair, Commode, or Chair |

245
(4)

| | |
| --- | --- |
| | Assisting from Bed to Stretcher |

249
(4)
253
(4)

| | |
| --- | --- |
| | Assisting with Ambulation and Safe Walking |

257
(4)

| | |
| --- | --- |
| | Assisting with Crutches, Cane, or Walker |

261
(8)

| | |
| --- | --- |
| | Obtaining a Wound Drainage Specimen for Culturing |

269
(2)
271
(4)
275
(4)

| | |
| --- | --- |
| | Applying a Wet to Damp Dressing (Wet to Moist Dressing) |

279
(4)

| | |
| --- | --- |
| | Preventing and Managing the Pressure Ulcer |

283
(4)

| | |
| --- | --- |
| | Assisting with a Bedpan or Urinal |

287
(4)

| | |
| --- | --- |
| | Applying a Condom Catheter |

291
(4)

| | |
| --- | --- |
| | Inserting an Indwelling Catheter: Male |

295
(6)

| | |
| --- | --- |
| | Inserting an Indwelling Catheter: Female |

301
(6)

| | |
| --- | --- |
| | Irrigating an Open Urinary Catheter |

307
(4)

| | |
| --- | --- |
| | Irrigating the Bladder Using a Closed-System Catheter |

311
(6)
317
(8)

| | |
| --- | --- |
| | Irrigating and Cleaning a Stoma |

325
(4)

| | |
| --- | --- |
| | Postoperative Exercise Instruction |

329
(4)
333