Note: Supplemental materials are not guaranteed with Rental or Used book purchases.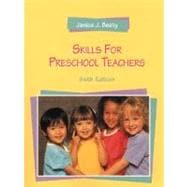 Related Products
Summary
This text presents a discussion of the basic classroom skills that are essential to teachers in preschool, center-based child care, Head Start, and pre-kindergarten settings. The content is built around the 13 functional areas of the Child Development Associate (CDA) credential, which also makes it useful for those who are updating their skills or preparing for the national CDA credential. Each skill topic is presented with both theoretical background and ideas for practical applications in working with young children and their families.
Author Biography
Janice J. Beaty is professor emerita at Elmira College in Elmira, New York.
Table of Contents
| | |
| --- | --- |
| | Maintaining a Safe Classroom |

1
(26)
2
(1)

| | |
| --- | --- |
| | Promotes Toy and Materials Safety Within Each Learning Center |

2
(10)
2
(3)
5
(1)
6
(1)
6
(1)
6
(1)
7
(1)
7
(1)
8
(1)
8
(1)
8
(1)
8
(1)
9
(1)
10
(1)
10
(1)
10
(1)
11
(1)

| | |
| --- | --- |
| | Plans and Implements Necessary Emergency Procedures |

12
(3)

| | |
| --- | --- |
| | Emergency Illnesses or Injuries |

12
(1)
13
(1)
14
(1)
15
(1)

| | |
| --- | --- |
| | Provides Appropriate Supervision and Models Safe Behavior |

15
(6)

| | |
| --- | --- |
| | Supervising Classroom Areas |

15
(1)

| | |
| --- | --- |
| | Anticipating Unsafe Behavior |

16
(1)

| | |
| --- | --- |
| | Redirecting Unsafe Behavior |

16
(1)
16
(1)

| | |
| --- | --- |
| | Involving Children in Safety Rules |

17
(1)

| | |
| --- | --- |
| | Teaching Car Safety Through Dramatic Play |

17
(1)

| | |
| --- | --- |
| | Teaching Traffic Safety with Signs and Games |

17
(1)

| | |
| --- | --- |
| | Using Books as Follow-Up Safety Reinforcers |

18
(1)

| | |
| --- | --- |
| | Preparing for Field Trips |

19
(1)

| | |
| --- | --- |
| | Preparing Children for Personal Safety |

19
(2)
21
(5)

| | |
| --- | --- |
| | Maintaining a Healthy Classroom |

26
(22)

| | |
| --- | --- |
| | Encourages Children to Follow Common Health and Nutrition Practices |

27
(9)
27
(2)
29
(1)
30
(1)
31
(2)

| | |
| --- | --- |
| | Family Involvement in Classroom Food Activities |

33
(1)

| | |
| --- | --- |
| | Medical Tests and Examinations |

34
(1)
35
(1)

| | |
| --- | --- |
| | Provides and Uses Materials to Ensure Children's Health and Cleanliness |

36
(1)
37
(1)

| | |
| --- | --- |
| | Recognizes Unusual Behavior or Symptoms of Children Who May Be III, and Provides for the Children |

37
(6)

| | |
| --- | --- |
| | Acquired Immune Deficiency Syndrome (AIDS) |

38
(1)
38
(1)

| | |
| --- | --- |
| | Attention-Deficit Hyperactivity Disorder (ADHD) |

39
(1)
40
(1)
41
(1)

| | |
| --- | --- |
| | Physical and Mental Disabilities |

41
(2)
43
(5)

| | |
| --- | --- |
| | Establishing a Learning Environment |

48
(36)

| | |
| --- | --- |
| | Separates and Places Learning Centers in Appropriate Spaces |

50
(6)

| | |
| --- | --- |
| | Determining Learning Centers |

50
(1)
50
(1)
51
(1)
52
(2)
54
(1)
54
(2)

| | |
| --- | --- |
| | Provides Appropriate Materials for Children's Self-Directed Play and Learning |

56
(20)
56
(1)

| | |
| --- | --- |
| | Equipping Learning Centers |

57
(1)
57
(5)
62
(2)
64
(1)
65
(1)
66
(1)
66
(2)
68
(1)
68
(2)
70
(1)
71
(2)
73
(1)
74
(1)
75
(1)
75
(1)

| | |
| --- | --- |
| | Accommodations for Children with Special Needs |

76
(1)

| | |
| --- | --- |
| | Changes Materials Periodically to Meet Children's Developmental Needs |

76
(3)

| | |
| --- | --- |
| | Developmentally Appropriate Materials |

76
(1)
77
(1)
78
(1)

| | |
| --- | --- |
| | Evaluating Room Arrangement |

79
(1)
79
(5)

| | |
| --- | --- |
| | Advancing Physical Skills |

84
(26)

| | |
| --- | --- |
| | Assesses Children's Large Motor Skills and Provides Appropriate Activities |

86
(9)
86
(2)
88
(1)
88
(2)

| | |
| --- | --- |
| | Running/Galloping/Skipping |

90
(1)
91
(1)

| | |
| --- | --- |
| | Crawling/Creeping/Scooting |

92
(1)
93
(1)
93
(1)
94
(1)

| | |
| --- | --- |
| | Making Plans for Individuals |

94
(1)

| | |
| --- | --- |
| | Assesses Children's Small Motor Skills and Provides Appropriate Materials and Activities |

95
(7)
95
(1)
96
(2)
98
(1)
98
(1)
99
(1)
99
(1)
99
(1)
100
(1)
101
(1)

| | |
| --- | --- |
| | Holding and Printing/Tracing |

101
(1)
102
(1)

| | |
| --- | --- |
| | Children with Disabilities |

102
(1)

| | |
| --- | --- |
| | Provides Opportunities for Children to Engage in Creative Movement |

102
(2)
102
(1)
103
(1)
104
(1)
104
(6)

| | |
| --- | --- |
| | Advancing Cognitive Skills |

110
(30)

| | |
| --- | --- |
| | Helps Children Develop Curiosity about Their World Through Sensory Exploration |

112
(9)

| | |
| --- | --- |
| | Assessing Children's Curiosity |

112
(2)
114
(2)

| | |
| --- | --- |
| | Scientific Inquiry: The Guessing-Game Method |

116
(2)

| | |
| --- | --- |
| | Equipment and Materials in the Classroom |

118
(2)

| | |
| --- | --- |
| | Field Trips Around the Building |

120
(1)

| | |
| --- | --- |
| | Helps Children Develop Basic Concepts about their World by Classifying, Comparing, and Counting Objects in It |

121
(9)

| | |
| --- | --- |
| | Sorting and Classifying Objects That Are Alike |

121
(2)

| | |
| --- | --- |
| | Comparing Objects By Size, Shape, Color, and Number |

123
(7)

| | |
| --- | --- |
| | Helps Children Develop Basic Concepts about Their World Through Hands-On Experiences with Living Things |

130
(4)

| | |
| --- | --- |
| | Following a Broad but Simple Concept |

131
(3)
134
(6)

| | |
| --- | --- |
| | Advancing Communication Skills |

140
(32)
141
(1)

| | |
| --- | --- |
| | Talks with Individual Children to Encourage Listening and Speaking |

142
(8)

| | |
| --- | --- |
| | Becoming an Active Listener |

142
(1)

| | |
| --- | --- |
| | Helping Children Become Active Listeners |

143
(2)

| | |
| --- | --- |
| | Helping Children Become Speakers |

145
(4)
149
(1)

| | |
| --- | --- |
| | Uses Books and Stories to Motivate Listening, Speaking, and Emergent Reading |

150
(11)

| | |
| --- | --- |
| | Books to Motivate Listening |

151
(3)

| | |
| --- | --- |
| | Reading Books to Children |

154
(2)

| | |
| --- | --- |
| | Books to Motivate Speaking |

156
(3)

| | |
| --- | --- |
| | Books to Motivate Emergent Reading |

159
(2)

| | |
| --- | --- |
| | Provides Materials and Activities to Support Emergent Writing |

161
(4)
161
(1)
162
(1)
163
(2)
165
(7)

| | |
| --- | --- |
| | Advancing Creative Skills |

172
(24)

| | |
| --- | --- |
| | Acceptance and Encouragement |

174
(1)
174
(1)

| | |
| --- | --- |
| | Gives Children the Time, Opportunity, and Freedom to Do Pretend and Fantasy Role Play |

174
(4)

| | |
| --- | --- |
| | Picture Books as Motivators |

175
(2)
177
(1)

| | |
| --- | --- |
| | Provides a Variety of Art Materials and Activities for Children to Explore on Their Own |

178
(7)
179
(1)
179
(1)
179
(2)

| | |
| --- | --- |
| | Acceptance of Art Products |

181
(1)

| | |
| --- | --- |
| | Stages of Art Development |

182
(1)
183
(2)

| | |
| --- | --- |
| | Encourages Children to Create and Have Fun with Music |

185
(7)

| | |
| --- | --- |
| | New Brain Research Regarding Music |

186
(1)
186
(2)
188
(1)
189
(1)

| | |
| --- | --- |
| | Manipulating the Music Medium |

189
(1)
190
(1)

| | |
| --- | --- |
| | Other Creative Activities |

191
(1)
192
(4)

| | |
| --- | --- |
| | Building a Positive Self-Concept |

196
(22)

| | |
| --- | --- |
| | Accepts Self and Every Child as Worthy and Uses Nonverbal Cues to Let Children Know They Are Accepted |

198
(8)
198
(1)
199
(2)
201
(2)
203
(1)

| | |
| --- | --- |
| | Mirrors, Photos, and Tapes |

203
(2)
205
(1)
205
(1)

| | |
| --- | --- |
| | Self-Concept Picture Books |

205
(1)

| | |
| --- | --- |
| | Accepts Diversity in Children and Helps Children to Accept One Another |

206
(4)

| | |
| --- | --- |
| | Stress Similarities but Honor Differences |

206
(2)

| | |
| --- | --- |
| | Build on Each Child's Strengths |

208
(1)

| | |
| --- | --- |
| | Have High Expectations for Everyone |

209
(1)

| | |
| --- | --- |
| | Helps Every Child to Experience Success in the Classroom |

210
(4)

| | |
| --- | --- |
| | Strengthening a Child's Independence |

210
(1)

| | |
| --- | --- |
| | Control over the Classroom Environment |

211
(2)

| | |
| --- | --- |
| | Children's Activity Choices |

213
(1)
214
(1)
214
(4)
218
(22)

| | |
| --- | --- |
| | Helps Children Learn to Work and Play Cooperatively Through Sharing and Turn-taking |

219
(4)
220
(1)

| | |
| --- | --- |
| | Modeling and Demonstrating Turn-Taking Behavior |

221
(1)
222
(1)

| | |
| --- | --- |
| | Books with Sharing and Turn-Taking Themes |

222
(1)
223
(1)

| | |
| --- | --- |
| | Helps Children Learn to Enter Ongoing Play Without Disruptions |

223
(10)
224
(2)
226
(1)
227
(1)
228
(2)
230
(1)

| | |
| --- | --- |
| | Handling Interpersonal Conflicts |

230
(2)
232
(1)

| | |
| --- | --- |
| | Helps Children Learn to Make Friends |

233
(2)

| | |
| --- | --- |
| | Picture Books with a Friendship Theme |

234
(1)
235
(5)
240
(20)

| | |
| --- | --- |
| | Uses Positive Prevention Measures to Help Eliminate Inappropriate Behavior in the Classroom |

242
(5)
242
(1)
242
(2)

| | |
| --- | --- |
| | Orderly Sequence of Events |

244
(1)
244
(1)
244
(1)

| | |
| --- | --- |
| | Child Involvement in Rules |

245
(1)
246
(1)
247
(1)

| | |
| --- | --- |
| | Uses Positive Intervention Methods to Help Children Control Their Inappropriate Behavior |

247
(5)

| | |
| --- | --- |
| | Accepting Negative Feelings |

247
(1)

| | |
| --- | --- |
| | Helping Children Verbalize Negative Feelings |

248
(1)

| | |
| --- | --- |
| | Redirecting Inappropriate Behavior |

249
(1)
249
(2)

| | |
| --- | --- |
| | Intervening in Interpersonal Conflicts |

251
(1)

| | |
| --- | --- |
| | Uses Positive Reinforcement Techniques to Help Children Learn Appropriate Behavior |

252
(3)
252
(1)

| | |
| --- | --- |
| | Focus on Victim Not Aggressor |

253
(1)

| | |
| --- | --- |
| | Model Appropriate Behavior |

253
(2)
255
(5)

| | |
| --- | --- |
| | Promoting Family Involvement |

260
(26)

| | |
| --- | --- |
| | Involves Parents in Participating in Children's Program |

262
(12)
262
(2)

| | |
| --- | --- |
| | Building Trust in Parents and Parental Trust in the Program |

264
(3)
267
(1)
268
(1)

| | |
| --- | --- |
| | Parents' Night in the Classroom |

269
(1)
269
(2)

| | |
| --- | --- |
| | Family Members' Classroom Visits |

271
(1)

| | |
| --- | --- |
| | Books and Materials as Connectors |

271
(1)

| | |
| --- | --- |
| | Parents as Classroom Volunteers |

272
(1)
273
(1)

| | |
| --- | --- |
| | Recognizes and Supports Families of Different Makeup |

274
(4)
274
(1)
275
(1)

| | |
| --- | --- |
| | Culturally Diverse Families |

275
(1)
276
(1)

| | |
| --- | --- |
| | Family Support of Programs |

277
(1)

| | |
| --- | --- |
| | Supports Families and Children Under Stress |

278
(2)
278
(1)
279
(1)
279
(1)
280
(1)
280
(6)

| | |
| --- | --- |
| | Providing Program Management |

286
(32)

| | |
| --- | --- |
| | Uses a Team Approach to Plan a Flexible Curriculum |

288
(12)
288
(1)

| | |
| --- | --- |
| | Team Roles and Responsibilities |

289
(1)
290
(1)

| | |
| --- | --- |
| | Planning a Flexible Daily Schedule |

291
(1)
291
(1)
292
(1)
293
(1)
294
(2)
296
(1)
296
(1)
296
(1)
297
(1)
297
(1)
298
(1)
298
(1)
298
(1)

| | |
| --- | --- |
| | Recording the Daily Schedule |

299
(1)

| | |
| --- | --- |
| | Plans and Implements an Emergent Curriculum to Assure a Quality Program |

300
(6)

| | |
| --- | --- |
| | Emergent Curriculum Themes |

300
(1)

| | |
| --- | --- |
| | Using Curriculum Webs in Planning |

300
(6)

| | |
| --- | --- |
| | Evaluates Curriculum Outcomes Through Child Observation and Team Conferences |

306
(6)
312
(6)

| | |
| --- | --- |
| | Promoting Professionalism |

318
(25)

| | |
| --- | --- |
| | Makes a Commitment to the Early Childhood Profession |

321
(7)

| | |
| --- | --- |
| | Knowledge Base in the Field of Early Childhood |

321
(2)

| | |
| --- | --- |
| | Training Opportunities in the Field of Early Childhood |

323
(1)

| | |
| --- | --- |
| | Becoming a CDA: Child Development Associate |

324
(1)

| | |
| --- | --- |
| | Professional Resource File |

324
(3)

| | |
| --- | --- |
| | Using Skills for Preschool Teachers in CDA Training |

327
(1)
327
(1)

| | |
| --- | --- |
| | Licensing and Credentialing |

328
(1)

| | |
| --- | --- |
| | Service Requirements in the Field of Early Childhood Education |

328
(1)

| | |
| --- | --- |
| | Behaves Ethically Toward Children and Their Families |

328
(5)
328
(2)

| | |
| --- | --- |
| | Demonstrates Caring Toward All Children |

330
(1)

| | |
| --- | --- |
| | Respects Privacy of Children, Families, and Coworkers |

331
(1)

| | |
| --- | --- |
| | NAEYC's Code of Ethical Conduct |

332
(1)

| | |
| --- | --- |
| | Takes Every Opportunity to Improve Professional Growth |

333
(3)
333
(1)
334
(1)

| | |
| --- | --- |
| | Join a Professional Organization, Read its Publications, Network with Colleagues in the Field |

334
(1)
335
(1)
336
(7)
Index
343