Note: Supplemental materials are not guaranteed with Rental or Used book purchases.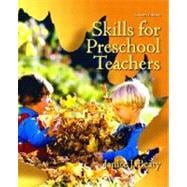 Related Products
Summary
Built around the 13 functional areas of the Child Development Associate (CDA) credential, this book is packed with the information future teachers need, whether they will teach in a preschool, child care center, Head Start program, or pre-Kindergarten setting. All of the basic classroom skills are covered, bolstered by a theoretical background and accompanied by practical ideas for applying book concepts with young children and families. Topics emphasize ways to create a calm and happy classroom atmosphere, how to handle emergencies in a way that dissipates children's fears, strategies for supporting children's mental and emotional health, and ideas for helping children cope with traumas in their life. Includes discussions of new picture books; more than 200 children's books; computer programs that support text-recommended hands-on activities; cultural influences on children; and expanded discussion of the ways children make friends. For practicing teachers, administrators, or volunteers seeking CDA certification.
Table of Contents
Introduction
1
(9)

| | |
| --- | --- |
| | Maintaining a Safe Classroom |

10
(30)

| | |
| --- | --- |
| | Maintaining a Healthy Classroom |

40
(26)

| | |
| --- | --- |
| | Establishing a Learning Environment |

66
(36)

| | |
| --- | --- |
| | Advancing Physical Skills |

102
(28)

| | |
| --- | --- |
| | Advancing Cognitive Skills |

130
(30)

| | |
| --- | --- |
| | Advancing Communication Skills |

160
(32)

| | |
| --- | --- |
| | Advancing Creative Skills |

192
(26)

| | |
| --- | --- |
| | Building a Positive Self-Concept |

218
(24)
242
(26)
268
(22)

| | |
| --- | --- |
| | Promoting Family Involvement |

290
(26)

| | |
| --- | --- |
| | Providing Program Management |

316
(36)

| | |
| --- | --- |
| | Promoting Professionalism |

352
(27)
Appendix A Becoming a CDA: Child Development Associate
379
Excerpts
This text presents and discusses basic classroom skills for preschool teachers. It is designed for use by college students preparing to be teachers in preschool, center-based child care, Head Start, and prekindergarten. It is also useful for inservice teachers, assistant teachers, and volunteers who are updating their skills or preparing for the national CDA (Child Development Associate) credential. The skills for working with 3- to 5-year-old children in a classroom setting are presented in 13 chapters. Each chapter is a self-contained learning module with objectives, text, learning activities, end-of-chapter questions, an evaluation sheet, and lists of references, supplementary readings, and videotapes. Some chapters contain lists of children's computer programs, music distributors, and book toy distributors. Students may progress through each chapter at their own pace using the Self-Taught Module Approach. College instructors or trainers can use the text as assigned reading in courses and workshops, or for student teaching. Checklists and forms placed throughout chapters may be photocopied and used again and again. To gain the greatest value from this program, the student should be in an early childhood classroom setting to apply the ideas with young children. Many college and university programs place students in a nursery school or lab school setting for several mornings a week so that they may accomplish the prescribed learning activities with young children. College and university programs that use this text as a resource for a practicum or internship often expect students to complete three or four modules in one semester. To determine which module chapters a student should work on, some programs carry out an initial assessment of the students as they work in an early childhood classroom. The instructor uses the Teacher Skills Checklist (see Introduction) as an observation tool in an initial assessment of the students' skills. Students are also asked to complete a self-evaluation using the Teacher Skills Checklist as described in the Introduction. The instructor and each student then have a conference, during which they compare checklist results and determine on which of the thirteen skill areas the student needs to concentrate, thus providing an individualized training program based on student strengths and needs. Observation tools in the text that focus on the strengths and needs of young children include the Large Motor Checklist, Small Motor Checklist, Creative Movement Checklist, Cognitive Concepts Checklist, Children's Curiosity Checklist, Self-Concept Checklist, Social Skills Checklist, and Child Involvement Checklist. The physical environment and materials of the early childhood classroom are assessed with observation tools such as the Classroom Safety Checklist, Classroom Cleanliness Checklist, Learning Center Checklist, Learning Center Location Checklist, and Book Selection Checklist. In addition to the Teacher Skills Checklist, the text also includes a Teacher Listening and Speaking Checklist. The 13 chapters of the text are arranged in the same order as the skills in the Teacher Skills Checklist and the 13 CDA functional areas. Each chapter provides theoretical background on the particular skill topic, as well as ideas for practical application in working with young children and their families in an early childhood classroom. New Features in the Seventh Edition This seventh edition ofSkills for Preschool Teachershas been revised to include new material in each chapter, with special emphasis on creating a calm and happy atmosphere in the classroom conducive to learning. New material describes teacher behavior in emergency situations to dissipate children's fears, support mental and emotional health of children, and help them cope with traumatic events. Brain research on stress is described as the basis for providing a high-activity, low-stress environment.