Note: Supplemental materials are not guaranteed with Rental or Used book purchases.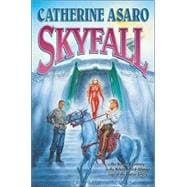 Summary
Catherine Asaro exploded onto the science fiction scene in 1995 with the publication of her widely acclaimed debut novel,Primary Inversion, which introduced readers to the vast and intricate far-future Saga of the Skolian Empire. She won widespread acclaim for her innovative blend of cutting-edge physics, interstellar intrigue, and passionate romance. Over the next few years she garnered nominations and awards in both SF and romance. Then in 2002, Catherine Asaro won the Nebula Award for Best Novel forThe Quantum Rose,the sixth installment in her Saga of the Skolian Empire. If you haven't caught on to the myriad pleasures to be found in this multiple award-winning epic SF series, here's the perfect chance.Skyfallgoes back to the beginning, to the re-birth of Skolia, showing how a chance meeting on a backwater planet forged a vast interstellar empire. Kurj, a provincial ruler on a primitive planet, is plagued by inner demons. But when he meets Roca, a beautiful and mysterious woman from the stars, he whisks her away to his mountain retreat, inadvertently starting a great interstellar war, and birthing the next generation of rulers for the Sklolian Empire. Revel in the newest grand adventure of this Nebula Award-winning series.
Author Biography
Catherine Asaro was born in Oakland, California and grew up in El Cerrito, just north of Berkeley. She received her Phd in Chemical Physics and MA in Physics, both from Harvard, and a BS with Highest Honors in Chemistry from UCLA. Among the places she has done research are the University of Toronto in Canada, the Max Planck Institut für Astrophysik in Germany, and the Harvard-Smithsonian Center for Astrophysics. Her research involves using quantum theory to describe the behavior of atoms and molecules. Catherine was a physics professor until 1990, when she established Molecudyne Research, which she currently runs.
A former ballerina, Catherine has performed with ballets and in musicals on both coasts and in Ohio. In the 1980s she was a principal dancer and artistic director of the Mainly Jazz Dancers and the Harvard University Ballet. Catherine still teaches ballet in Maryland.

Catherine's fiction is a successful blend of hard science fiction, romance, and exciting space adventure. She has published more than ten novels, almost all of which belong to her Saga of the Skolian Empire, including The Quantum Rose, which won the Nebula Award for best novel of 2001

Her husband is John Kendall Cannizzo, an astrophysicist at NASA. They have one daughter, a young ballet dancer who loves math.

Table of Contents
Praise for Catherine Asaro's Saga of the Skolian Empire

"Asaro's Saga of the Skolian Empire has quietly become one of the most interesting, ambitious, and popular science-fiction series since Dune, captivating readers with its complex universe, its diverse cast of sympathetic characters, and its imaginative blend of hard SF, future history, military SF, space opera, family saga, and romance."
--Romantic Times

"Asaro has quickly gained a reputation as a writer of very colorful space operas. Her novels are notable for such typical space operatic virtues as (literally) larger-than-life heroes and heroines, truly bad villains, extravagant technology, star-spanning empires, and action-filled plots. I hope that description doesn't seem dismissive: On the contrary, Asaro really does make virtues of each of these characteristics. In addition, her novels feature significant romance subplots . . . first-rate rip-roaring adventures."--SF Site

"This latest installment blends dynastic intrigue with theoretical physics to create a story that will appeal to fans of hard SF as well as grand-scale storytelling."
--Library Journal on Spherical Harmonic