Note: Supplemental materials are not guaranteed with Rental or Used book purchases.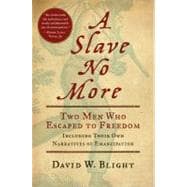 A Slave No More: Two Men Who Escaped to Freedom : Including Their Own Narratives Of Emancipation
ISBN13:
9780151012329
by
Blight, David W.
Houghton Mifflin Harcourt
Summary
Slave narratives, some of the most powerful records of our past, are extremely rare, with only fifty-five post Civil War narratives surviving. A mere handful are first-person accounts by slaves who ran away and freed themselves. Now two newly uncovered narratives, and the biographies of the men who wrote them, join that exclusive group with the publication of A Slave No More, a major new addition to the canon of American history. Handed down through family and friends, these narratives tell gripping stories of escape: Through a combination of intelligence, daring, and sheer luck, the men reached the protection of the occupying Union troops. David W. Blight magnifies the drama and significance by prefacing the narratives with each mans life history. Using a wealth of genealogical information, Blight has reconstructed their childhoods as sons of white slaveholders, their service as cooks and camp hands during the Civil War, and their climb to black working-class stability in the north, where they reunited their families. In the stories of Turnage and Washington, we find history at its most intimate, portals that offer a rich new answer to the question of how four million people moved from slavery to freedom. In A Slave No More, the untold stories of two ordinary men take their place at the heart of the American experience.
Author Biography
WALLACE TURNAGE (1846–1916) was born in Snow Hill, North Carolina, and spent his adult life in New York City and Jersey City, New Jersey.

JOHN WASHINGTON (1838–1918), born in Fredericksburg, Virginia, worked as a house and sign painter in Washington, D.C., after his escape. He retired to Cohasset, Massachusetts.

DAVID W. BLIGHT is the director of Yale University's Gilder Lehrman Center for the Study of Slavery, Resistance, and Abolition and a professor of American history. Among his books is Race and Reunion, which won the Frederick Douglass Prize, the Lincoln Prize, and the Bancroft Prize. He lives in New Haven, Connecticut.


Table of Contents
Prologue
p. 1
The Rappahannock River
p. 17
Mobile Bay
p. 55
Unusual Evidence
p. 90
The Logic and the Trump of Jubilee
p. 128
Author's Note
p. 163
"Memorys of the Past"
p. 165
"Journal of Wallace Turnage
p. 213
"The Death of Our Little Johnnie"
p. 259
Acknowledgments
p. 261
Notes
p. 265
Index
p. 301
Table of Contents provided by Ingram. All Rights Reserved.
Excerpts
Chapter OneThe Rappahannock RiverDay after day the slaves came into camps and everywhere the Stars and Stripes waved they seemed to know freedom had dawned to the slave.John Washington, 1873, remembering August 1862John M. Washington was born a slave on May 20, 1838, in Fredericksburg, Virginia. Washington begins his narrative with the wry comment that he never had the pleasure of knowing his mothers owner, Thomas R. Ware, Sr., who died before John was born. And he supposes It might have been a doubtful pleasure. So far as can be determined, Washington also never knew his father, though we can assume he was white. As an autobiographer reconstructing his own youthful identity, Washington says revealingly: I see myself a small light haired boy (very often passing easily for a white boy).1 With these words Washington recollects the complicated story of so many American slaves mixed racial heritage. The offspring of sexual unions between black women and their white male owners or pursuers suffered a legacy of confusion, shame, and abuse, but they also occasionally benefited from economic and social advantages, especially in towns and cities. Washington was one of more than 400,000 out of four million American slaves by 1860 who were officially categorized as mulatto or other terminology to distinguish a person of some white parentage. From 1830 to the Civil War, the state of Virginia especially had gone to great effort, although unsuccessfully in practical terms, to legally establish a color line marking who was white and who was not.2 White friends, and perhaps relatives, aided Johns education and opportunities early in his life. But in Fredericksburg and elsewhere, due to his mothers status and color, he was considered a chattel slave until the war came. Exactly who Washington's father was, and how John got his middle initial and last name, have been impossible to trace. A John M. Washington, a distant cousin of President George Washington, lived in Fredericksburg, went to West Point in the 1810s, became an artillery officer, and died in a shipwreck in 1853. But no evidence exists for his patrimony of John. Ware had four sons by 1838, ages twenty-six, twenty-four, twenty, and eighteen. Any of them could have been Washington's father, although only the two younger ones, John and William, seem to have been residents of Fredericksburg at the time.3 Washington's story is much clearer on his mothers side. Women determined, protected, and supported Johns life chances. His maternal grandmother was a slave named Molly who was born in the late 1790s and owned by Thomas Ware. Molly, called my Negro woman, is acknowledged for her faithful service in Wares 1820 will, in which he bequeathed her and her children (valued at $600) to his wife, Catherine (who would eventually be Johns owner). By 1825 Wares estate inventory lists Molly and four children; Johns mother, Sarah, was the oldest at age eight. Molly would have another four children by the 1830s. In
---

Excerpted from A Slave No More: Two Men Who Escaped to Freedom, Including Their Own Narratives of Emancipation by David W. Blight
All rights reserved by the original copyright owners. Excerpts are provided for display purposes only and may not be reproduced, reprinted or distributed without the written permission of the publisher.