Note: Supplemental materials are not guaranteed with Rental or Used book purchases.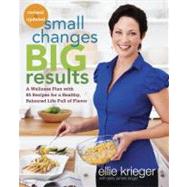 Small Changes, Big Results, Revised and Updated
ISBN13:
9780307985576
by
KRIEGER, ELLIE
Questions About This Book?
What version or edition is this?
This is the 1st edition with a publication date of 1/1/2013.
What is included with this book?
The New copy of this book will include any supplemental materials advertised. Please check the title of the book to determine if it should include any CDs, lab manuals, study guides, etc.
Summary
An easy-to-start, simple-to-maintain, scientifically sound, and eminently usable twelve-week program of small steps on the road to better health Small Changes, Big Resultsis not about cutting all the carbohydrates out of your diet. Or replacing every single gram of sugar with omega-3 fatty acids. It's not about doing one hundred sit-ups a day, or getting on the treadmill whenever you have a free second. In fact, it's not about any of the total lifestyle-replacement gimmickswhether diet, exercise, or pop psychologythat have swept our culture in recent years, putting untold millions of Americans on the risky roller coaster of success and failure that defines fad diets and programs. Not here. Small Changes, Big Resultsis about realitythe reality of what you can do, the reality of what you want to do, and the reality of what works. It's about introducing a series of small changes each week for three months in the three core areas of diet and nutrition; exercise and fitness; and emotional wellness. For each of the twelve weeks, nutritionist Ellie Krieger introduces a very finite, completely practical action plan for the weekand not only are these tasks incredibly doable, they're in fact so accessible that it's tough not to be inspired. For example, in Week 1 the nutrition task is merely to go shopping, buy some healthful pantry items, and start keeping track of what you eat; the exercise consists of taking three twenty-minute walks; and the wellness aspect is to do a five-minute breathing exercise. That's it. And it doesn't really get any harder. But these small changes do in fact lead to big results. At the end of twelve weeks, a totally unhealthy diet has been overhauled: armed with easy, delicious recipes and tips, you've removed unhelpful munchies and replaced them with healthful snacking, you've cut down on lethal trans fats while adding beneficial fat choices, you've replaced refined grains with whole grains, you're eating more fish and less red meat, and so forth. Yet you've never been forbidden to eat a single thing: instead of prohibiting entire food groups, Ellie categorizes foods as Usually, Sometimes, and Rarelyand now you should be eating more from the Usuallychoices, less from the Rarelycategory. Furthermore, you've integrated physical activity into your life, and you've developed a set of tools to help you deal with stressyou're not only eating better, but you're also exercising better and feeling better. The beauty of this program is that none of these action steps is remotely intimidating, because they're not a full immersion into a totally new lifestyle. Instead, it's a series of incremental changesremoving bad habits one by one, while at the same time adding good ones. There's nothing to scare you offon the contrary, here's a whole book full of small changes that produce big results. From the Hardcover edition.
Excerpts
Eating Well: A Healthy Pantry

The first step toward eating well is having nutritious food at your fingertips. You can have the best intentions in the world, but if you have nothing good in your refrigerator, that's most likely what you'll wind up eating—nothing good. Sure, you can manage to eat right by relying on restaurants and takeout (see Eight Tips for Dining Out, page 38), but it's tough to do that every day. Studies show that people who eat out often have a much higher sodium and calorie intake than those who prepare more meals at home. And it makes sense. When you cook your own meals, you have the ultimate control over what you are eating. When you have healthy food on hand, you never have to worry about what you're going to eat next, and you're less likely to succumb to impulsive snacking and overeating. In short, having a stocked pantry takes the stress out of eating well and helps you stay on track.

You may be thinking you don't have time to shop for and prepare healthy meals. But you do—because I am going to help you make the process easy and efficient. Once you invest a little time in stocking your pantry, you'll have everything you need to whip up a healthy meal faster than you can order a pizza. In this book I've given you 65 easy, enticing recipes. You'll also have plenty of "eat-on-the-run" foods that you can grab as you head out the door. And you'll save money by forgoing all those restaurant and takeout meals.

First, look in your fridge, freezer, and cupboard, and take inventory of what you have. Toss any frozen "mystery meat" and canned foods that have been in your home since you moved in—you know, the things like canned pumpkin that you never got around to using for Thanksgiving six years ago.

Eight Tips for Dining Out

Eating out? Join the club—most of us eat about one in three meals away from home, and that can be bad news for your waistline. Restaurant meals tend to be higher in calories and sodium than eating at home, for several reasons. First, the portions are often oversize—studies reveal that the average restaurant portion is often two to three times a "normal" ­serving. Second, restaurants tend to be pretty heavy-handed with fat, salt, and sugar. You can still eat out and eat healthy, but it takes a little thought, and sometimes some extra planning.

Give these tips a try:

1. Choose wisely. Yes, you can order healthfully in just about any ­restaurant, but make it easier by choosing a place that's known for ­serving healthfully prepared food. Restaurants specializing in seafood or produce that is local or seasonal are usually a good bet.

2. Plan ahead.If you haven't eaten at your restaurant choice before, check out its website. Most restaurants now include their menus online; some include calorie and nutrient info, as well. Decide what to order before you get there so that you are less likely to make an impulsive decision at the table.

3. Look for the magic words:- steamed, poached, broiled, roasted, grilled, and baked. These are the most healthful preparations of foods. Avoid dishes with descriptions like fried, crispy, battered, creamy/creamed, cheesy, dipped, or deep-fried. Check the menu; many chain restaurants now indicate healthy choices with a symbol.

4. Be assertive.Not sure how a dish is prepared? Ask your server. And don't be afraid to make special requests. You can ask that sauces and dressings be served on the side, that food be broiled or steamed ­without butter, or that a dish be made without cheese, for example. Most restaurants are happy to accommodate their guests.

5. Keep portions human-size. You know now that "portion" is more likely to be two or three actual servings. (See Appendix C, Serving Sizes.) Don't feel compelled to clean your plate; try these ways to keep portions sensible:
• Order two appetizers, or an appetizer and a salad, instead of an appetizer and an entrée.
• Order an entrée to split in half—either to share with a dining partner or to take home for another meal.

6. Pass the bread basket. It's practically impossible to resist a basket of chips or warm bread put right in front of you at a restaurant while you're hungry. Ask your server not to put it out at all or at least wait until the meal arrives so that you are less likely to fill up on it.

7. Start with soup or salad.Studies show that if you start a meal with a healthy soup or salad, you wind up eating fewer calories throughout the meal. So order a light appetizer like a garden salad, vegetable soup, consommé, or grilled vegetables to start your meal, and you'll be ahead of the game.

8. Desert dessert. Are you in the habit of having dessert after every meal? Break it and do the unthinkable: say "no thanks" to dessert. If that's too drastic, opt for sorbet, fresh fruit, or a mini-dessert (a small portion) that many restaurants now offer.