Note: Supplemental materials are not guaranteed with Rental or Used book purchases.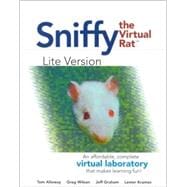 Questions About This Book?
What version or edition is this?
This is the 1st edition with a publication date of 12/20/1999.
What is included with this book?
The New copy of this book will include any supplemental materials advertised. Please check the title of the book to determine if it should include any CDs, lab manuals, study guides, etc.
Related Products
Summary
The new Lite Version of the famous Sniffy software simulates the elementary phenomena of operant and classical conditioning that are discussed in courses on the Psychology of Learning and in Introductory Psychology courses. Sniffy, a realistic digital rat in an operant chamber (Skinner Box), gives students hands-on experience setting up and conducting experiments. Users begin by training Sniffy to press a bar to obtain food and progress to studying reinforcement schedules and simple classical conditioning. In addition, a series of "Mind Windows" enable students to visualize how Sniffy's experiences in the Skinner Box produce the psychological changes that their textbooks discuss in connection with the phenomena simulated. The Sniffy, Lite Version CD-ROM comes packaged in the front of a brief, hands-on Lab Manual that walks users through the steps that they need to follow to set up a wide variety of operant and classical conditioning experiments that closely resemble experiments discussed in learning texts.
Table of Contents
Preface: Installing and Running Sniffy Lite
ix
Acknowledgments
xiv
1
(6)
1
(1)

| | |
| --- | --- |
| | How We Created Sniffy, the Animated Creature |

2
(1)
2
(2)

| | |
| --- | --- |
| | Sniffy Is a Learning Tool, Not a Research Tool |

4
(1)

| | |
| --- | --- |
| | Applying What You Learn from Sniffy |

5
(2)

| | |
| --- | --- |
| | Introduction to Operant Conditioning |

7
(10)
7
(1)
8
(3)
11
(2)

| | |
| --- | --- |
| | Reinforcement and Punishment |

13
(4)

| | |
| --- | --- |
| | Basic Operant Phenomena: Magazine Training, Shaping, Extinction, Spontaneous Recovery, and Secondary Reinforcement |

17
(28)

| | |
| --- | --- |
| | Important Technical Notice |

17
(1)

| | |
| --- | --- |
| | A First Look at Sniffy Lite |

18
(2)

| | |
| --- | --- |
| | Operant Conditioning: Technique |

20
(1)
21
(2)

| | |
| --- | --- |
| | Shaping: Teaching Sniffy to Press the Bar |

23
(4)

| | |
| --- | --- |
| | Cumulative Records: Visualizing Sniffy's Bar-Press Performance |

27
(3)
30
(1)

| | |
| --- | --- |
| | (Optional). Training Real Animals |

31
(3)
34
(4)
38
(2)
40
(2)

| | |
| --- | --- |
| | Copying and Pasting the Contents of a Sniffy Lite Window |

42
(3)

| | |
| --- | --- |
| | Schedules of Reinforcement and the Partial-Reinforcement Effect |

45
(16)
45
(4)

| | |
| --- | --- |
| | Variable-Ratio (VR) and Variable-Interval (VI) Schedules |

49
(1)

| | |
| --- | --- |
| | Fixed-Ratio (FR) Schedules |

50
(1)

| | |
| --- | --- |
| | Fixed-Interval (FI) Schedules |

50
(1)

| | |
| --- | --- |
| | Setting Up a Schedule in the Design Operant Experiment Dialogue Box |

51
(1)

| | |
| --- | --- |
| | Placing Sniffy on a Small VR Schedule |

52
(2)

| | |
| --- | --- |
| | Increasing the Value of Sniffy's VR Schedule |

54
(2)

| | |
| --- | --- |
| | Variable-Interval Schedules |

56
(1)
56
(1)
57
(1)

| | |
| --- | --- |
| | How Realistic Are Sniffy's Schedule Performances? |

57
(1)

| | |
| --- | --- |
| | The Effect of Partial Reinforcement on Extinction |

58
(3)

| | |
| --- | --- |
| | Introduction to Classical Conditioning |

61
(22)
61
(1)

| | |
| --- | --- |
| | The Conditioned Emotional Response (CER) |

62
(2)

| | |
| --- | --- |
| | The Design Classical Conditioning Experiment Dialogue Box |

64
(4)

| | |
| --- | --- |
| | The Sensitivity & Fear Mind Window |

68
(1)

| | |
| --- | --- |
| | The CS Response Strength Mind Window |

68
(1)

| | |
| --- | --- |
| | The Suppression-Ratio Window |

69
(1)

| | |
| --- | --- |
| | The Cumulative Record During Classical Conditioning |

70
(1)

| | |
| --- | --- |
| | How to Get Reliable, Comparable Results |

70
(1)

| | |
| --- | --- |
| | Putting Everything Together to Understand Classical Conditioning |

71
(1)

| | |
| --- | --- |
| | Exporting Your Results to Other Programs |

72
(2)
74
(1)
75
(3)
78
(2)
80
(3)
APPENDIX 1 User's Guide to Commands and Dialogue Boxes
83
(8)
83
(1)
84
(1)
85
(4)

| | |
| --- | --- |
| | Design Operant Experiment |

85
(1)

| | |
| --- | --- |
| | Remove Sniffy for Time-Out |

86
(1)

| | |
| --- | --- |
| | Design Classical Conditioning Experiment |

87
(1)

| | |
| --- | --- |
| | Run Classical Conditioning Experiment |

87
(1)

| | |
| --- | --- |
| | Isolate Sniffy (Accelerate Time) |

88
(1)
88
(1)
89
(2)
APPENDIX 2 How to Manage Your Sniffy Lite Files
91
(19)

| | |
| --- | --- |
| | Floppy Disks and Hard Disks |

91
(2)

| | |
| --- | --- |
| | Deciding Where to Save Your Files |

93
(2)

| | |
| --- | --- |
| | Getting Easy Access to the Sniffy Lite Program and Your Sniffy Lite Files from Your Computer Desktop |

95
(2)

| | |
| --- | --- |
| | Creating a Windows Shortcut |

95
(1)

| | |
| --- | --- |
| | Creating a Macintosh Alias |

96
(1)
97
(5)
97
(3)

| | |
| --- | --- |
| | Saving Files on a Macintosh |

100
(2)
102
(3)
102
(1)

| | |
| --- | --- |
| | Opening Files on a Macintosh |

103
(2)

| | |
| --- | --- |
| | Copying Files from a Hard Disk to a Floppy Disk |

105
(2)

| | |
| --- | --- |
| | Instructions for Windows Users |

105
(1)

| | |
| --- | --- |
| | Instructions for Macintosh Users |

106
(1)

| | |
| --- | --- |
| | Copying Files from a Floppy Disk to a Hard Disk |

107
(1)

| | |
| --- | --- |
| | Instructions for Windows Users |

107
(1)

| | |
| --- | --- |
| | Instructions for Macintosh Users |

107
(1)

| | |
| --- | --- |
| | Using Sniffy Lite for Macintosh Files on a Windows PC and Vice Versa |

108
(2)
References
110
(2)
Index
112