Note: Supplemental materials are not guaranteed with Rental or Used book purchases.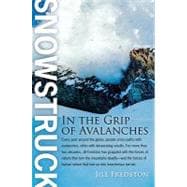 Snowstruck: In The Grip Of Avalanches
ISBN13:
9780151012497
by
Fredston, Jill A.
Houghton Mifflin Harcourt
Summary
"Jill Fredston stalks avalanches. She predicts where and when they will strike, deliberately triggers them with explosives, teaches potential victims how to stay alive, and leads rescue efforts when tragedy ensues. Reaching deep into this trove of personal experience, Fredston captures the overwhelming force of avalanches from a panorama of perspectives: a skier making what may prove his final decision, a victim buried so tightly that he can't move a finger, rescuers racing time and weather, forecasters treading the line between reasonable risk and danger. Sweeping us into these stories, she also captures the mercurial fascination of snow itself, which first drew her to Alaska and then led her to the man who would become her lifelong partner in love and work."--BOOK JACKET.
Author Biography
JILL FREDSTON is the author of Rowing to Latitude: Journeys Along the Arctic's Edge, which won a 2002 National Outdoor Book Award. She and her husband, Doug Fesler, are codirectors of the Alaska Mountain Safety Center. They live in the mountains above Anchorage.

Table of Contents
Moments of Truth
p. 2
Union of Circumstance
p. 36
Unburying the Past
p. 70
A Walk in the Park
p. 104
Rules of Engagement
p. 130
The Game of Jeopardy
p. 158
Silver Screens
p. 190
Line of Fire
p. 210
Heat of Friction
p. 240
Faces in the Dark
p. 278
Truth or Consequences
p. 308
Acknowledgments
p. 339
Table of Contents provided by Ingram. All Rights Reserved.
Excerpts
Moments of TruthA slab avalanche about two seconds into its release © jim bayThe problem . . . was not that people weren't capable of telling the truth; it was that they weren't able to understand what they were hearing. The truth was not a line from here to there.-Jeffrey Lent, In the FallJerry had been shoveling for days. it felt like mud, but it was only snow, snow, and more snow. His town was more a battleground than the dreamy winter scene of paperweight globes. Trees were toppling, roofs were in danger, and telephone poles plastered with wind-driven snow appeared double their normal diameter. Most mornings the lean fifty-year-old flooring contractor and occasional longshoreman didn't bother to throw on more than flannel slippers and bathrobe to shovel a soggy furrow from house to car. But this January 2000 morning in the isolated fishing port of Cordova, Alaska, the monitor heater in his house was down and Jerry had burned the last of the firewood stored close at hand, so he told Martha, his partner of more than twenty years, that he would dig his way out to the detached garage for another load. Knowing this wouldn't be a trivial project, he pulled on gray sweatpants and a hooded shirt, ribbed cotton socks and shoes.Sequestered on the rocky eastern edge of Prince William Sound in southcentral Alaska, Cordova is not connected to the rest of the state by road. Instead, the twenty-five hundred year-round residents of Cordova depend on the Copper River Highway-which might otherwise seem a misnomer for a two-lane road with intermittent traffic-as a vital corridor linking the town at waterside with the airport twelve miles east. If you want to leave Cordova, you must do so by air or water. If you want to stay, you can forget about traffic lights or parking meters and take your pick of seven bars. Jerry and Martha, who moved north from Virginia in 1980, were among those who stayed. Since 1991 they had lived in what seemed an idyllic spot, sandwiched between the crystalline emerald water of Eyak Lake and the steep slant of the Heney Range. Known as 5.5 Mile for its distance from town, the neighborhood consisted of just over a dozen houses and two warehouses strung along a short dirt road that looped at both ends to join the highway. Some of the dwellings, particularly those on the lakeside, were nestled in clusters of tall thick-boughed spruce, and many, in familiar Alaska fashion, were surrounded by an array of boats on trailers, storage sheds, motor homes, and long-dead vehicles scattered about like lawn ornaments. Just above the houses, the mountain's slope was a clean white scar in winter and a jungle of prickly bushes in summer.Jerry had been making tedious progress when he heard a rumbling like distant thunder. Looking up the broad fan-shaped lower slope on the far side of the Copper River Highway, he saw a roiling, fast-falling curtain of snow. Jerry had lived at the foot of the mountain long enough to be acquainted with avalanch
---

Excerpted from Snowstruck: In the Grip of Avalanches by Jill A. Fredston
All rights reserved by the original copyright owners. Excerpts are provided for display purposes only and may not be reproduced, reprinted or distributed without the written permission of the publisher.