Note: Supplemental materials are not guaranteed with Rental or Used book purchases.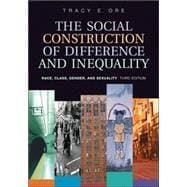 The Social Construction of Difference and Inequality: Race, Class, Gender and Sexuality
by
Ore, Tracy E.
McGraw-Hill Humanities/Social Sciences/Languages
Questions About This Book?
What version or edition is this?
This is the 3rd edition with a publication date of 8/4/2005.
What is included with this book?
The Used copy of this book is not guaranteed to include any supplemental materials. Typically, only the book itself is included.
Related Products
Summary
This anthology examines the social construction of race, class, gender, and sexuality and the institutional bases for these relations. While other texts discuss various forms of stratification and the impact of these on members of marginalized groups, Ore provides a thorough discussion of how such systems of stratification are formed and perpetuated and how forms of stratification are interconnected. The anthology supplies sufficient pedagogical tools to aid the student in understanding how the material relates to her/his own life and how her/his own attitudes, actions, and perspectives may serve to perpetuate a stratified system.
Table of Contents
Preface
xiii
PART I: CONSTRUCTING DIFFERENCES
1
(198)

| | |
| --- | --- |
| | Examining what categories are constructed, how this is done, and why such categories of difference are constructed. |

19
(57)
19
(10)

| | |
| --- | --- |
| | Michael Omi and Howard Winant |

| | |
| --- | --- |
| | 2. Optional Ethnicities: For Whites Only? |

29
(13)

| | |
| --- | --- |
| | 3. "They Are Absolutely Obsessed with Us": Anti-Arab Bias in American Discourse and Policy |

42
(15)

| | |
| --- | --- |
| | 4. How Did Jews Become White Folks? |

57
(19)
76
(36)

| | |
| --- | --- |
| | 5. Race, Wealth, and Equality |

76
(13)

| | |
| --- | --- |
| | Melvin L. Oliver and Thomas M. Shapiro |

| | |
| --- | --- |
| | 6. Media Magic: Making Class Invisible |

89
(9)

| | |
| --- | --- |
| | 7. Doubly Divided: The Racial Wealth Gap |

98
(7)

| | |
| --- | --- |
| | 8. Getting Corporations off the Public Dole |

105
(7)
112
(39)

| | |
| --- | --- |
| | 9. The Social Construction of Gender |

112
(8)

| | |
| --- | --- |
| | 10. The Five Sexes, Revisited |

120
(8)

| | |
| --- | --- |
| | 11. The Transgender Paradigm Shift toward Free Expression |

128
(5)

| | |
| --- | --- |
| | 12. Masculinity as Homophobia: Fear, Shame, and Silence in the Construction of Gender Identity |

133
(18)
151
(48)

| | |
| --- | --- |
| | 13. The Invention of Heterosexuality |

151
(13)

| | |
| --- | --- |
| | 14. The Social Construction of Sexuality |

164
(5)

| | |
| --- | --- |
| | 15. Sexual Identity and Bisexual Identities: The Struggle for Self-Description in a Changing Sexual Landscape |

169
(18)
187
(37)
PART II: MAINTAINING INEQUALITIES: SYSTEMS OPPRESSION AND PRIVILEGE
199
(361)

| | |
| --- | --- |
| | Examining what elements of social structure work to maintain systems of stratification based on constructions of difference. |

| | |
| --- | --- |
| | Social Institutions: Family |

224
(66)

| | |
| --- | --- |
| | 17. Our Mother's Grief: Racial-Ethnic Women and the Maintenance of Families |

224
(21)

| | |
| --- | --- |
| | 18. Families on the Fault Line: America's Working Class Speaks about the Family, the Economy, Race, and Ethnicity |

245
(10)

| | |
| --- | --- |
| | 19. Stability and Change in Chicano Men's Family Lives |

255
(22)

| | |
| --- | --- |
| | 20. Gay and Lesbian Families Are Here |

277
(13)

| | |
| --- | --- |
| | Social Institutions: Education |

290
(39)

| | |
| --- | --- |
| | 21. Savage Inequalities: Children in America's Schools |

290
(7)

| | |
| --- | --- |
| | 22. Preparing for Power: Cultural Capital and Curricula in America's Elite Boarding Schools |

297
(11)

| | |
| --- | --- |
| | Peter W. Cookson, Jr. and Caroline Hodges Persell |

| | |
| --- | --- |
| | 23. Civilize Them with a Stick |

308
(8)

| | |
| --- | --- |
| | Mary Crow Dog and Richard Erdoes |

| | |
| --- | --- |
| | 24. Missing in Interaction |

316
(13)

| | |
| --- | --- |
| | Myra Sadker and David Sadker |

| | |
| --- | --- |
| | Social Institutions: Work and Economy |

329
(38)

| | |
| --- | --- |
| | 25. Jobless Ghettos: The Social Implications of the Disappearance of Work in Segregated Neighborhoods |

329
(11)

| | |
| --- | --- |
| | 26. "We'd Love to Hire Them, But...": The Meaning of Race for Employers |

340
(10)

| | |
| --- | --- |
| | Joleen Kirschenman and Kathryn M. Neckerman |

| | |
| --- | --- |
| | 27. The Glass Escalator: Hidden Advantages for Men in the "Female" Professions |

350
(12)

| | |
| --- | --- |
| | 28. Cause of Death: Inequality |

362
(5)

| | |
| --- | --- |
| | Social Institutions: The State and Public Policy |

367
(46)

| | |
| --- | --- |
| | 29. Violating Women: Rights Abuses in the Welfare Police State |

367
(13)

| | |
| --- | --- |
| | 30. No Equal Justice: Race and Class in the American Criminal Justice System |

380
(9)

| | |
| --- | --- |
| | 31. The Effects of Affirmative Action on Other Stakeholders |

389
(13)

| | |
| --- | --- |
| | 32. The Possessive Investment in Whiteness: Racialized Social Democracy and the "White" Problem in American Studies |

402
(11)

| | |
| --- | --- |
| | Social Institutions: Media |

413
(60)

| | |
| --- | --- |
| | 33. Five Decades and Three Hundred Sitcoms about Class and Gender |

413
(19)

| | |
| --- | --- |
| | 34. Distorted Reality: Hispanic Characters in TV Entertainment |

432
(14)

| | |
| --- | --- |
| | S. Robert Lichter and Daniel R. Amundson |

| | |
| --- | --- |
| | 35. Changing Gay and Lesbian Images in the Media |

446
(12)

| | |
| --- | --- |
| | 36. The "F" Word: How the Media Frame Feminism |

458
(15)
473
(42)

| | |
| --- | --- |
| | 37. Racism in the English Language |

473
(11)

| | |
| --- | --- |
| | 38. Self, Identity, and the Naming Question: Reflections on the Language of Disability |

484
(13)

| | |
| --- | --- |
| | 39. How to Tame a Wild Tongue |

497
(10)

| | |
| --- | --- |
| | 40. The Dark Side of Sports Symbols |

507
(8)

| | |
| --- | --- |
| | Stanley D. Eitzen and Maxine Baca Zinn |

| | |
| --- | --- |
| | Violence and Social Control |

515
(45)

| | |
| --- | --- |
| | 41. Where Race and Gender Meet: Racism, Hate Crimes, and Pornography |

515
(4)

| | |
| --- | --- |
| | 42. Fraternities and Collegiate Rape Culture: Why Are Some Fraternities More Dangerous Places for Women? |

519
(14)

| | |
| --- | --- |
| | A. Ayres Boswell and Joan Z. Spade |

| | |
| --- | --- |
| | 43. The Construction of Masculinity and the Triad of Men's Violence |

533
(17)

| | |
| --- | --- |
| | 44. Homophobia as a Weapon of Sexism |

550
(13)
PART III: EXPERIENCING DIFFERENCE AND INEQUALITY IN EVERYDAY LIFE
560
(69)

| | |
| --- | --- |
| | Examining the impact of constructions of difference and maintaining inequalities on members of society. |

| | |
| --- | --- |
| | 45. Making Systems of Privilege Visible |

563
(9)

| | |
| --- | --- |
| | Stephanie M. Wildman with Adrienne D. Davis |

| | |
| --- | --- |
| | 46. "Yes, I Follow Islam, But I'm Not a Terrorist" |

"570
572
(9)
581
(9)

| | |
| --- | --- |
| | 49. "Gee, You Don't Seem Like an Indian from the Reservation" |

590
(7)
597
(3)

| | |
| --- | --- |
| | 51. Nickel-and-Dimed On (Not) Getting by in America |

600
(14)

| | |
| --- | --- |
| | 52. I Am Your Welfare Reform |

614
(2)
616
(5)

| | |
| --- | --- |
| | 54. "Why People Think I'm a Boy" |

621
(3)

| | |
| --- | --- |
| | 55. Bisexuality, Feminism, Men and Me |

624
(5)
PART IV: RESISTANCE AND SOCIAL CHANGE
629

| | |
| --- | --- |
| | Examining how people working within individual and institutional contexts transform difference from a system of inequality to a system of liberation. |

| | |
| --- | --- |
| | 56. Toward a New Vision: Race, Class, and Gender as Categories of Analysis and Connection |

641
(15)

| | |
| --- | --- |
| | 57. Cultural Resistance: Reconstructing Our Own Images |

656
(10)

| | |
| --- | --- |
| | 58. Borders and Bridges: Building New Directions for the Women's Movement |

666
(26)

| | |
| --- | --- |
| | 59. Seeing More Than Black and White: Latinos, Racism, and the Cultural Divides |

692
(8)

| | |
| --- | --- |
| | 60. Dismantling Noah's Ark: Gender and Equality |

700
(14)

| | |
| --- | --- |
| | 61. Fighting Frankenfoods: Activists Sow Seeds of Discontent |

714