Note: Supplemental materials are not guaranteed with Rental or Used book purchases.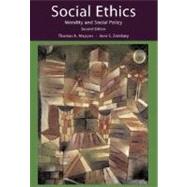 Social Ethics : Morality and Social Policy
by
MAPPES
McGraw-Hill Humanities/Social Sciences/Languages
Questions About This Book?
What version or edition is this?
This is the 7th edition with a publication date of 7/20/2006.
What is included with this book?
The New copy of this book will include any supplemental materials advertised. Please check the title of the book to determine if it should include any CDs, lab manuals, study guides, etc.
The Used copy of this book is not guaranteed to include any supplemental materials. Typically, only the book itself is included.
Summary
In its seventh edition,Social Ethics: Morality and Social Policycontinues to provide material that will encourage reflective and critical examination of key contemporary moral problems. With additional readings and a new organization that groups related chapters together under four categories, this edition enhances the teachability that was the most salient characteristic of previous editions. The text maintains its ability to bring the central issues into clear focus, while allowing supporting arguments for widely diverse positions to be presented by those who embrace them.
Table of Contents
Preface

PART ONE: LIFE-AND-DEATH ISSUES

CHAPTER 1 ABORTION

IntroductionPope John Paul II, The Unspeakable Crime of AbortionMary Anne Warren, On the Moral and Legal Status of AbortionDon Marquis, Why Abortion is ImmoralJudith Jarvis Thomson, A Defense of AbortionMargaret Olivia Little, The Morality of AbortionJustice Harry A. Blackmun, Majority Opinion in Roe v. WadeGeorge J. Annas, "Partial-Birth Abortion" and the Supreme CourtSuggested Additional Readings for Chapter 1

CHAPTER 2 EUTHANASIA AND PHYSICIAN-ASSISTED SUICIDE

IntroductionJames Rachels, Active and Passive EuthanasiaDaniel Callahan, Killing and Allowing to DieDan W. Brock, Voluntary Active EuthanasiaStephen G. Potts, Objections to the Institutionalisation of EuthanasiaDavid T. Watts and Timothy Howell, Assisted Suicide Is Not Voluntary Active EuthanasiaChief Justice William H. Rehnquist, Opinion of the Court in Washington v. GlucksbergJustice Sandra Day O'Connor, Concurring Opinion in Washington v. Glucksberg and Vacco v. QuillFranklin G. Miller and Diane E. Meier, Voluntary Death: A Comparison Of Terminal Dehydration and Physician-Assisted SuicideSuggested Additional Readings for Chapter 2

CHAPTER 3 THE DEATH PENALTY

IntroductionJustices Potter Stewart, Lewis F. Powell, Jr., and John Paul Stevens, Opinion in Gregg v. GeorgiaJustice Thurgood Marshall, Dissenting Opinion in Gregg v. GeorgiaIgor Primoratz, A Life for a LifeStephen Nathanson, An Eye for an Eye?Louis P. Pojman, Deterrence and the Death PenaltyJeffrey Reiman, Common Sense, the Deterrent Effect of the Death Penalty, and the Best Bet ArgumentDavid Dolinko, Procedural Arguments Against the Death PenaltySuggested Additional Readings for Chapter 3

PART TWO: LIBERTY ISSUES

CHAPTER 4 SEX AND MARRIAGE

IntroductionVincent C. Punzo, Morality and Human SexualityThomas A. Mappes, Sexual Morality and the Concept of Using Another PersonJohn Corvino, Why Shouldn't Tommy and Jim Have Sex? A Defense of HomosexualityChief Justice Margaret H. Marshall, Majority Opinion in Goodridge v. Department of Public HealthJustice Martha B. Sosman, Dissenting Opinion in Goodridge v. Department of Public HealthMaggie Gallagher, What Marriage Is For: Children Need Mothers and FathersJonathan Rauch, For Better or Worse? The Case for Gay (and Straight) MarriageSuggested Additional Readings for Chapter 4

CHAPTER 5 PORNOGRAPHY, HATE SPEECH, AND CENSORSHIP

IntroductionJohn Stuart Mill, On LibertyThe Attorney General's Commission on Pornography, The Question of HarmHelen E. Longino, Pornography, Oppression, and Freedom: A Closer LookMark R. Wicclair, Feminism, Pornography, and CensorshipIllinois Supreme Court, Opinion in Village of Skokie v. National Socialist Party of AmericaCharles R. Lawrence III, Racist Speech as the Functional Equivalent of Fighting WordsAndrew Altman, Liberalism and Campus Hate Speech: A Philosophical ExaminationJudge Peter Stone, Opinion in Corry v. Stanford UniversitySuggested Additional Readings for Chapter 5

CHAPTER 6 DRUG CONTROL AND ADDICTION

IntroductionJustice Jacob J. Spiegel, Opinion in Commonwealth v. Joseph D. LeisThomas S. Szasz, The Ethics of AddictionRobert E. Goodin, Permissible Paternalism: Saving Smokers from ThemselvesEthan A. Nadelmann, The Case for LegalizationJames Q. Wilson, Against the Legalization of DrugsDaniel Shapiro, Addiction and Drug PolicySuggested Additional Readings for Chapter 6

CHAPTER 7 TERRORISM, HUMAN RIGHTS, AND CIVIL LIBERTIES

IntroductionStephen Nathanson, Can Terrorism Be Morally Justified?Alison M. Jaggar, What Is Terrorism, Why Is It Wrong, and Could It Ever Be Morally Permissible?David Luban, The War on Terrorism and the End of Human RightsJustice Hugo Lafayette Black, Majority Opinion in Korematsu v. United StatesJustice Frank Murphy, Dissenting Opinion in Korematsu v. United StatesJeremy Waldron, Security and Liberty: The Image of BalanceSuggested Additional Readings for Chapter 7

PART THREE: JUSTICE ISSUES

CHAPTER 8 SOCIAL AND ECONOMIC JUSTICE

IntroductionJohn Hospers, What Libertarianism IsKai Nielsen, A Moral Case for SocialismIris M. Young, Five Faces of OppressionNancy Fraser, After the Family Wage: A Postindustrial Thought ExperimentHoward McGary, The African-American Underclass and the Question of ValuesSuggested Additional Readings for Chapter 8

CHAPTER 9 WORLD HUNGER AND POVERTY

IntroductionPeter Singer, Famine, Affluence, and MoralityGarrett Hardin, Living on a LifeboatAmartya Sen, Property and HungerThomas Pogge, Two Reflections on The First United Nations Millennium Development GoalMax Borders, Western Ethical Imperialism?United Trauma Relief, A Consensus Statement on Sweatshop AbuseMatt Zwolinski, SweatshopsSuggested Additional Readings for Chapter 9

PART FOUR: PLANETARY ISSUES

CHAPTER 10 ANIMALS

IntroductionPeter Singer, All Animals Are EqualTom Regan, The Case for Animal RightsR. G. Frey, Moral Vegetarianism and the Argument from Pain and SufferingCarl Cohen, The Case for the Use of Animals in Biomedical ResearchMary Anne Warren, Human and Animal Rights ComparedSuggested Additional Readings for Chapter 10

CHAPTER 11 THE ENVIRONMENT

IntroductionWilliam F. Baxter, People or Penguins: The Case for Optimal PollutionJan Narveson, For Free Market EnvironmentalismTony Smith, Against Free Market EnvironmentalismPeter S. Wenz, Just GarbageAldo Leopold, The Land EthicBernard E. Rollin, Environmental EthicsBill Devall and George Sessions, Deep EcologyRamachandra Guha, Radical American Environmentalism and Wilderness Preservation: A Third World CritiqueSuggested Additional Readings for Chapter 11

About the Contributors