Note: Supplemental materials are not guaranteed with Rental or Used book purchases.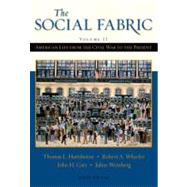 Related Products
Summary
This anthology of readings portrays the lives of ordinary Americans and examines the diversity of the American people, from the earliest settlement of America to Reconstruction. The Social Fabric acquaints students with the ways in which important events in the nation's history were reflected in the everyday lives of ordinary people. A wide variety of essays deal with the experiences of all Americans: men as well as women, Native Americans, African-Americans, and Asian-Americans as well as whites, the poor as well as the wealthy. These readings highlight the diversity of Americans' experiences based on differences in race, ethnicity, and gender and the way in which those differences have at times led to conflict. Note: the author sequence has changed for this edition; Cary and Weinberg were the first authors on the previous editions.
Table of Contents
I. EXPANSION AND CHANGE.
1. Political Violence During Reconstruction.
From Samuel C. Hyde, Jr., Pistols and Politics.

2. The Reservation and the Destruction of Indian Culture.
From Robert M. Utley, The Indian Frontier of the American West, 1846-1890.

3. The Farmers' Frontier.
From Robert V. Hine, Community on the American Frontier.

4. Labor in the Gilded Age.
From Jacquelyn Dowd Hall et al., Like a Family.

5. Labor Violence in Industrial America.
From Michael Novak, The Guns of Latimer.

II. THE CHALLENGES OF DIVERSITY.
6. The City at the Turn of the Century.
From David Nasaw, Children of the City.

7. Immigration and Cultural Conflict.
From Judy Yung, Unbound Feet.

8. Immigrant Children at School.
From Selma Berrol, Immigrant Children at School, 1880-1940: A Child's Eye View.

9. Black Migration.
From Florette Henri, Black Migration.

III. THE TENSIONS OF PROSPERITY.
10. The Ku Klux Klan in Indiana.
From Kathleen M. Blee, Women of the Klan.

11. Mexican-Americans in the Southwest.
From Sarah Deutsch, No Separate Refuge.

12. Women Take to the Road.
From Virginia Scharff, Taking the Wheel.

IV. DEPRESSION AND WAR.
13. The Nation Confronts the Great Depression.
From Caroline Bird, The Invisible Scar.

14. Work Relief in the Great Depression.
From Edward Robb Ellis, A Nation in Torment.

15. The Home Front During World War II.
From Richard R. Lingeman, Don't You Know There's a War On?

16. The GI Bill of Rights.
From Michael J. Bennett, When Dreams Came True.

V. AFFLUENCE AND ITS DISCONTENTS.
17. The Baby Boom.
From Landon Y. Jones, Great Expectations.

18. The Struggle for Civil Rights.
From Doug McAdam, Freedom Summer.

19. The Counterculture.
From Jay Stevens, Storming Heaven.

20. Vietnam—and After.
From Loren Baritz, Backfire.

21. Sexuality in Contemporary America.
From John D'Emilio and Estelle B. Friedman, Intimate Matters.

22. Culture War.
From William Martin, With God on Our Side.