Note: Supplemental materials are not guaranteed with Rental or Used book purchases.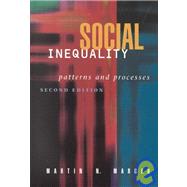 Social Inequality : Patterns and Processes
ISBN13:
9780767420860
by
MARGER M
McGraw-Hill Humanities/Social Sciences/Languages
Summary
This text provides an introduction to key concepts, current research findings, and theories in social inequality. While focusing on social class and theories, it also deals broadly with other forms of social inequality, including racial/ethnic, gender, and political. In dealing with the various dimensions of inequality, the book explains how they overlap and interrelate.
Table of Contents
Preface 1. AN INTRODUCTION TO THE STUDY OF SOCIAL INEQUALITY / Major Issues in the Study of Social Inequality / Examining Inequality in a Sociological Mode / Some Basic Terms and Concepts in the Study of Inequality / Summary 2. THE AMERICAN CLASS SYSTEM / Social Class: A Two-Dimensional Picture / The Reality of Class in the United States / Change and Continuity in Economic Inequality / Summary 3. POVERTY AND THE POOR / Defining Poverty / Who Are the Poor? / The Working Poor and the Underclass / Why Are the Poor Poor? / Public Policies and Poverty / Poverty in Comparative Perspective / Summary 4. THE MIDDLE CLASSES AND THE CHANGING ECONOMY / Historical Development of the Middle Classes / The Classes in the Middle and the Occupational Structure / The Changing U.S. Economy and the Classes in the Middle / Economic Restructuring and the Classes in the Middle / The Middle Classes and the New Consumerism / Summary 5. THE UPPER CLASS AND THE POWER ELITE / The Upper Class / The Power Elite: Patterns and Theory / Social Class and the Power Elite / Paths to Power / Summary 6. STRATIFICATION SYSTEMS AND SOCIAL MOBILITY / Systems of Stratification / Patterns of Social Mobility in Modern Societies / Determinants of Social Mobility / Education and the Process of Mobility / Summary 7. PUBLIC POLICY AND THE CLASS SYSTEM / The Political Economy / Taxation: How Much, from Whom / Government Spending: On What, for Whom / The U.S. Welfare State in Comparative Perspective / Government Regulation / Partisan Differences in Public Policy / Summary 8. THEORIES OF CLASS AND SOCIAL INEQUALITY / Marx's Theory of Social Inequality / Weber: The Inevitability of Inequality / Functionalism and Conflict Theory / Summary 9. IDEOLOGY AND THE LEGITIMATION OF INEQUALITY / Legitimation / The Nature of Ideology / The Dominant American Ideology / Legitimation, Ideology, and Socialization / Summary10. RACIAL/ETHNIC DIFFERENTIATION / Ethnicity and Race / Changing Ethnic Patterns in the United States / Ethnic Categories / The American Ethnic Configuration / The Shaping of American Ethnic Diversity and Inequality / The Newest Immigrants / Summary 11. RACIAL/ETHNIC STRATIFICATION / Majority and Minority / The American Ethnic Hierarchy / Stability and Change in the American Ethnic Hierarchy / Summary 12. GENDER INEQUALITY / Gender Differentiation / Gender Stratification / Gender Inequality in the Workforce: Continuity and Change / Patterns of Gender Inequality: Politics, the Corporation, and Education / The Status of Women in Global Perspective / The Feminist Movement / Summary 13. POLITICAL INEQUALITY / Political Stratification / Three Models of Power in America / The American Power Structure: Unity and Division / The Role of Masses in the System of Power Summary Glossary References Index