Note: Supplemental materials are not guaranteed with Rental or Used book purchases.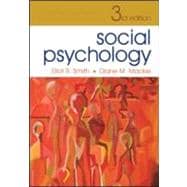 Social Psychology: Third Edition
ISBN13:
9781841694092
by
Smith
;
Eliot R.
Questions About This Book?
What version or edition is this?
This is the 3rd edition with a publication date of 1/16/2007.
What is included with this book?
The Used copy of this book is not guaranteed to include any supplemental materials. Typically, only the book itself is included.
Summary
This is the 3rd edition provides a conceptually integrated undergraduate introduction to social psychology, in which the focus is on underlying processes that operate across topics, rather than treating each topic in isolation. It is contemporary, comprehensive and relevant to social psychology students' and instructors' needs. All traditional topics in social psychology are covered and emerging hot topics have been introduced. As with the previous edition, there is a strong focus on Methodology and deeper explanation of impact norms than the simplistic coverage of the competitors. The integrative approach, together with inclusion of some non-US perspectives, reflect the increased cross-disciplinary developments and internationalization of the field. Following extensive reviewer feedback, pedagogical features have been refined and include chapter summaries, margin glossaries, tables, graphs, photograph, an Advance Organizer and an Integrative Organizer. An attractive two-color,student-friendly format and lively, accessible narrative by two leading US scholars makes this text among the most acclaimed on the market. Supplementary materials An extensive online Student Learning Package (SocSLP) is in development, which will include: Revision Notes; Interactive exercises; Simulations of key experiments; Active reference links to articles in Psychology Press journals; Revision MCQ test banks; Fill-in-the-blank questions; Key term definitions; Case studies; Research activities; weblinks; References to classic research articles in Social Psychology: A General Reader edited by Kruglanski & Higgins. Instructors resources will be free-of-charge to lecturers who adopt the book and will include Powerpoint lecture slides and MCQ test creator
Table of Contents
Preface
How to Use This Book
What Is Social Psychology?
A Definition of Social Psychology
The Scientific Study of the Effects of Social and Cognitive Processes on the Way Individuals Perceive, Influence, and Relate to Others
Historical Trends and Current Themes in Social Psychology
Social Psychology Becomes an Empirical Science
Social Psychology Splits From General Psychology Over What Causes Behavior
The Rise of Nazism Shapes the Development of Social Psychology
Growth and Integration
How the Approach of This Book Reflects an Integrative Perspective
Two Fundamental Axioms of Social Psychology
Three Motivational Principles
Three Processing Principles
Common Processes, Diverse Behaviors
Plan of the Book
Summary
Asking and Answering Research Questions
A Note to the Student on How to Use This Chapter
Research Questions and the Role of Theory
Origins of Research Questions
What is a Scientific Theory?
Testing Theories: From Theory to Research
Construct Validity and Approaches to Measurement
Internal Validity and Types of Research Design
External Validity and Research Populations and Settings
Evaluating Theories: The Bottom Line
The Role of Ethics and Values in Research
Being Fair to Participants
Being Helpful to Society
Concluding Comments
Summary
Perceiving Individuals
Forming First Impressions: Cues, Interpretations, and Inferences
The Raw Materials of First Impressions
Interpreting Cues
Characterizing the Behaving Person: Correspondent Inferences
When Is a Correspondent Inference Justified?
Beyond First Impressions: Systematic Processing
Causal Attributions
Using Attributions to Correct First Impressions
Putting It All Together: Forming Complex Impressions
The Accuracy of Considered Impressions
The Impact of Impressions: Using, Defending, and Changing Impressions
Impressions and Judgments
Defending Impressions
Dealing with Inconsistent Information
Concluding Comments
Summary
The Self
Constructing the Self-Concept: What We Know About Ourselves
Sources of the Self-Concept
Learning About Self and Others: The Same or Different?
Multiple Selves
Putting It All Together: Constructing a Coherent Self-Concept
Cultural Differences in the Self-Concept
Constructing Self-Esteem: How We Feel About Ourselves
Balancing Accurate Self-Knowledge and Self-Enhancement
Evaluating Personal Experiences: Some Pain but Mainly Gain
Social Comparisons: Better or Worse Than Others?
Why Self-Enhance?
Self-Esteem in Cultural Context
Effects of the Self: Processes of Self-Regulation
The Self and Thoughts About Ourselves and Others
The Self and Emotions: for Me or Against Me?
The Self in Action: Regulating Behavior
Temptations and Other Threats to Self-Regulation
Taking Accounts of Other People's Standards
Defending the Self: Coping with Stresses, Inconsistencies, and Failures
Threats to the Well-Being of the Self
Defending Against Threat: Emotion-Focused Coping
Attacking Threat Head-On: Problem-Focused Coping
How to Cope?Concluding Comments
Summary
Perceiving Groups
Targets of Prejudice: Social Groups
Social Categorization: Dividing the World into Social Groups
Forming Impressions of Groups: Establishing Stereotypes
The Content of Stereotypes
Seeking the Motives behind Stereotyping
Motives for Forming Stereotypes: Mastery through Summarizing Personal Experiences
Motives for Forming Stereotypes: Connectedness to Other
Moving for Forming Stereotypes: Justifying Inequalities
Using Stereotypes: From Preconceptions to Prejudice
Activation of Stereotypes
Measuring Stereotypes and Prejudice
Impact of Stereotypes on Judgments and Actions
Trying to Overcome Stereotype Effects
Beyond Simple Activation: Effects of Stereotypes on Consi
Table of Contents provided by Publisher. All Rights Reserved.