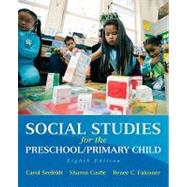 Questions About This Book?
What version or edition is this?
This is the 8th edition with a publication date of 4/28/2009.
What is included with this book?
The Used copy of this book is not guaranteed to include any supplemental materials. Typically, only the book itself is included.
Related Products
Summary
For Social Studies in Early Childhood Education and Curriculum in Early Childhood Education courses. #xA0; This popular text provides a multitude of practical ideas, suggestions, and activities that prospective early childhood teachers can use to both interest young children in social studies andintegrate social studies with other sciences, art, literature, mathematics, reading, and writing. Because play is the basic means of young children's learning, the text offers a full chapter on the topic and incorporates ideas for #x1C;playing#x1D; throughout the material. TThis edition includes three new chapters to offer all of the 10 NCSS Thematic Strands.#xA0;In addition, there#xA0;is a new emphasis on the use of such technology as e-mail, digital cameras, and the World Wide Web in this edition. Finally, current NAEYC standards for quality, curriculum, and professional preparation are thoroughly incorporated. #xA0; #xA0; New to this Edition! #xA0; NEW Chapter on Culture, Diversity and Values NEW Chapter on Civics and Government NEW Chapter on Global Connections More coverage of technology, including Web 2.0 technology Now reflects all 10 NCSS Thematic Strands
Author Biography
Sharon Castle is an Associate Professor of Education at George Mason University. She teaches early childhood and elementary socials studies, fine arts, creativity and play, and research courses. Her current area of research is Professional Development Schools. She has also studied children's creative and artistic development and school change. She received her Masters in Child Development from Iowa State University and her PhD in Curriculum and Instruction from the University of Maryland, College Park.
Renee C. Falconer
is an Associate Professor of Education at George Mason University. She teaches child development and curriculum courses. She taught children in countries all over the world (including United Kingdom, Canada, Australia, Kenya and the US) for 20 years and has taught teachers in the eastern, western and southern United States. She received her Masters in Early Childhood Education (ages 3-8) from the University of South Carolina and her PhD in Curriculum and Instruction/Early Childhood and Multicultural Education from Utah State University.
Table of Contents
Planning for the Social Studies
These Are the Social Studies
Past Approaches to the Social Studies
Progressive Education and the Here-and-Now Curriculum
Social-Living Curriculum
Holiday Curriculum
Social Forces and Theories Affecting the Curriculum
Social Studies Today
Active Learning
Integrated
Meaningful
Of High Interest
Standards for Knowledge, Skills and Attitudes
Scope and Sequence
Curriculum Models for Early Childhood Education
Summary
Extend Your Knowledge
Resources
Planning and Assessment
Knowledge of Children
Children Are Alike
So Alike, So Different
Special Needs
Knowledge of the Community
The Child's Physical World
Cultural Knowledge and Values
Knowledge of the Social Studies
Short- and Long-Term Planning
Involving the Children
Planning for the Spontaneous
Lesson Plans
Units, Projects and Thematic Learning
Assessment of the Social Studies Curriculum
Observation
Portfolios
Informal Interviews
Performance Interviews
Checklists
Standardized Tests
Summary
Extend Your Knowledge
Resources
Resources for Learning
The Children
The Family
Informal Involvement
Formal Involvement
The School
The Community
Field Work
Guest Speakers
Community Service
The Classroom
Deciding on Learning Centers
Introducing Centers
Types of Centers
Vicarious Materials in the Classroom
Summary
Extend Your Knowledge
Resources
The Processes of Social Studies
Thinking and Concept Formation
Planning Thinking Experiences
Firsthand Experiences
Experiences Involving Others
Experiences Requiring Language
Fostering Thinking Processes
Questioning and Sensing Problems
Locating Information: Field Trips
Organizing and Interpreting Information
Seeing Relationships and Beginning to Generalize
Interpreting, Reflecting and Reaching Conclusions
Concept Formation
Key Concepts
Concept Development
Nurturing Concept Formation
The Problem of the Match
Guidelines for Concept Formation
Summary
Extend Your Knowledge
Resources
Self, Others and the Community: Social Skills
Social Skills Develop
Theories of Socialization
Behavioral Theories
Erikson's Theory
Social-Cognitive Theories
Factors Affecting Social Development
The Family
Role Culture
Role of the School
Self-Concept
General Identity: Names
The Physical Self
Self-Efficacy
Assessing Self-Concept, Self-Esteem and Self-Efficacy
Relating to Others
Communicating
Sharing
Cooperating
Making and Having Friends
Conflict Resolution
Summary
Extend Your Knowledge
Resources
Culture, Diversity and Values Culture
Diversity
What Are Your Attitudes?
How Children Learn About Others
Key Concepts
Attitudes And Values
How Children Learn Values
Modeling
Reinforcement
Learning
Which Theory?
Indoctrination
Value Clarification
Value Analysis
What Values Should Be Taught?
Encouraging Anti-Bias Values in the Classroom
Teaching Peace, Understanding War
Summary
Extend Your Knowledge
Resources
The Content of the Social Studies
Children's Study of Time, Continuity, and Change: History
ey Concepts
istory
cience, Technology and Society
ime
evelopment of Time Concepts
outines That Teach Time
easuring Time
he Passage of Time
hange
n School
n the Neighborhood or Community
n Nature
n Children
he Continuity of Human Life
he Family
ntergenerational Contacts
oliday Celebrations and Traditions
ultural Universals
he Past
eople
bjects and Visual Discovery
arratives and the Arts
ethods of the Historian
ummary Extend Your Knowledge
esources
People, Places and Environments: Geography
Key Concepts
The Earth Is the Place Where We Live
Our Environment
Land and Water
Caring for Our Earth
A Nearly Round Sphere in a Solar System
Direction and Location
Movement Exploration
Directional Terms
Distance and Measurement
Maps and Globes
Relationships Within Places
Spatial Interactions
Regions
Physical Regions
Cultural Regions
Summary
Extend Your Knowledge
Resources
Production, Distribution and Consumption: Economics
Development of Economic Concepts
Key Concepts
Scarcity
Economic Production
Preparing for Careers
Summary
Extend Your Knowledge
Resources
Developing Citizenship: Civics and Government
Key Concepts
Democratic Values
Civic Participation
Political Concepts
Research
Voting
Symbols of Democratic Government
Ownership and Pride
School and Community
Summary
Extend Your Knowledge
Resources
Global Connections
Key Concepts
Interconnectedness and Interdependency
Similarities
Resources for Learning about Others
Global Education
Summary
Extend Your Knowledge
Resources
References
Index
Table of Contents provided by Publisher. All Rights Reserved.