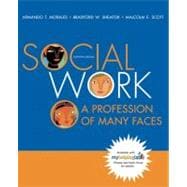 Questions About This Book?
What version or edition is this?
This is the 12th edition with a publication date of 1/1/2010.
What is included with this book?
The New copy of this book will include any supplemental materials advertised. Please check the title of the book to determine if it should include any CDs, lab manuals, study guides, etc.
The Used copy of this book is not guaranteed to include any supplemental materials. Typically, only the book itself is included.
Summary
This best-selling text continues to offer a comprehensive introduction to the field of social work with a unique focus on the diverse groups to whom social workers provide services, including children, older adults, disabled persons, and members of minority racial and ethnic groups.
Table of Contents
Preface
xix

| | |
| --- | --- |
| | part one A Social Worker Makes a Difference |

2
(10)

| | |
| --- | --- |
| | A Child Welfare Case: The Social Worker in Action |

5
(7)
5
(6)
5
(6)
11
(1)

| | |
| --- | --- |
| | part two Social Work in U.S. Society |

12
(64)

| | |
| --- | --- |
| | Social Welfare: A Response to Human Need |

15
(20)
15
(15)
15
(1)
16
(1)

| | |
| --- | --- |
| | The Evolution of Social Welfare |

17
(6)

| | |
| --- | --- |
| | Social Welfare in the Early 2000s |

23
(5)

| | |
| --- | --- |
| | The Successes and Failures of Human Service Programs |

28
(2)
30
(2)
32
(1)

| | |
| --- | --- |
| | Suggested Information Sources |

32
(1)
32
(3)

| | |
| --- | --- |
| | Social Work: A Comprehensive Helping Profession |

35
(22)
35
(17)

| | |
| --- | --- |
| | The Central Themes Underpinning Social Work |

36
(4)

| | |
| --- | --- |
| | The Mission of Social Work |

40
(2)
42
(2)

| | |
| --- | --- |
| | Social Work Practice Approaches |

44
(4)

| | |
| --- | --- |
| | Social Workers: Their Many Faces |

48
(4)
52
(1)
53
(1)

| | |
| --- | --- |
| | Suggested Information Sources |

54
(1)
54
(3)

| | |
| --- | --- |
| | The Emergence of Social Work as a Profession |

57
(19)
57
(16)

| | |
| --- | --- |
| | The Nature of Professions |

57
(3)

| | |
| --- | --- |
| | Social Work as a Profession: A Historical Perspective |

60
(11)

| | |
| --- | --- |
| | Social Work on 9/11: The Case of a Maturing Profession |

71
(2)
73
(1)
74
(1)

| | |
| --- | --- |
| | Suggested Information Sources |

74
(1)
74
(2)

| | |
| --- | --- |
| | part three Social Work Career Options |

76
(64)

| | |
| --- | --- |
| | Entry to the Social Work Profession |

79
(22)
79
(17)

| | |
| --- | --- |
| | Issues in Social Work Preparation and Employment |

80
(5)

| | |
| --- | --- |
| | Options for Human Service Practice |

85
(4)

| | |
| --- | --- |
| | Levels of Professional Social Work Practice |

89
(7)
96
(1)
97
(1)

| | |
| --- | --- |
| | Suggested Information Sources |

98
(1)
98
(3)

| | |
| --- | --- |
| | Fields of Social Work Practice |

101
(20)
101
(16)
102
(1)

| | |
| --- | --- |
| | Alcohol and Substance Abuse |

103
(1)
104
(3)

| | |
| --- | --- |
| | Community/Neighborhood Work |

107
(1)

| | |
| --- | --- |
| | Corrections/Criminal Justice |

108
(1)

| | |
| --- | --- |
| | Disabilities (Physical and Mental) |

109
(1)
110
(1)
111
(1)
112
(1)

| | |
| --- | --- |
| | Mental Health and Illness |

113
(1)

| | |
| --- | --- |
| | Occupational or Industrial Social Work |

114
(2)
116
(1)
116
(1)
117
(1)
118
(1)

| | |
| --- | --- |
| | Suggested Information Sources |

118
(1)
119
(2)

| | |
| --- | --- |
| | Settings for Social Work Practice |

121
(19)
121
(16)

| | |
| --- | --- |
| | Characteristics of Practice Settings |

122
(5)

| | |
| --- | --- |
| | Issues Affecting Agency-Based Practice |

127
(7)

| | |
| --- | --- |
| | Issues in Private Practice |

134
(3)
137
(2)
139
(1)

| | |
| --- | --- |
| | Suggested Information Sources |

139
(1)
139
(1)

| | |
| --- | --- |
| | part four The Practice of Social Work |

140
(148)

| | |
| --- | --- |
| | Values and Ethics in Social Work |

143
(18)
143
(14)
144
(2)

| | |
| --- | --- |
| | The Place of Values in Social Work |

146
(1)

| | |
| --- | --- |
| | Social Values in U.S. Society |

146
(2)

| | |
| --- | --- |
| | Values Held by Social Workers |

148
(4)

| | |
| --- | --- |
| | Areas of Practice Addressed by the NASW Code of Ethics |

152
(1)

| | |
| --- | --- |
| | Illustrations of Values and Ethics Operating in Social Work Practice |

153
(4)
157
(1)
158
(1)

| | |
| --- | --- |
| | Suggested Information Sources |

159
(1)
159
(2)

| | |
| --- | --- |
| | Competencies Required for Social Work Practice |

161
(22)
161
(19)

| | |
| --- | --- |
| | The Universal Social Work Competencies |

162
(3)

| | |
| --- | --- |
| | Frequently Utilized Social Work Competencies |

165
(7)

| | |
| --- | --- |
| | Competencies Occasionally Needed by Social Workers |

172
(6)

| | |
| --- | --- |
| | Low Utilization Competencies for Most Social Workers |

178
(2)
180
(1)
181
(1)

| | |
| --- | --- |
| | Suggested Information Sources |

181
(1)
181
(2)

| | |
| --- | --- |
| | The Role of Social Work in Prevention |

183
(26)
183
(21)

| | |
| --- | --- |
| | Prevention: An Evolving Concept in the Twenty-First Century |

183
(2)

| | |
| --- | --- |
| | Gang Violence and Homicide Prevention |

185
(11)

| | |
| --- | --- |
| | U.S. Homeland Security Department as a Prevention Effort |

196
(4)

| | |
| --- | --- |
| | Class Action Social Work and Prevention |

200
(4)
204
(1)
205
(1)

| | |
| --- | --- |
| | Suggested Information Sources |

205
(1)
205
(4)

| | |
| --- | --- |
| | Social Work throughout the World |

209
(16)
209
(12)

| | |
| --- | --- |
| | Today's Global Social Concerns: A Context for Social Work |

209
(1)

| | |
| --- | --- |
| | World Population Changes: Creating a Global Demand for Social Work in the Future |

210
(2)

| | |
| --- | --- |
| | Social Welfare Programs: A Varied Response to Human Need |

212
(3)

| | |
| --- | --- |
| | A Global Approach to Social Work |

215
(3)

| | |
| --- | --- |
| | Social Workers Act Globally: The Tsunami Disaster |

218
(1)

| | |
| --- | --- |
| | Employment in International Social Work |

219
(2)
221
(1)
222
(1)

| | |
| --- | --- |
| | Suggested Information Resources |

222
(1)
222
(3)

| | |
| --- | --- |
| | The Challenges for Social Workers in Rural America |

225
(14)
225
(10)

| | |
| --- | --- |
| | Characteristics of Rural Areas |

226
(2)

| | |
| --- | --- |
| | Social Welfare in Rural Areas |

228
(1)

| | |
| --- | --- |
| | Characteristics of Social Work Practice in Rural Areas |

229
(1)

| | |
| --- | --- |
| | A Glimpse of Rural Social Work Practice |

230
(2)

| | |
| --- | --- |
| | Special Considerations in Rural Practice Today |

232
(3)
235
(1)
236
(1)

| | |
| --- | --- |
| | Suggested Information Sources |

236
(1)
236
(3)

| | |
| --- | --- |
| | Domestic and International Gang Terrorism |

239
(34)
239
(27)

| | |
| --- | --- |
| | Defining and Understanding Terrorism |

240
(2)

| | |
| --- | --- |
| | Defining and Understanding Gangs |

242
(2)

| | |
| --- | --- |
| | Gang Behavior Career Continuum |

244
(4)
248
(2)
250
(1)
251
(2)
253
(6)

| | |
| --- | --- |
| | The Origin of Domestic and International Gang Terrorism |

259
(4)

| | |
| --- | --- |
| | Macro Intervention with Domestic Terrorist Gangs |

263
(1)

| | |
| --- | --- |
| | Macro Intervention with International Terrorist Gangs |

264
(2)
266
(1)
267
(1)

| | |
| --- | --- |
| | Suggested Information Sources |

268
(1)
268
(5)

| | |
| --- | --- |
| | Social Work with U.S. Casualties of the Middle East Wars |

273
(15)
273
(12)

| | |
| --- | --- |
| | Social Work and Survivors of War |

273
(1)

| | |
| --- | --- |
| | Social Work with Soldiers and Veterans |

274
(2)

| | |
| --- | --- |
| | Social Work with the Families of Soldiers and Veterans |

276
(1)

| | |
| --- | --- |
| | Social Programs for Soldiers and Veterans |

276
(1)

| | |
| --- | --- |
| | Social Work Practice during Reintegration Efforts |

277
(5)

| | |
| --- | --- |
| | Special Considerations Regarding Today's Victims of War |

282
(2)

| | |
| --- | --- |
| | Social Work and the Prevention of War |

284
(1)
285
(1)
286
(1)

| | |
| --- | --- |
| | Suggested Information Sources |

286
(1)
286
(2)

| | |
| --- | --- |
| | part five Social Work Practice with Special Populations |

288
(290)

| | |
| --- | --- |
| | Social Work Practice with Women |

295
(34)
295
(26)
296
(3)

| | |
| --- | --- |
| | Health and Mental Health Risk Factors |

299
(1)
300
(13)
313
(7)

| | |
| --- | --- |
| | Emerging Issues and Trends |

320
(1)
321
(1)
321
(1)

| | |
| --- | --- |
| | Suggested Information Sources |

321
(1)
322
(7)

| | |
| --- | --- |
| | Social Work Practice with Lesbian, Gay, and Bisexual People |

329
(34)
329
(27)
330
(4)
334
(8)

| | |
| --- | --- |
| | Macro Practice with Lesbian, Gay, and Bisexual People |

342
(2)

| | |
| --- | --- |
| | Micro Practice with Lesbian, Gay, and Bisexual People |

344
(7)

| | |
| --- | --- |
| | Emerging Issues and Trends |

351
(5)
356
(1)
357
(1)

| | |
| --- | --- |
| | Suggested Information Sources |

357
(1)
358
(5)

| | |
| --- | --- |
| | Social Work Practice with Children and Youth |

363
(20)
363
(17)
364
(9)
373
(3)
376
(3)
379
(1)
380
(1)
381
(1)

| | |
| --- | --- |
| | Suggested Information Sources |

381
(1)
381
(2)

| | |
| --- | --- |
| | Social Work Practice with Older Americans |

383
(28)
383
(24)

| | |
| --- | --- |
| | Indicators of Social and Economic Well-Being |

384
(2)
386
(2)

| | |
| --- | --- |
| | Ecosystems Model Analysis |

388
(5)

| | |
| --- | --- |
| | Intervention Strategies with Older People |

393
(7)

| | |
| --- | --- |
| | Issues and Trends in Social Work with Older People |

400
(7)
407
(1)
407
(1)

| | |
| --- | --- |
| | Suggested Information Sources |

408
(1)
408
(3)

| | |
| --- | --- |
| | Social Work Practice with People with Disabilities |

411
(24)
411
(20)

| | |
| --- | --- |
| | Social Work Practice with People with Disabilities |

412
(1)
413
(8)

| | |
| --- | --- |
| | Disability and the Minority Model |

421
(1)

| | |
| --- | --- |
| | Societal Responses to Disability |

422
(4)

| | |
| --- | --- |
| | The Ecosystems Model and People with Disabilities |

426
(4)

| | |
| --- | --- |
| | Emerging Issues for Social Work Practice with People with Disabilities |

430
(1)
431
(1)
431
(1)

| | |
| --- | --- |
| | Suggested Information Sources |

431
(1)
432
(3)

| | |
| --- | --- |
| | Social Work Practice with Muslims in the United States |

435
(28)
435
(20)
435
(1)

| | |
| --- | --- |
| | A Preliminary Understanding of Islam |

436
(3)

| | |
| --- | --- |
| | The Demographics of Muslims in the United States |

439
(2)
441
(1)

| | |
| --- | --- |
| | Common Cultural Values in Islamic Discourse |

442
(3)

| | |
| --- | --- |
| | Structural Factors in the Social Environment |

445
(5)
450
(2)

| | |
| --- | --- |
| | Implications for Micro and Macro Practice |

452
(3)
455
(1)
456
(1)

| | |
| --- | --- |
| | Suggested Information Sources |

456
(1)
457
(6)

| | |
| --- | --- |
| | Social Work Practice with Asian Americans |

463
(26)
463
(21)
463
(2)

| | |
| --- | --- |
| | Health and Mental Health Risk Factors |

465
(1)
466
(1)
467
(2)

| | |
| --- | --- |
| | Micro Practice Perspectives |

469
(2)

| | |
| --- | --- |
| | Ecosystems Model Framework |

471
(10)

| | |
| --- | --- |
| | Macro Practice Perspectives |

481
(2)
483
(1)
484
(1)
485
(1)

| | |
| --- | --- |
| | Suggested Information Sources |

485
(1)
485
(4)

| | |
| --- | --- |
| | Social Work Practice with American Indians and Alaskan Natives |

489
(26)
489
(22)
490
(3)
493
(4)

| | |
| --- | --- |
| | Micro Social Work Practice with American Indians |

497
(10)

| | |
| --- | --- |
| | Macro Social Work Practice with American Indians |

507
(2)
509
(2)
511
(1)
511
(1)

| | |
| --- | --- |
| | Suggested Information Sources |

511
(1)
512
(3)

| | |
| --- | --- |
| | Social Work Practice with Mexican Americans |

515
(20)
515
(16)
516
(1)
517
(7)

| | |
| --- | --- |
| | Micro Social Work Practice with Mexican Americans |

524
(4)

| | |
| --- | --- |
| | Macro Social Work Practice with Mexican Americans |

528
(3)
531
(1)
532
(1)

| | |
| --- | --- |
| | Suggested Information Sources |

532
(1)
532
(3)

| | |
| --- | --- |
| | Social Work Practice with African Americans |

535
(22)
535
(18)
537
(1)

| | |
| --- | --- |
| | African Americans: A Diverse and Resilient People |

538
(1)

| | |
| --- | --- |
| | Key Social Issues and Elements of African American Culture |

539
(7)

| | |
| --- | --- |
| | The Ecosystems Model and African Americans |

546
(5)

| | |
| --- | --- |
| | Competent Social Work Practice with African American Clients |

551
(1)

| | |
| --- | --- |
| | Emerging Considerations for Work with African Americans |

552
(1)
553
(1)
553
(1)

| | |
| --- | --- |
| | Suggested Information Sources |

553
(1)
554
(3)

| | |
| --- | --- |
| | Social Work Practice with Puerto Ricans |

557
(21)
557
(18)
558
(3)

| | |
| --- | --- |
| | Health and Mental Health Risk Factors |

561
(5)

| | |
| --- | --- |
| | General Data on Health Care and Puerto Ricans |

566
(1)

| | |
| --- | --- |
| | Beliefs and Practices That Influence Puerto Ricans' Health |

567
(1)
568
(6)
574
(1)
575
(1)
575
(1)

| | |
| --- | --- |
| | Suggested Information Sources |

575
(1)
576
(2)

| | |
| --- | --- |
| | part six Social Workers in Action |

578
(42)

| | |
| --- | --- |
| | Social Workers in Action: School Homicide and the Death Penalty |

581
(39)
581
(35)
582
(2)

| | |
| --- | --- |
| | Social Work Psychosocial Intervention |

584
(2)

| | |
| --- | --- |
| | Applying Crisis Theory to the Tasks at Hand |

586
(2)

| | |
| --- | --- |
| | Mobilizing Related Mental Health Disciplines |

588
(1)
589
(3)
592
(5)

| | |
| --- | --- |
| | The Report: A Psychosocial Evaluation |

597
(8)

| | |
| --- | --- |
| | The Report Is Challenged by the People |

605
(3)

| | |
| --- | --- |
| | A Social Worker's Work Is Never Finished |

608
(4)

| | |
| --- | --- |
| | Alternatives to Capital Punishment for Women in the United States |

612
(4)
616
(1)
617
(1)

| | |
| --- | --- |
| | Suggested Information Sources |

617
(1)
618
(2)
Photo Credits
620
(1)
Name Index
621
(2)
Subject Index
623