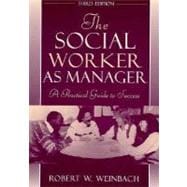 Summary
This is the third edition of a popular text on social work management, for management or administration courses or concentrations. It combines presentation of the theory behind management functions and techniques with practical advice that will help students to become successful managers. This text has been known for being reader-friendly and interesting. This edition has been completely reorganized and updated, with new content on managed care and the increasing use of case management teams. In addition, there is a completely new chapter on creating and managing human diversity in the workforce (Chapter 5, Creating and Managing Staff Diversity). New figures in the form of menus summarize the options that are available to managers to perform various management tasks. And, all chapters now contain extended case examples designed to help students to apply concepts to real-life practice situations, as well as other examples drawn from actual situations in human service organizations.
Table of Contents
All chapters end with Summary
Management In Perspective
Definitions and Assumptions
If There Were No Management
What Is Management?
The Functions of Management
Management as Both a Science and an Art
Avoiding Misconceptions about Management
The Presence of Management
The Context of Human Services Management
The Task Environment
Comparing Human Service Organizations and Businesses
Historical Origins of Current Management Theories
Scientific Management
Administrative Management
Bureaucratic Management
Responses to Classical Management Theories
The Functions Of Management
Influencing By Planning
What Is Planning?
The Planning Menu
Selecting From the Planning Menu
Contingency Planning
Creating and Managing Staff Diversity
Issues That Affect Hiring
The Staff Menu
Creating the Best Mix of Staff Types
Other Forms of Diversity in the Workplace
Diversity among Subordinates
Diversity among Managers
Another Way of Viewing Diversity
Promoting Work Performance
Understanding Motivation
Classical Theories of Motivation
Other Factors that Affect Motivation
Supporting Growth
Growth through Supervision
Growth through Continuing Education
Staff Evaluations and Personnel Actions
Staff Performance Evaluations
Promotions
Progressive Discipline
Organizing Work Activities
Basic Ways of Organizing
The Departmentation Menu
Combining Two or More Methods of Departmentation
Delegation as a Way of Organizing
Controlling Staff Behavior
The Elements of Control
The Control Menu
The Ideal Control Package
The Optimum Amount of Control
Leading
The Elements of Leadership
Theories of Leadership
Conceptual Models of Leadership
Followership
Creating the Right Organizational Climate
Preparing For Management In The Human Services
Common Phenomena Within Human Service Organizations
Economic Pressures
Time Pressures
Change
Computerization
Insufficient Change
Early Ceiling Professionals
Becoming a Social Work Manager
Common Sources of Stress
Is a Management Career Right For You?
Assuming the New Position
Developing a Management Style
Becoming a Better Manager
Index
Table of Contents provided by Publisher. All Rights Reserved.