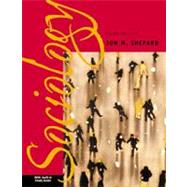 Sociology
by
Unknown
This title is currently not available.
Author Biography
As an undergraduate student, Jon Shepard discovered sociology. After graduating from Michigan State University with a Ph.D. in sociology, he taught introductory sociology and the sociology of organizations at the University of Kentucky. Now at Virginia Tech, he teaches economic sociology and business ethics. He is the author of 10 books and 40 plus professional journal articles. He has received teaching awards at both universities, including the University of Kentucky Great Teacher Award. He lives with his college sweetheart, Kay Vogel Shepard, in Blacksburg, Virginia. In Shepard's office Craig VanSandt, a friend and former graduate student, placed a plaque which reads, "Work is for those who can't play golf." Jon is a passionate golfer, but this axiom is an unremitting reminder that he should keep his day job.
Table of Contents
Sociological Perspectives
The Sociological Perspective
Social Research
Culture
Socialization Over the Life Course
Social Structure and Society
The Foundations of Social Structure
Groups and Organizations
Deviance and Social Control
Social Stratification
Inequalities of Race and Ethnicity
Inequalities of Gender
Social Inequality
Inequalities of Age
Family
Education
Political and Economic Institutions
Religion
Social Institutions
Health and Health Care
Population and Urbanization
Social Change and Collective Behavior
Social Change
Table of Contents provided by Publisher. All Rights Reserved.