Note: Supplemental materials are not guaranteed with Rental or Used book purchases.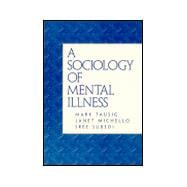 Questions About This Book?
What version or edition is this?
This is the 2nd edition with a publication date of 1/1/2004.
What is included with this book?
The New copy of this book will include any supplemental materials advertised. Please check the title of the book to determine if it should include any CDs, lab manuals, study guides, etc.
Summary
Summarizing mental health research conducted by sociologists over the last 30 years, "A Sociology of Mental Illness" provides a consistent narrative that emphasizes how social statuses and social roles affect mental health. The mental health treatment system and the public's reaction to mental illness are also comprehensively discussed. Topics include social causes and consequences of mental illness; social statuses, such as gender, socioeconomic status, race/ethnicity, age, and community; deviant behavior; and the challenges of community mental health. For those in the fields of sociology, psychology, nursing, and social workers.
Table of Contents
PREFACE
xiii

| | |
| --- | --- |
| | CHAPTER 1 INTRODUCTION: SOCIAL CAUSES AND CONSEQUENCES OF MENTAL ILLNESS |

1
(16)

| | |
| --- | --- |
| | Biological and Psychological Perspectives |

1
(2)
2
(1)

| | |
| --- | --- |
| | The Sociological Perspective |

3
(4)

| | |
| --- | --- |
| | The Origins of the Sociological Study of the Stress Process |

4
(2)

| | |
| --- | --- |
| | The Current Sociological Study of the Stress Process |

6
(1)

| | |
| --- | --- |
| | Statuses and Roles as Causes of Distress |

7
(1)

| | |
| --- | --- |
| | Social Reactions to Mental Illness |

8
(5)

| | |
| --- | --- |
| | The Labeling of Deviant Behavior as Mental Illness |

9
(1)

| | |
| --- | --- |
| | The Relationship between Public Attitudes and Professional Labels |

10
(1)

| | |
| --- | --- |
| | The Medicalization of Deviant Behavior as Mental Illness |

11
(1)

| | |
| --- | --- |
| | Mental Hospitals and Community-Based Care |

12
(1)

| | |
| --- | --- |
| | A Sociology of Mental Illness |

13
(1)
14
(3)

| | |
| --- | --- |
| | Distress, Deviance, and Mental Illness |

14
(3)
PART I: SOCIAL CAUSES OF MENTAL ILLNESS
17
(86)

| | |
| --- | --- |
| | CHAPTER 2 THE STRESS PROCESS AND MENTAL ILLNESS |

17
(8)

| | |
| --- | --- |
| | The Biological Basis of Stress |

17
(3)

| | |
| --- | --- |
| | The Bio-Social Basis of Stress |

20
(1)
21
(1)
21
(2)

| | |
| --- | --- |
| | Linking Stress with Mental Illness |

23
(1)
23
(2)

| | |
| --- | --- |
| | CHAPTER 3 SOCIAL STATUS: GENDER |

25
(7)
25
(1)

| | |
| --- | --- |
| | The Relationship between Gender and Mental Health |

26
(1)

| | |
| --- | --- |
| | Social Status Explanations of Distress |

26
(2)

| | |
| --- | --- |
| | Social Role Explanations of Distress |

28
(3)
28
(1)
29
(1)
29
(1)
30
(1)
31
(1)

| | |
| --- | --- |
| | CHAPTER 4 SOCIAL STATUS: SOCIOECONOMIC STATUS AND RACE/ETHNICITY |

32
(13)

| | |
| --- | --- |
| | Socioeconomic Status (SES) and Well-Being |

33
(8)

| | |
| --- | --- |
| | Explaining the Relationship |

34
(2)

| | |
| --- | --- |
| | The Socioeconomic Distribution of Stressors |

36
(1)

| | |
| --- | --- |
| | The Socioeconomic Distribution of Resources |

37
(3)
40
(1)

| | |
| --- | --- |
| | Race/Ethnicity and Distress |

41
(4)

| | |
| --- | --- |
| | CHAPTER 5 SOCIAL STATUS: AGE |

45
(12)

| | |
| --- | --- |
| | The Age Trajectory of Distress |

46
(1)

| | |
| --- | --- |
| | Age, Resources, and Distress |

47
(6)
48
(2)
50
(1)
51
(1)
52
(1)

| | |
| --- | --- |
| | The Cumulative Nature of Well-Being |

53
(3)
54
(1)
55
(1)
56
(1)

| | |
| --- | --- |
| | CHAPTER 6 SOCIAL ROLES: SPOUSE, PARENT |

57
(12)

| | |
| --- | --- |
| | Marriage, Marital Roles, and Emotional Well-Being |

58
(2)

| | |
| --- | --- |
| | Aggregate Changes in Family Structure as a Source of Distress |

60
(1)

| | |
| --- | --- |
| | Marital Status Transitions |

61
(2)

| | |
| --- | --- |
| | Impact of Parental Roles on Emotional Well-Being |

63
(2)
65
(2)
67
(2)

| | |
| --- | --- |
| | CHAPTER 7 SOCIAL ROLES: WORKER |

69
(17)

| | |
| --- | --- |
| | The Economy, Labor Markets, and Distress |

70
(5)

| | |
| --- | --- |
| | The Effects of Unemployment |

71
(1)

| | |
| --- | --- |
| | Economic Cycles and Unemployment |

72
(1)
72
(1)

| | |
| --- | --- |
| | Shifts in the Economic Distribution of Jobs |

73
(1)
74
(1)

| | |
| --- | --- |
| | Temporary and Contingent Jobs |

74
(1)

| | |
| --- | --- |
| | Job Conditions and Distress |

75
(5)

| | |
| --- | --- |
| | Job Demands and Decision Latitude |

76
(2)

| | |
| --- | --- |
| | Job Complexity, Co-Worker Support, and Job Security |

78
(1)

| | |
| --- | --- |
| | The Effects of the General Economy on Job Conditions |

79
(1)

| | |
| --- | --- |
| | Gender, SES, Race, and Job Conditions |

80
(5)
81
(1)

| | |
| --- | --- |
| | Socioeconomic Status Effects |

82
(1)
83
(2)
85
(1)

| | |
| --- | --- |
| | CHAPTER 8 THE INTERSECTION OF STATUSES AND ROLES |

86
(17)

| | |
| --- | --- |
| | The Intersection of Gender, Work, and Family |

88
(3)
91
(6)
92
(2)
94
(3)

| | |
| --- | --- |
| | Combining Statuses and Roles to Predict Distress |

97
(4)
100
(1)

| | |
| --- | --- |
| | A Note on the Limitations of This Discussion |

101
(2)
PART II: SOCIAL REACTIONS TO MENTAL ILLNESS
103
(107)

| | |
| --- | --- |
| | CHAPTER 9 LABELING DEVIANT BEHAVIOR AS MENTAL ILLNESS |

103
(17)

| | |
| --- | --- |
| | Deviant Behavior as Mental Illness |

104
(1)

| | |
| --- | --- |
| | Societal Reactions to Deviant Behavior: Social Control |

104
(1)

| | |
| --- | --- |
| | The Labeling of Deviant Behavior and Deviants |

105
(7)

| | |
| --- | --- |
| | Critique and Modifications |

109
(3)

| | |
| --- | --- |
| | Family Reactions to Deviant Behavior |

115
(1)

| | |
| --- | --- |
| | Non-Family Reactions to Deviant Behavior |

115
(1)

| | |
| --- | --- |
| | Social Status and Labeling |

116
(2)
118
(2)

| | |
| --- | --- |
| | CHAPTER 10 THE RELATIONSHIP BETWEEN PUBLIC ATTITUDES AND PROFESSIONAL LABELS |

120
(18)
121
(4)

| | |
| --- | --- |
| | Reactions to Being Labeled |

124
(1)

| | |
| --- | --- |
| | Why a Negative Stereotype Develops |

125
(1)
125
(8)

| | |
| --- | --- |
| | The Classification of Mental Disorders |

127
(3)

| | |
| --- | --- |
| | Disorders Usually First Diagnosed in Infancy, Childhood, or Adolescence |

130
(1)

| | |
| --- | --- |
| | Delirium, Dementia, and Amnestic and Other Cognitive Disorders |

131
(1)

| | |
| --- | --- |
| | Substance-Related Disorders |

131
(1)
131
(1)
132
(1)
132
(1)

| | |
| --- | --- |
| | Sexual and Gender Disorders, Eating Disorders, Sleep Disorders, Impulse-Control Disorders, Adjustment Disorders, and Personality Disorders |

132
(1)

| | |
| --- | --- |
| | How Changes Are Made in the DSM |

133
(1)

| | |
| --- | --- |
| | The Objectivity of Diagnosis |

134
(2)
136
(2)

| | |
| --- | --- |
| | CHAPTER 11 MEDICALIZATION OF DEVIANT BEHAVIOR AND MENTAL ILLNESS |

138
(19)

| | |
| --- | --- |
| | Deviant Behavior and Its Control |

140
(2)

| | |
| --- | --- |
| | Illness as Deviant Behavior |

141
(1)

| | |
| --- | --- |
| | The Medicalization of Deviant Behavior |

142
(6)

| | |
| --- | --- |
| | The Medicalization Process |

144
(2)

| | |
| --- | --- |
| | Benefits of Medicalization |

146
(1)
146
(2)

| | |
| --- | --- |
| | The Medicalization of Madness |

148
(1)

| | |
| --- | --- |
| | The Prevalence of Mental Illness in the General Population |

148
(3)

| | |
| --- | --- |
| | The Social Distribution of Mental Illness |

151
(2)

| | |
| --- | --- |
| | Deviant Behavior or Biological Dysfunction? |

153
(2)
155
(2)

| | |
| --- | --- |
| | CHAPTER 12 THE HISTORY OF SOCIETAL REACTIONS TO MENTAL ILLNESS |

157
(16)

| | |
| --- | --- |
| | Definitions of Deviance and Societal Responses across Cultures |

157
(4)
158
(1)

| | |
| --- | --- |
| | Non-Western Definitions and Societal Responses |

159
(2)

| | |
| --- | --- |
| | Definitions and Societal Responses in Early Western Culture |

161
(6)
162
(2)

| | |
| --- | --- |
| | Industrialization, Enlightenment, and the Need for Order |

164
(2)

| | |
| --- | --- |
| | The Growth of Large Public Hospitals |

166
(1)

| | |
| --- | --- |
| | Modern Medical and Psychological Explanations |

167
(5)

| | |
| --- | --- |
| | The End of the Hospital Era |

168
(2)

| | |
| --- | --- |
| | The Shift to Community-Based Care |

170
(2)
172
(1)

| | |
| --- | --- |
| | CHAPTER 13 THE CHALLENGE OF COMMUNITY MENTAL HEALTH |

173
(23)
174
(2)

| | |
| --- | --- |
| | The State of Public Mental Hospitals |

174
(1)

| | |
| --- | --- |
| | The Availability of Psychotropic Drugs |

175
(1)

| | |
| --- | --- |
| | The Economics of Custodial Care |

175
(1)

| | |
| --- | --- |
| | Mental Illness in the General Community |

175
(1)
176
(1)

| | |
| --- | --- |
| | New Philosophical Orientations to Treatment |

176
(1)
176
(1)
176
(9)

| | |
| --- | --- |
| | Characteristics of Community Mental Health Services |

180
(1)

| | |
| --- | --- |
| | The Implementation of CMHC |

181
(1)

| | |
| --- | --- |
| | Refocus on the Chronic Patient |

182
(3)

| | |
| --- | --- |
| | Deinstitutionalization and Community Mental Health--Persistent Problems and Current Issues |

185
(4)

| | |
| --- | --- |
| | Current Trends in Community Mental Health |

189
(7)

| | |
| --- | --- |
| | The Family and Community Mental Health Care |

190
(1)

| | |
| --- | --- |
| | Family Reactions to Mental Illness |

191
(1)
192
(1)

| | |
| --- | --- |
| | Alternative Forms of Community-Based Care |

193
(3)

| | |
| --- | --- |
| | CHAPTER 14 THE CONTRIBUTION OF SOCIOLOGY |

196
(14)
197
(6)

| | |
| --- | --- |
| | The Biological Basis of Psychological Disorder |

198
(2)

| | |
| --- | --- |
| | The Psychological Basis of Psychological Disorder |

200
(2)

| | |
| --- | --- |
| | The Social Basis of Psychological Disorder |

202
(1)

| | |
| --- | --- |
| | The Place of Sociological Explanations |

203
(3)

| | |
| --- | --- |
| | Social Causes of Psychological Distress |

206
(1)

| | |
| --- | --- |
| | Societal Reactions to Mental Illness |

207
(3)
BIBLIOGRAPHY
210
(20)
INDEX
230