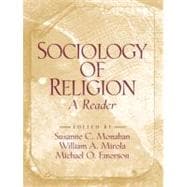 List Price: $71.80
Usually Ships in 3-5 Business Days
Usually Ships in 3-5 Business Days
Questions About This Book?
What version or edition is this?
This is the 2nd edition with a publication date of 1/1/2011.
What is included with this book?
The New copy of this book will include any supplemental materials advertised. Please check the title of the book to determine if it should include any CDs, lab manuals, study guides, etc.
The Used copy of this book is not guaranteed to inclue any supplemental materials. Typically, only the book itself is included.
Summary
This collection of articles explores the relationship between the structure and culture of religion and various aspects of social life in the United States. Based on both classic and contemporary research in the sociology of religion, it highlights a variety of research methods and theoretical approaches in exploring the ways in which religious values, beliefs and practices shape the worldoutsideof church, synagogue, or mosque walls while simultaneously being shapedbythe non-religious forces operating in that world. Many readings from drawn popular sources--e.g., newspapers and magazines--and although many of the readings are about religion in the Christian tradition, there are also readings about religion outside the American context (e.g., Poland, England, El Salvador, Nicaragua), and beyond the Christian tradition (e.g., Judaism, alternative religions, Hindu traditions).Classic Sociological Definitions Of Religion; Belief And Ritual; Religious Experience; Race, Ethnicity And Religion; Gender And Religion; Social Class And Religion; Sexual Identity And Religion; The Secularization Debate; Religious Organizations, Institutions And Authority; Alternative Religions; Media And Religion; Politics And Religion; Science And Religion; Social Movements And Religion.For anyone interested in the sociology of religion or religious perspectives on social issues.
Table of Contents
Preface
ix
Topic Matrix
xiii
Introduction
1
(4)
PART I CLASSIC SOCIOLOGICAL DEFINITIONS OF RELIGION
5
(25)

| | |
| --- | --- |
| | Introduction to Classical Sociological Definitions of Religion |

5
(4)

| | |
| --- | --- |
| | The Elementary Forms of the Religious Life |

9
(6)

| | |
| --- | --- |
| | From Contribution to the Critique of Hegel's Philosophy of Law |

15
(1)

| | |
| --- | --- |
| | Religion as a Cultural System |

16
(7)
23
(7)
PART II BELIEF AND RITUAL
30
(25)

| | |
| --- | --- |
| | Introduction to Belief and Ritual |

30
(5)

| | |
| --- | --- |
| | Passover's Hustle and Bustle |

35
(2)

| | |
| --- | --- |
| | Salvation on Sand Mountain |

37
(6)

| | |
| --- | --- |
| | Civil Religion in America |

43
(4)

| | |
| --- | --- |
| | Liminality and Communitas |

47
(8)
PART III RELIGIOUS EXPERIENCE
55
(23)

| | |
| --- | --- |
| | Introduction to Religious Experience |

55
(3)
58
(3)

| | |
| --- | --- |
| | The Reality of the Unseen |

61
(4)
65
(5)

| | |
| --- | --- |
| | Ways of Seeing Ecstasy in Modern Society |

70
(8)
PART IV RACE, ETHNICITY, AND RELIGION
78
(37)

| | |
| --- | --- |
| | Introduction to Race, Ethnicity, and Religion |

78
(5)

| | |
| --- | --- |
| | Becoming American by Becoming Hindu |

83
(6)

| | |
| --- | --- |
| | Cultural Conflicts and Identity: Second-Generation Hispanic Catholics in the United States |

89
(7)

| | |
| --- | --- |
| | Sacrifice of Praise: Emotion and Collective Participation in an African-American Worship Service |

96
(8)

| | |
| --- | --- |
| | Growing Up American: How Vietnamese Children Adapt to Life in the United States |

104
(4)

| | |
| --- | --- |
| | Ethnicity: Source of Strength? Source of Conflict? |

108
(7)
PART V GENDER AND RELIGION
115
(29)

| | |
| --- | --- |
| | Introduction to Gender and Religion |

115
(3)

| | |
| --- | --- |
| | The Spiritual Revolution: Women's Liberation as Theological Re-education |

118
(7)

| | |
| --- | --- |
| | The Embodied Goddess: Feminist Witchcraft and Female Divinity |

125
(9)

| | |
| --- | --- |
| | The Social Construction of a New Leadership Role: Catholic Women Pastors |

134
(7)

| | |
| --- | --- |
| | Male God Imagery and Female Submission: Lessons from a Southern Baptist Ladies' Bible Class |

141
(3)
PART VI SOCIAL CLASS AND RELIGION
144
(29)

| | |
| --- | --- |
| | Introduction to Social Class and Religion |

144
(6)
150
(7)

| | |
| --- | --- |
| | Protestantism and the American Labor Movement: The Christian Spirit in the Gilded Age |

157
(5)
162
(3)

| | |
| --- | --- |
| | The Catholic Church in the Nicaraguan Revolution: A Gramscian Analysis |

165
(8)
PART VII SEXUAL IDENTITY AND RELIGION
173
(23)

| | |
| --- | --- |
| | Introduction to Sexual Identity and Religion |

173
(3)
176
(4)

| | |
| --- | --- |
| | Culture Wars: The Challenge of Homosexuality |

180
(3)

| | |
| --- | --- |
| | Dare to Differ: Gay and Lesbian Catholics' Assessments of Official Gatholic Positions on Sexuality |

183
(6)

| | |
| --- | --- |
| | Negotiating a Religious Identity: The Case of the Gay Evangelical |

189
(7)
PART VIII THE SECULARIZATION DEBATE
196
(29)

| | |
| --- | --- |
| | Introduction to the Secularization Debate |

196
(5)
201
(3)

| | |
| --- | --- |
| | Secularization and Its Discontents |

204
(9)
213
(12)
PART IX RELIGIOUS ORGANIZATIONS, INSTITUTIONS, AND AUTHORITY
225
(33)

| | |
| --- | --- |
| | Introduction to Religious Organizations, Institutions, and Authority |

225
(6)

| | |
| --- | --- |
| | AME Zion Megachurch Leaves Denomination---Christian Century |

231
(1)

| | |
| --- | --- |
| | Priest and Nun Barred from Ministry to Gays---Christian Century |

232
(1)

| | |
| --- | --- |
| | Domination and Stratification |

233
(3)

| | |
| --- | --- |
| | The Churching of America: Why ``Mainline'' Denominations Decline |

236
(5)

| | |
| --- | --- |
| | Authority and Controversial Policy: The Churches and Civil Rights |

241
(11)

| | |
| --- | --- |
| | Some Futures for Religious Leadership |

252
(6)
PART X ALTERNATIVE RELIGIONS
258
(46)

| | |
| --- | --- |
| | Introduction to Alternative Religions |

258
(5)

| | |
| --- | --- |
| | An Army Controversy: Should Witches be Welcome? Flap Over Wiccans Tests Military's Religious Tolerance |

263
(3)

| | |
| --- | --- |
| | Modern Alternative Religions in the West |

266
(17)
283
(7)

| | |
| --- | --- |
| | The Church of Scientology: Lightning Rod for Cultural Boundary Conflicts |

290
(7)
297
(7)
PART XI MEDIA AND RELIGION
304
(33)

| | |
| --- | --- |
| | Introduction to Media and Religion |

304
(4)

| | |
| --- | --- |
| | The Source of the Problem? |

308
(10)

| | |
| --- | --- |
| | Televangelism: Redressive Ritual Within a Larger Social Drama |

318
(8)

| | |
| --- | --- |
| | Television Drama as Sacred Text |

326
(11)
PART XII POLITICS AND RELIGION
337
(37)

| | |
| --- | --- |
| | Introduction to Politics and Religion |

337
(5)

| | |
| --- | --- |
| | Will It Be Coffee, Tea, or He? Religion Was Once a Conviction. Now It Is a Taste |

342
(2)

| | |
| --- | --- |
| | Catholicism in the United States: From Private to Public Denomination |

344
(7)

| | |
| --- | --- |
| | The Political Mobilization of Evangelical Protestants |

351
(9)

| | |
| --- | --- |
| | The Religious Roots of Rebellion |

360
(14)
PART XIII SCIENCE AND RELIGION
374
(25)

| | |
| --- | --- |
| | Introduction to Science and Religion |

374
(4)
378
(2)
380
(2)
382
(5)

| | |
| --- | --- |
| | The Demon-Haunted World: Science as a Candle in the Dark |

387
(12)
399
(1)
PART XIV SOCIAL MOVEMENTS AND RELIGION
399
(36)

| | |
| --- | --- |
| | Introduction to Social Movements and Religion |

399
(5)
404
(2)

| | |
| --- | --- |
| | When Will Revolutionary Movements Use Religion? |

406
(5)

| | |
| --- | --- |
| | Correcting a Curious Neglect, or Bringing Religion Back In |

411
(8)

| | |
| --- | --- |
| | Church Culture as a Strategy of Action in the Black Community |

419
(8)

| | |
| --- | --- |
| | Pastoral Mobilization and Contention: The Religious Foundations of the Solidarity Movement in Poland |

427
(8)
Text Credits
435
(4)
Photo Credits
439
Excerpts
PrefaceAlthough we teach in very different settings--a mid-sized state university, a private Catholic college, and a private university--each of us looks forward to our opportunities to teach Sociology of Religion to undergraduate students. There is something about the study of the social aspects of religion that makes for a good class, a class that teaches itself. Students who take a Sociology of Religion class seem especially motivated to struggle with the material, and they typically have a wide range of personal experiences to draw upon as they apply abstract principles to instances of religion in their own lives.The study of religion in modern society is an exciting enterprise. No matter what you are interested in--the structure and experiences of particular religious groups, the overall state of religion in society, religious belief, ritual and experience, the relation between religion and other social institutions--there is a plethora of resources including books, journals, and research monographs you can draw on. Unfortunately, however, securing copyright permissions for "course packets" has become increasingly complex and difficult. We hope that by constructing a reader that covers a broad range of topics we can meet our own needs as well as those of other instructors who teach in this area.The focus of this reader is on the structure and culture of religion in the United States. Thus, many of the readings are about religion in the Christian tradition. Nonetheless, where it was feasible, we included readings about religion outside the American context (e.g., Poland, England, El Salvador, Nicaragua), and beyond the Christian tradition (e.g., Judaism, alternative religions, Hindu traditions). This reader is not intended to be a survey of religion, but rather an introduction to the social aspects of religion, particularly within the United States.The readings are arranged by topic, and each topic has a brief introductory essay that outlines some key issues and orients students to the readings. Some of the essays focus on defining concepts related to the readings; others provide an overall framework students can use to understand how the readings fit together and what they contribute to our knowledge about the topic. We also include readings from popular sources--newspapers, magazines, and the like--to help students connect more abstract material with things that they see in their day-to-day lives. For instructors, we provide a cross-reference table that provides suggestions for other topics for which an article might be appropriate.Following a brief introduction by Wade Clark Roof about what is most interesting and exciting in religion today, we present classical sociological definitions of religion by theorists including Emil Durkheim, Clifford Geertz, Karl Marx, and Peter Berger. In teaching the Sociology of Religion, we have been amazed at how much discussion these classical statements generate among students. We continue with sections that focus on the "stuff" of religion--belief, ritual, and religious experience. We then present several sections on how religion is related to various aspects of identity: race and ethnicity, gender, social class, and sexual identity. We put this material early in the volume because religious participation has a powerful ability to shape how we see ourselves-and how we interact with others.Next, we move to structural concerns. We introduce students to the secularization debate that has raged recently in the sociology of religion: Is religion declining or is it thriving? We follow with sections on organizational aspects of official religion--authority, organizations, and institutions--and on alternative religions. Because religion does not exist in a vacuum, we also include sections examining the relationship between religion and different social institutions: med