Note: Supplemental materials are not guaranteed with Rental or Used book purchases.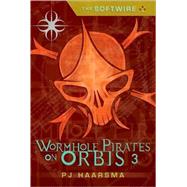 The Softwire: Wormhole Pirates on Orbis 3
ISBN13:
9780763627119
by
HAARSMA, PJ
Questions About This Book?
What version or edition is this?
This is the edition with a publication date of 4/14/2009.
What is included with this book?
The New copy of this book will include any supplemental materials advertised. Please check the title of the book to determine if it should include any CDs, lab manuals, study guides, etc.
Summary
Wormhole pirates close in on Johnny Turnbull and his fellow knudniks in this third installment of the Softwire series. JT senses something sinister in the air. Could it be the pirate he keeps spotting, with an alien skull and crossbones on his arm?
Author Biography
PJ Haarsma has been gazing at the stars and wondering what's out there his whole life. After a successful career as a commercial photographer, he finally decided to write about it. He lives in Los Angeles.
Excerpts
"Girls," I said, plopping down next to Theodore. "They're the aliens!"
"Max again?" he mumbled. His face was pressed against the glass portal that ran the length of the shuttle.
"I don't get what she has against Space Jumpers."
"It's pretty simple, JT. Citizens don't trust them."
"But we're not Citizens," I reminded him.
"We want to be."
I looked up to sneak another glimpse at the Citizens relax¥ing on the mezzanine above my head. It was just high enough to make me feel inferior. The Citizens dined the entire trip to Orbis 3, reclining on puffy loungers decorated with green and gold Gia silks. We sat huddled together on cold aluminum benches and ate only what we brought. There were four other knudniks traveling with us, and they sat obediently near the feet of their respective Guarantors. When ordered, they bolted up the short set of steps to administer whatever mundane or demeaning task was imposed upon them. I hated the Citizens, but Theodore was right; I still wanted to be one.
"What are you looking at?" I turned and asked him.
"I'm trying to see the wormhole. This is the closest any shuttle ever gets. Eight thousand, four hundred, and thirty-three kilometers."
I squeezed next to him and peered out the portal into the stars.
"I see Orbis 3." I gestured to the huge ring hanging in space. "But where is the wormhole?"
Theodore pointed. "Look, there. See how the crystal moon bends a little? The wormhole does that. We must be directly in front of it."
I watched the heavy orange moon Ki pinch and distort as our huge space shuttle lumbered toward our new home. What will our new Guarantor be like? I wondered, but I had already resigned myself to the fact that knowing who it was wouldn't make him any nicer.
"Look!" Theodore said, pulling away from the window and holding up both hands in front of his face. It seemed as if some invisible force were tugging at his skin, stretching it toward the wormhole. "It's happening to you, too."
It was happening to everything. One of the Citizens above Dalton poured his drink over the edge, and the greenish liquid appeared to smear across the cabin before it splashed onto Dalton's head, much to the delight of the other Citizens.
"Hey!" Dalton protested, but the Citizens only applauded or stomped their feet. Would they even notice us missing if the shuttle ripped open and sucked all of us into space? Would they even care? I wondered. Then the alien ordered Dalton to clean up his mess.
"It's an optical illusion," Theodore said. "The wormhole is bending the light before it reaches our eyes."
I turned my attention back toward the wormhole and immediately noticed that something wasn't right. Directly in front of me, Orbis 3 and the crystal moon were bending and twisting violently. That's more than an optical illusion, I thought. Something was coming through the wormhole.
"Is that supposed to happen?" I elbowed Theodore.
"What?"
"That!"
With a crackle of bright blue light, a spaceship pierced the blackness of space. The ship was the color of charred metal and rimmed with flashing red lights. It was much longer than our shuttle and twice as tall. It pushed through the wormhole - straight toward us.
"It's gonna hit us!" I cried, but the huge vessel turned portside and saddled next to us. Harsh searchlights from the ship splashed through our cabin.
"Wormhole pirates!" one of the Citizens screamed.
"But that's impossible!" another exclaimed.
"What's a wormhole pirate?" Maxine Bennett cried as she clambered next to us.
"I don't know," I said.
"You have to get They
---

Excerpted from The Softwire: Worm Hole Pirates on Orbis 3 by P. J. Haarsma
All rights reserved by the original copyright owners. Excerpts are provided for display purposes only and may not be reproduced, reprinted or distributed without the written permission of the publisher.